In the norther region of South America, in a small village surrounded by the forest and by the not distant Atlantic Ocean, a group of young students in a rural school learn about the graphic representation of earth. In the world map, these pupils could see their country sharing border with Brazil, Guyana and French Guiana, but they could also identify their own community.
Although that is normal in a school, I was struck by the fact that in the dimension of that map, the young students are shown where their own community is. They could recognize their own village in the world map, gaining a global perspective but a local identity as well. This map also shows us the coordinated effort of the IDB to support energy projects in isolated and dispersed communities.
The village I am referring to is Pokigron, which is bordered by the river Suriname and sheltered by the Brokopondo Reservoir, with no more than six hundred inhabitants. It is inhabited by Maroons, descendants of African slaves who escaped from sugar plantations. The Maroons have a very traditional lifestyle, based on agriculture, hunting, and fishing.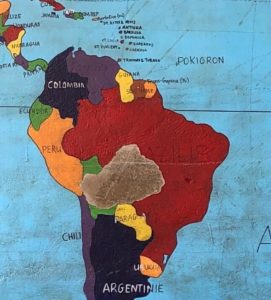 Sustainable energy in Pokigron
With IDB support, the government of Suriname inaugurated the last year the first solar plant in the country to provide energy for 24 hours to rural communities, including Pokigron and Atjoni (the last village that can be reached by road from Paramaribo, the capital of Suriname). In the past, the community had limited access of electric power and poor-quality supplying. The rural school in Pokigron now has clean and sustainable electricity.
The IDB has been supporting Suriname in achieving the sustainability of the power sector by strengthening the state electric company and by improving the sustainability of rural electricity supply. Our programs are contributing to expand electricity coverage by grid extensions and renewable energy systems in the sparsely populated areas of the country.
Developing projects for rural communities in the region
The great virtue of this project is that provide electricity in a sustainable manner to a community that will now have better services and will benefit households, schools, and community health centers. Additionally, the power electricity is generating the appearance of small businesses that can bring economic development and improve living conditions in the community. This example reminds us the importance to invest in energy projects due to the multiple benefits that the society receive.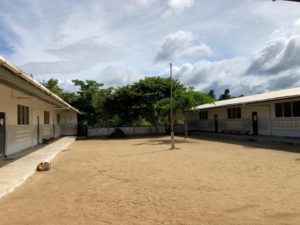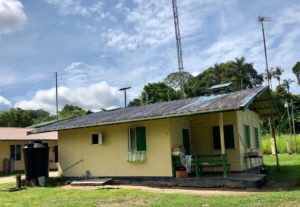 The project in Pokigron is an important example on how the IDB is making an important difference to improve lives in the region. This project also shows how the Bank implements actions to increase the electricity access in the region, especially in rural areas where coverage is a challenge yet to overcome.
This experience that I had in Pokigron left me with the satisfaction to see how the projects we work from the IDB Energy Division contribute, not only to lighting up a community, but also to the development of a community identity.