An ongoing concern that the world is nowhere near achieving its carbon reduction goals is part of today's global public policy agenda. Among the factors explaining the rise of carbon emissions are new investments in coal burning plants, and the advanced age of the existing coal power plants in developed economies.
In 2015, global investments on coal power plants were over 100 billion dollars and in 2017 were around 60 billion dollars. In the same period investments in solar power went from 100 billion dollars to approximately 148 billion dollars [1]
Coal power plants will run at least for 15 years
After the investment is done, the life expectancy of coal power plants is more than 30 years[2] The International Energy Agency (IEA) World Energy Investments Outlook for 2018 highlights that coal power plants in Asia are relatively young, and only 35% of global plants are at least 30 years old, some of which may retire in the next few years. For instance, India's subcritical coal plants are young enough -at 15 years old on average- and represents nearly 15% of the global total [1].
Under this panorama the consequences of delayed policy action were estimated -as the risk of stranded assets for the power plants burning fossil fuels- to more than a trillion dollars globally[3]. In economic terms, the growth of renewable energy on the energy mix will depend on the average lifetime Levelized Cost of Electricity (LCOE) of fossil fuel plants. Coal and natural gas plants will continue operating as long as their variable cost is less than the LCOE of energy generation with large scale renewable greenfield projects required to meet the future energy demand.
Oil demand will increase in absolute but not in relative terms
According to World Energy Outlook a 4.5% decrease is expected in demand for fossil fuels from 2016 to 2040 [1]. This drop is explained by an increase in the participation of renewables from 14% in 2016 to 20% in 2040. Nevertheless, in absolute terms, the demand would increase at a steadily pace. In 2040, the demand for transportation sector -which is the biggest consumer of fossil fuels at a global level – represents around 61% of the total oil demand, yet this could change depending on how electric vehicles enter in the market to substitute this demand, and specially whether the battery cost is competitive.
For electricity generation, the decrease of oil demand is somewhat perceptible from 6.4% in 2016 to 2.9% in 2040, according to the IEA mainly because of the rapid increase of natural gas plants in the energy generation. That is why some agencies foresee a bleak future for total carbon emissions. According to the U.S. Energy Information Administration[4] the total carbon emission globally is expected grow more than half by 2050.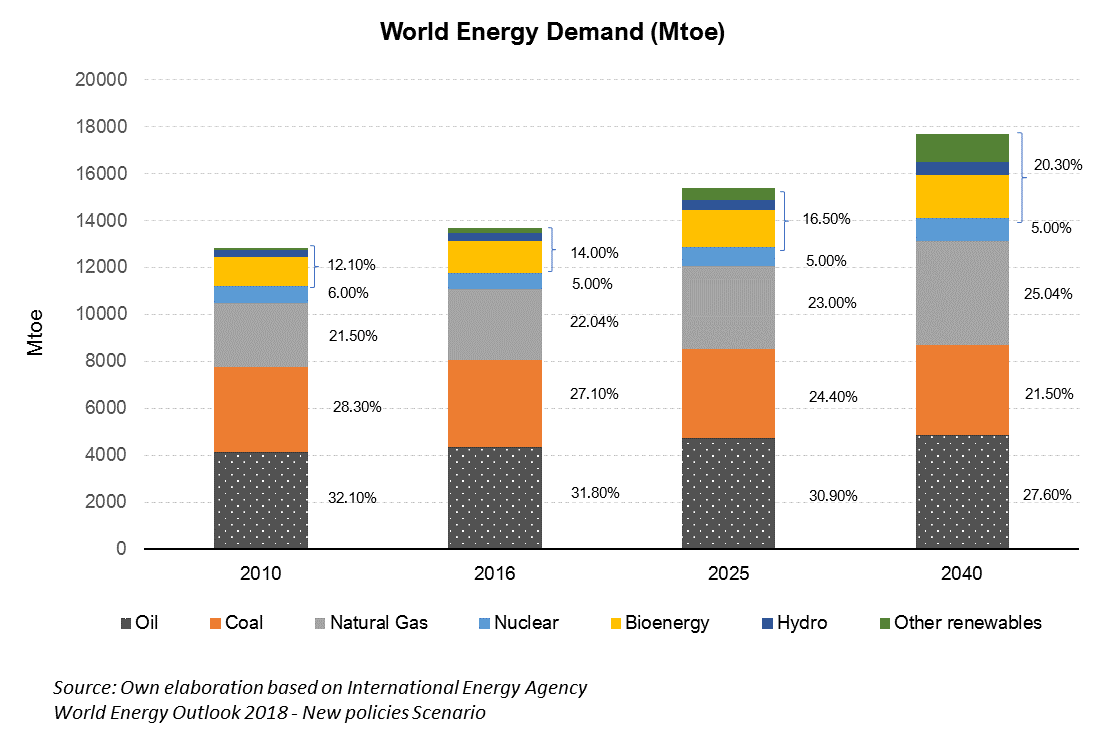 Bad news in the short run and good news in the long run
Bad news for the environment in the short run; new investments in coal power plants and the increased demand of oil derivatives from the transportation sector push carbon emissions to increase. Nevertheless, there is still reason for hope to reverse this grim future. IRENA offers the most optimistic estimates that indicate that a 90 per cent reduction in CO2 produced in the energy system is achievable through expanded use of renewable energy and efficient use of energy. This sum may seem large, but it is only 0.4 percent of the world's GDP.
As of 2017, 81 per cent of the primary energy used in the world came from fossil fuels sources[2]. IRENA asserts that a massive investment agenda of 29 trillion (USD) needs to be allocated in renewable energy by the year 2050 [5]. Wisely, carbon emissions reduction policies to be effective would require a close coordination with the investments in infrastructure projects.
In sum, world energy demand is increasing and mostly from fossil fuel sources. Resulting in a continue flow of investments in fossil fuel generation over time, with an average age of 30 years for coal power plants. In the best case, the new coal power generation fleet in addition to the existing capacity will last at least 15 years to meet the energy demand. Its true that renewable energy has acquired relevance in the energy mix, nevertheless, the potential growth of these resources is contingent on how the LCOE of greenfield fossil fuel plants is compared to the LCOE of greenfield renewable energy projects. The panorama does not look bright in the short run, however, due to the continue technological development and amazing reduction of prices for non-conventional renewable energy there is a glimpse towards a cleaner energy for the future.
[1] International Energy Agency: IEA (2018, a). World Energy Investment 2018. Retrieved April 8, 2019, from IEA Webstore website: https://webstore.iea.org/world-energy-investment-2018
[2] International Energy Agency: IEA (2018, b). World Energy Outlook 2018. Retrieved April 8, 2019, from IEA Webstore website: https://webstore.iea.org/world-energy-outlook-2018
[3] International Renewable Energy Agency: IRENA (2017, b), "Stranded assets and renewables: how the energy transition affects the value of energy reserves, buildings and capital stock", International Renewable Energy Agency (IRENA), Abu Dhabi, www.irena.org/remap
[4] U.S. Energy Information Administration. International Energy Outlook 2017 (EIA, 2017). Retrieved from https://www.eia.gov/outlooks/ieo/pdf/0484(2017).pdf
[5] International Renewable Energy Agency: IRENA (2017, a). Perspectives for the Energy Transition: Investment Needs for a Low-Carbon Energy Transition. IRENA.