In 2020, national school feeding programs delivered school meals to more children than at any time in human history, making this the most extensive social safety net in the world. Indeed, approximately $41-43 billion is spent annually on school feeding, which serves not only to create human capital to secure future national economic growth but also as an important investment in local economies.
There's evidence that school feeding programs support school enrolment and attendance as well as school health, contributing to providing children with valuable nutrients needed to be healthy and able to learn.
In Haiti, the Inter-American Development Bank (IDB) has been unwavering in its commitment towards contributing to food security and school attendance by providing a robust school feeding program.
Since 2018, and aligned with the Haitian National school Feeding Policy, the IDB has consistently invested in school feeding programs in the country as a critical input for supporting human capital growth, education, safety nets, and food security.
In a context of insecurity, poverty, and frequent school closures, the IDB program views school feeding as an opportunity to support whole communities by encouraging families to send their children to school, providing essential nutrients to school beneficiaries, and supporting local producers. In 2022 alone, over 125,000 thousand children benefitted from quality daily meals in schools.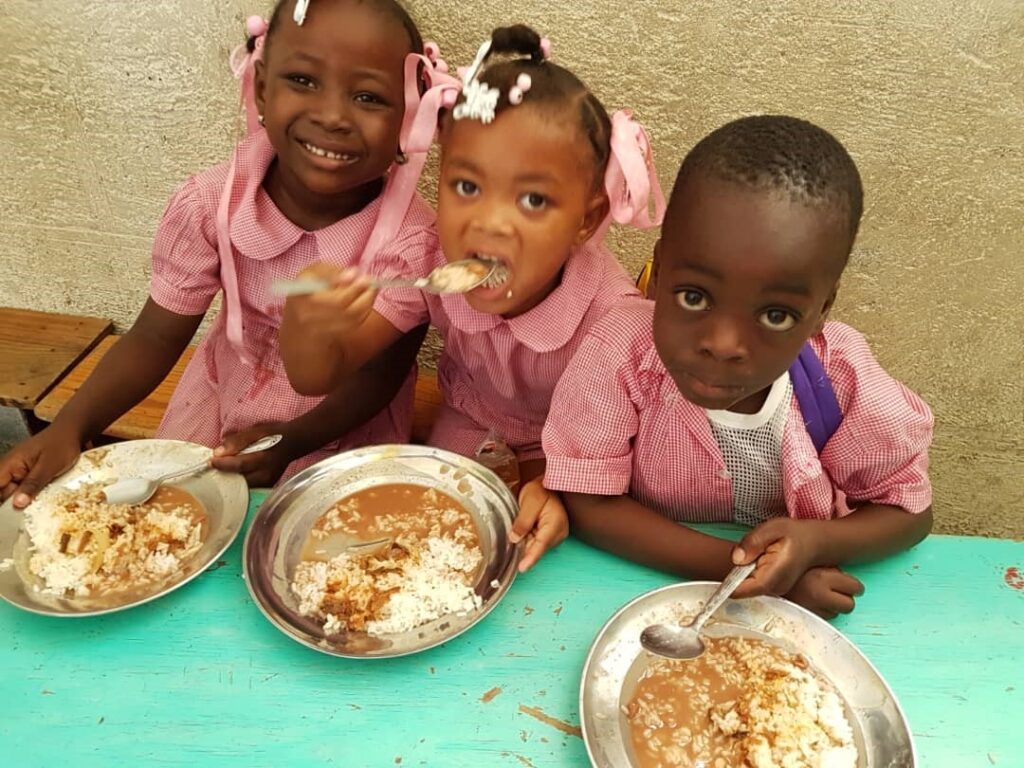 Five Principles that Guide the Haitian Feeding Strategy
The IDB's support to the school feeding program is aligned with the Haitian National School Feeding Strategy and is developed with the following 5 principles in mind:
Sufficient
The program is based on expert guidance on the number of calories a child needs per day. According to the CDC (Centers for Disease Control) a school feeding program should provide 50% of the calories that a child needs per day (between 1,200 and 2,200 calories depending on several factors). This initiative has a minimum requirement of 1,200 calories per child per day to align with internationally recognized guidance. Besides, in the Haitian context of food insecurity, children may not be able to access the other 50% of calories that they should receive outside of school.
Complete
The meal plan provides essential daily nutrients to children. Beyond providing comprehensive nutritional support the program also delivers Vitamin A to children as well as de-parasitic medication. Every new school added to the program is equipped with appropriate cooking equipment.
Open
This program i is open to the whole school community from the students to the teachers to the cooks themselves. The philosophy is that in a situation of food insecurity, children are not the only ones that suffer. For teachers to teach and cooks to prepare the meals, they too can and should benefit from the program.
Local
Home-grown school feeding has the potential to not only create demand for more diverse and nutritious local and traditional food, but also boost local agriculture, impact rural transformation, and strengthen local food systems. This feeding program has a requirement that a minimum of 30% of products be locally purchased either in bulk from local agriculture or through vouchers to use in local marketplaces. While 30% is the minimum requirement, the reality revolved around 50% or more, depending on the season, with 100% of the morning snacks being locally produced.
Holistic
Beyond the nutritional aspects of school feeding, the program in Haiti is also an opportunity to address areas of health and sanitation as well as climate change. The program delivers several training courses to the school community on nutritional guidelines and how to prepare food, hand washing and health, and prevention of COVID-19 and Cholera. Finally, to address the challenges of deforestation in Haiti, the initiative uses improved gas stoves to move away from wood-burning alternatives.
Ultimately the future of human development in Haiti depends on healthy and food secure children with access to education.
Leave a comment and tell us what you think about the relevance of school feeding and this efforts to secure food to the Haitian children.