When schools worldwide began shifting from face-to-face to virtual classrooms due to the pandemic, educators were forced to rethink and redesign their learning environments – essentially overnight. While technology in schools had been rising for years, few teachers had extensive experience in conducting learning in a mostly online environment.
In Honduras, nearly 25,000 schools have been closed since 2020. This has represented a challenge for a country where only 16.6% of the population has internet access at home. Only 12.8% of the population access this service from a computer, while 87.2% do so from a cell phone. Also, about 70% of Honduran teachers expressed the need to strengthen their digital knowledge and skills to teach in online learning environments. 
To tackle these challenges, ISTE (the International Society for Technology in Education) partnered with IDB to distribute a free online professional development program to a group of educators from the Ministry of Education in Honduras. These educators are part of the National Program for Digital Educational Transformation (PNTED) in four provinces of the country (Cortés, Francisco Morazán, Intibucá and Lempira) and decided to take the program voluntarily.   
ISTE's Online Teaching Academy supported these educators through self-paced courses, expert webinars, and a learning community in four foundational areas for online teaching:
Equity and Inclusion: when teachers and students switched to online learning, low-income populations were more adversely affected by the transition to this new model of remote schooling.
Creating Community: Instructional content is essential, but excellent learning requires strong relationships through effective communication and collaboration – both between students and teachers and amongst the students themselves.
Designing Online Instruction: Digitally transformed teaching can't just be a simple translation from face-to-face lessons. Online teaching brings unique challenges – such as overwhelming students' cognitive load – but also unique opportunities — such as increasing student agency through personalization.
Feedback and Assessments: In an online environment, teachers need to think differently about how they provide feedback on their students' work and how they assess their progress.
Testimonies of some participant teachers are:
"Our job as teachers is to make learning accessible to all our students without exception, treat them all equally, involve them in all activities and provide them with the necessary support to achieve learning. The identity chart for students caught my attention because it allows us to identify and characterize each student to help them learn equally. These charts also help students define who they are as individuals and as members of the community."
Heidy Marisela Lemus Santos, Teacher at Centro Básico Juan Lindo, San Antonio Intibucá.
"These methods placed us in a different status in relation to other teachers in Honduras, especially in communication and interaction through virtual environments, collaborative work, and techniques for the transfer of knowledge. These techniques allowed us to conceptualize and prioritize what the student really needs to learn".
Marta Lilian Maldonado Rodas, Director of the Centro Básico República de Honduras, San Pedro Sula, Cortés.
Program Impact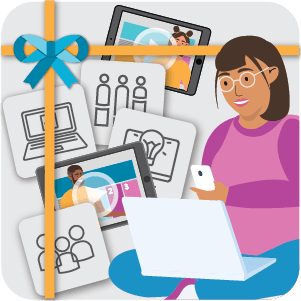 Nearly 88 teachers from Honduras joined thousands of fellow educators worldwide to participate in ISTE's Online Teaching Academy in 2021. Participants were able to access: 
Four two-hour courses, one on each of the foundational topics above, that include interactive activities and real-world examples. 
Five webinars through which expert speakers from ISTE's community model and deliver practical and explicit strategies for teaching online. 
Rich discussion communities to build upon each other's lessons learned share resources, and seek advice. 
Of those who completed the program:
92% felt more knowledgeable than before on these topics.
96% would recommend this course to their colleagues and other educators.
96% believe that this course has had a positive impact on their practice.
At the IDB, we are placing education and human capital at the center of our efforts. With a global digital education transformation already underway, many shifts brought about by the pandemic are here to stay. Education will – and should – never look the same. The skills that educators are building will continue to transform what learning looks like.  
We look forward to continuing our work with members of the 21st Century Skills Coalition such as ISTE to ensure that all students and teachers have access to relevant skills development and continuous learning opportunities throughout their life. Investing in education and talent is the key to sustainable economic growth, to greater equality, and to increased social inclusion and mobility.
We would love to know more about the challenges you are facing, and the opportunities created in your shift from in-person to online teaching environments. How has your experience been so far? How has your school addressed these challenges? Share your opinions in our comments section below!