Dr. Lee Whitmore is the inaugural executive director for the GRAMMY® Music Education Coalition – a non-profit collective dedicated to building universal music education participation in elementary and secondary schools nationwide. This organization is a member of the 21st Century Skills Coalition joined by different public and private organizations to promote the development of transversal skills in Latin America and the Caribbean.
---
None of us can anticipate all the possible changes coming in our lives with the COVID-19 pandemic. I have been considering lots of possible effects on family, friends, my team at the GRAMMY Music Education Coalition, and all the public school students our Coalition of more than 70 affiliates serves. My home city, Boston, Massachusetts, is a worldwide hotspot of the pandemic. Our mayor, Marty Walsh, closed public-school campuses for a few weeks at the beginning of the pandemic. By the end of April, our governor officially closed campuses through June, the end of the school year. Of course, communities worldwide are experiencing this. At what scale? According to UNESCO, 9 out of 10 students in 186 countries around the world are out of school.
The GRAMMY Music Education Coalition primarily serves the students who need the most support. For example, in the United States, about 4 million students of America's 51 million public school students don't have access to music in their schools – primarily students of color-. This demographic of students is also least likely to have access to the Internet to learn any subject, not just music. As Jessica Rosenworcel, a US Federal Communications Commissioner, shared with the Washington Post, "With coronavirus, we're about to expose just how challenging our digital divide is, and just how unequal access to broadband is…"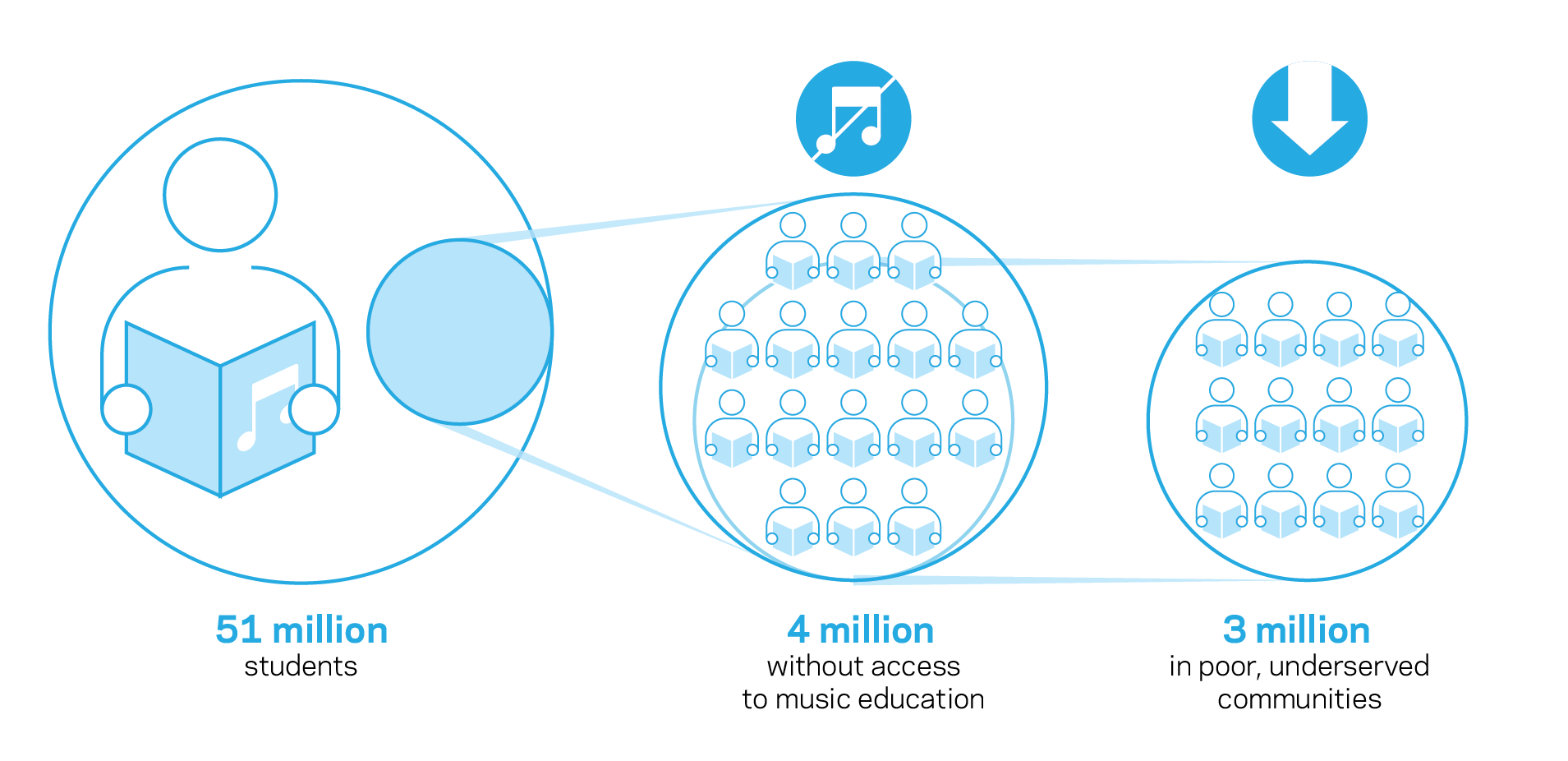 A real-life example of the digital divide, and how an inner-city school system is coping, is the School District of Philadelphia. The district appeared to stumble at the beginning of the pandemic only to quickly recover for its students. To set the stage, 95% of students in the City of Philadelphia schools are defined as underserved, requiring free and reduced lunch (FRL) support. In the United States, the percentage of FRL is a major factor in identifying a school system, its challenges, and what kind of aid schools and students receive from state and local governments.
As schools were closed and students sent home to learn, the school district was criticized in national and local media as being unready to teach from and learn at home. At the beginning of the crisis, Dr. William R. Hite, Jr, schools superintendent, stated, "If that [technology] is not available to all children, we cannot make that available for some…" , addressing equity, access, and technology in his weekly press conference.
While being unprepared to flip the switch on digital learning in the early weeks of the crisis, Dr. Hite and the School District of Philadelphia are now being praised for a thoughtful and metered transition to equitable learning-at-home for most of their 126,000 students. Starting April 20th, a month after shuttering schools, 50,000 Chromebooks and other tools are now in the hands of [most] teachers and students. The community rallied as a public-private partnership, with Internet providers, philanthropists, and others stepping up to help. Philadelphia is one of many school districts presenting actionable solutions to at-home learning.
Before the pandemic, music education in Philadelphia had fully embraced technology and contemporary music programming to engage students. Frank Machos, executive director for the arts at School District of Philadelphia, has embraced modern band, recording, music business, and music marketing as content that attracts students back to music. In the last two years alone the GRAMMY Music Education Coalition (GMEC) has gathered and analyzed data showing that culturally relevant music programming has a big impact on participation in school. Here's a data-driven example: Culturally relevant modern music programming in Philadelphia high schools increased African American student participation 70% year-over-year. GMEC affiliates, including Little Kids Rock, The Save The Music Foundation, Lang Lang's International Music Foundation, and DASH, all contributed resources to roll out the culturally relevant music programming.

Given we are the GRAMMY Music Education Coalition, I'm sure you are not surprised about my focus on music education in a time of worldwide crisis. That said, you may be wondering, "Why music now?" Aren't STEM subjects more important? Can music even be taught to students at home if there's no band or choir room to gather ensembles? Music education has profound socio-emotional, academic and community benefits.
There is also a very broad umbrella of #skills21, including creativity, communication, empathy, adaptability, perseverance, and more that music engenders. As Carol Merle-Fishman, the President of the International Integrative Psychotherapy Association, a licensed creative arts therapist, shared with me recently, "…music in the time of Coronavirus… is one of our best friends. During a time of social distancing, music can, and should, be with us. Music links us to ourselves, our memories, and our hopes. Music links us to others."
School districts already have big problems with chronic absences when schools are up and running. With students at home, and not as connected to others, getting kids online for music learning with well-prepared and equipped teachers will likely have a halo effect on all online school participation. GMEC's student music enrollment data reflects aligned research in the field — participating in music increases student attendance. At a time when Philadelphia, Chicago, Los Angeles, and other major urban school districts are working hard to get kids online to learn, music education is a connector and a bridge. GMEC affiliates the GRAMMY Museum, MusicFirst, the Rock and Roll Forever Foundation, and others offer free access to resources that the Los Angeles Unified School District and most other districts can tap into now.
GMEC is aggregating our affiliates' readily available music education resources for all. Government and state education authorities, school systems, and teachers are flocking to grammymusiced.org/resources. Some examples include a free MOOC (Massive Open Online Course) from Berklee College of Music on Teaching Popular Music in the Classroom. And a Berklee International Network (BIN) Colombian affiliate, EMMAT – Escuela de Musica – Medios – Arte – Tecnologia, offers an entire contemporary music curriculum in Spanish. With the support and encouragement of the Inter-American Development Bank, the GRAMMY Music Education Coalition is partnering with the Latin GRAMMY Cultural Foundation and the University of Miami Frost School of Music to implement similar programs in Latin America.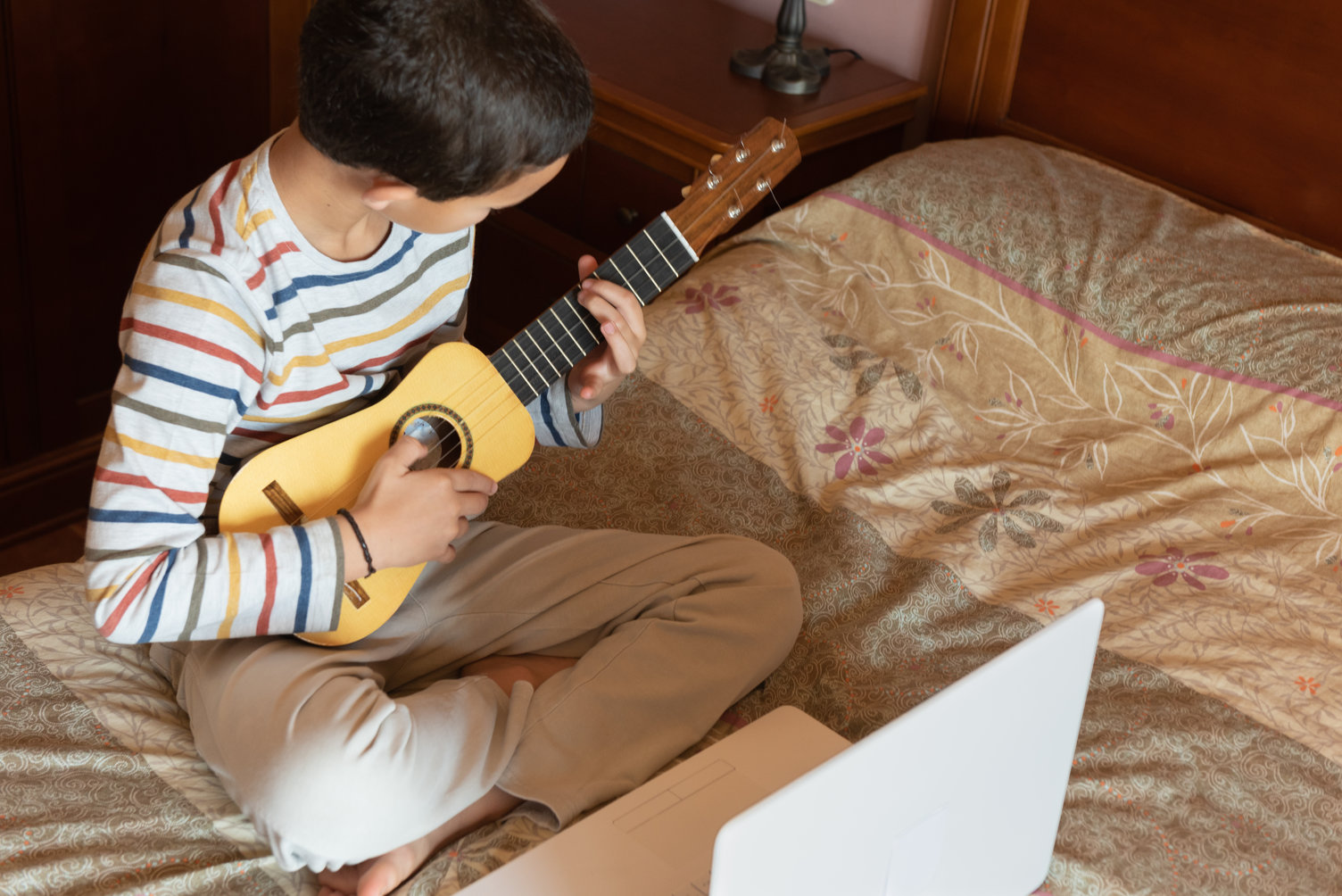 Music education is more important than ever. Especially in the COVID-19 crisis where students must learn from home, and teachers teach from home. No matter the inequity issues that state and local authorities need to bridge, like in Philadelphia, there are ways for all students to include active music making in their days. There are also lots of teacher tools that are openly shared.
Join the movement and help encourage music making in school and at home – #makemusicmatter. Your efforts in spreading the word, and encouraging active music making and creating is guaranteed to make a difference now, and can have lifelong positive impacts for young people, their families and communities.
Stay tuned and follow our blog series on education and #skills21 in times of coronavirus. Read the first entry of these series here. Download the Future is now and keep an eye out for our news!
How important is music in your children's lives? Share your comments below, or in Twitter mentioning @BIDEducacion #EnfoqueEducacion.
_____________________________
In response to the COVID-19 pandemic, GRAMMY® Music Education Coalition is inviting organizations in service to music in public education to consider joining free of charge the movement to improve lives through universal music participation and make an exponentially bigger impact on the lives of young people in the region. And if your organization has resources that GMEC should include in The Hub, please email and share.