"Beyond learning music, it awoke something bigger in me. . . . This is what I have always been searching for, the room to be taken seriously as an artist."
—Merily Ajcip, cellist, Orquesta Alaíde Foppa, Antigua, Guatemala
International evidence demonstrates that music education can play an important role in childhood and youth development.
What Is Music Education?
Music provides a creative outlet for emotions, a bridge between people, and a way to experience the power of persistence. From Germany to the Republic of Korea, studies have tested the music education–based "theory of change," according to which musical training improves brain function, creative collaboration builds social-emotional skills, and music students attend school more regularly, engage in less risky behavior, and are more likely to find a job.
Evidence from randomized control trials in Peru and Venezuela shows that music education can enhance vulnerable students' social and emotional skills. The outcomes are strongest when programs are designed with the specific needs of vulnerable populations. For example, programs that can provide mental health services or cover the costs associated with music education, such as instruments and travel, have a greater impact.
That is why the IDB already supports youth empowerment through music education in Latin America and the Caribbean.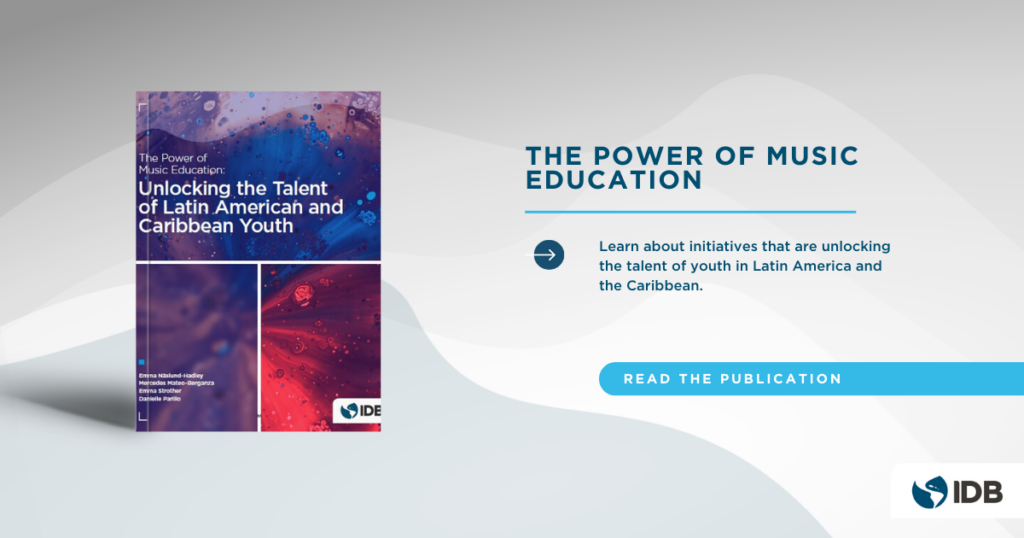 Latin America Has a Wealth of Talent but Few Opportunities
The so-called orange economy—powered by artists, musicians, designers, and other creative innovators—is a crucial engine of social and economic development in Latin America. The music industry is a major force within this economy, fostering international exchange within and beyond the region. Young people throughout Latin America have a wealth of talent that could contribute to the orange economy if they saw a future in it. The region is rich in diverse cultural histories and powerful modern art movements. Yet too few opportunities exist for youth to benefit from the training, support, and imaginative freedom they need to thrive in creative sectors.
Policymakers, educators, and international development practitioners sometimes believe that investing in music and the arts is frivolous, particularly for vulnerable communities facing severe social and economic challenges. When this attitude persists, the orange economy becomes an elite space that does not reflect Latin America's rich diversity of human experiences. Art suffers as a result. Economic growth also stagnates.
Boosting the Orange Economy through Music Entrepreneurs
One emerging area is music entrepreneurship. In 2018, the IDB interviewed creative entrepreneurs across the region on how they generate employment, build prosperity, and deal with adversity in their communities. They identified digitization and entrepreneurship as the two main drivers of cross-cultural exchange in the arts.
With more investments and evaluations, we should be able to discover how helping young people become creative entrepreneurs might enhance their personal growth—and the region's orange economy.
"There Is No Better Therapy Than Music"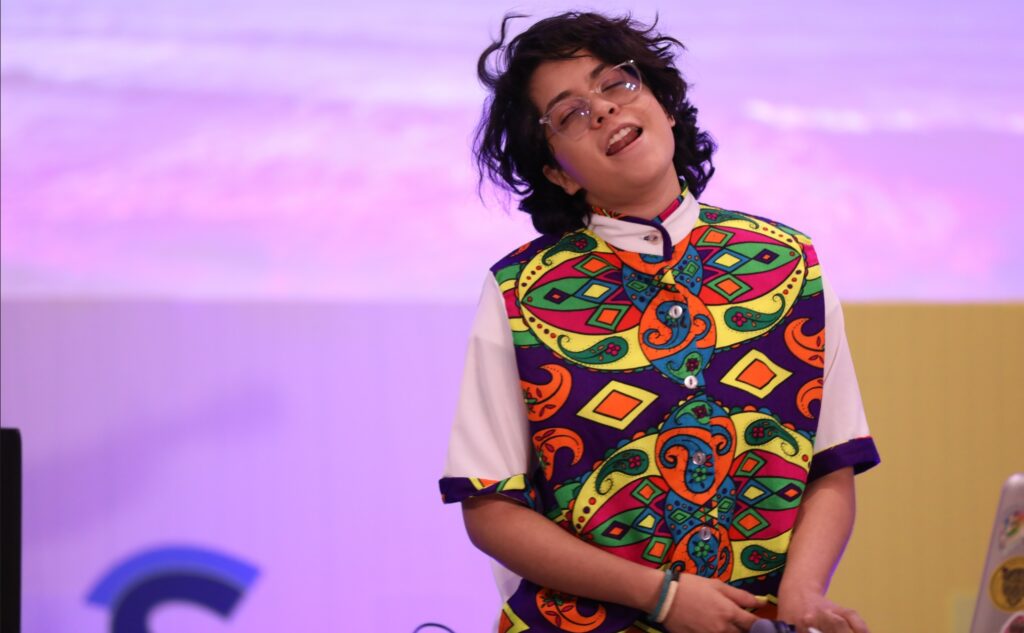 We invite you to read a new publication that draws on conversations with beneficiaries, project team leaders, and partner organizations about music as an engine of social inclusion and economic development.
It highlights successful initiatives, including:
Muévete, a program focused on music entrepreneurship among young people in Colombia. IDB's work on the Muévete Music Education program is possible thanks to our partners, including the Colombian Institute of Family Wellbeing (ICBF), DNA Music, Focusrite, Activoca, Rafael Sandina, and Carlos Vives.
El Salvador System of Children and Youth Choirs and Orchestras
An all-female orchestra and a choir for women's rights in Guatemala
Young luthiers crafting stringed instruments in Peru
A program preventing violence through music education for children and their families in Nicaragua.
As Cairo Amador Arrieta, the president of the Nicaraguan Cultural Forum (Foro Nicaragüense de Cultura), put it, "To mend the soul, there is no better therapy than music."