We know that the key to innovation for any of the challenges faced by Latin America and the Caribbean today is collaboration among diverse actors and the exchange of experiences, and the development and education of the youngest children is no exception. With the firm belief that the exchange of experiences enhances the impact of policies, the Inter-American Development Bank brought together various experts working in Latin America and the Caribbean to open a space dedicated to this topic: the Community of Practice in Early Childhood Development led by the Early Childhood Development (ECD) Innovation Fund.
With the presence of more than 70 child development specialists (government authorities, innovators, civil society organizations, researchers, and businesses), the Community of Practice was launched during a workshop entitled Adaptability and Innovation: Keys to Quality Early Childhood Care, held in June.
Participants and presenters at this workshop have published a series of papers highlighting that Early Childhood Development programs vary in coordination and quality, with inadequate and inequitable access, especially for children under 3 years of age. In addition, they have made new estimates, based on indirect measures of stunting and poverty, that indicate that 250 million children (43%) under age 5 in low- and middle-income countries are at risk of not reaching their developmental potential; and they have calculated that when these individuals grow up, their incomes are likely to be reduced by about one-quarter of the average adult income per year.
Reversing this trend and ensuring that every child can fulfill his or her potential depends on committed communities designing, evaluating, and promoting public policies that protect children and ensure the well-being of their families.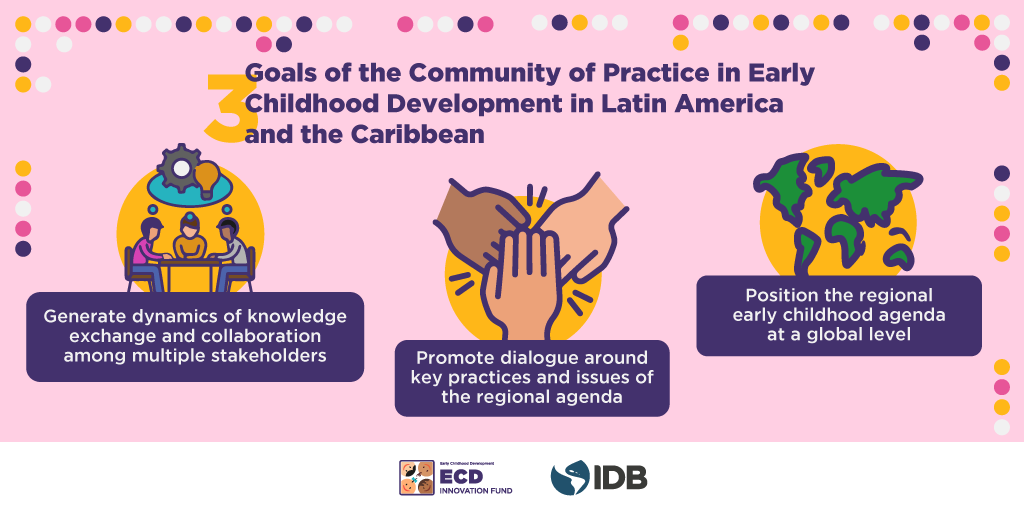 The Community of Practice: knowledge, consensus, positioning 
Apart from promoting dynamics of knowledge exchange and collaboration among policy makers from governments, businesses, professionals, researchers, representatives of civil society organizations and innovators dedicated to early childhood, this Community of Practice seeks to go beyond: it is committed to promoting dialogue and consensus around key practices and issues of the regional policy agenda on child development and positioning them at the global level.
Relevant topics were discussed to improve the quality of early childhood education. Of particular note were the presentations on lessons learned on the design and implementation of virtual and hybrid modalities in Brazil, Ecuador, Jamaica and Panama; on tools for preschool teachers in Jamaica (IRIE Toolbox); and on communication resources in Peru to promote quality interactions between caregivers and children (Mis Primeros Tres). In addition, videos from different innovators in the region sharing their initiatives were received. 
Dialogue and collaboration as key elements to promote early childhood wellness 
The event had room for group discussions in which two relevant questions for the region were addressed: How to generate innovation at scale? And how to generate adaptability and innovation in order to reach the most vulnerable population?
Among the ideas discussed for adapting and innovating in the context of the new normal, three stand out:
Raise awareness about the correct use of technology: it is a tool that is more accessible than ever and an excellent ally for innovation, allowing a closer and more direct contact with mothers, fathers and caregivers to promote skills in the youngest children.  
Innovation at scale in early education should be promoted through intersectorial coordination, generating institutional capacity, and maintaining what is already working in the various sectors.   
Adapt innovations to different contexts, listening to and considering the populations, their needs and sensitivities. 
Additionally, 5 key aspects of the programs that have enabled successful implementations in vulnerable contexts were identified. For example: 
1) Conduct diagnoses to get to know the vulnerable population and identify the main barriers they face.
2) Provide relevant and quality training for teachers and caregivers.
3) Work on the communication of educational materials to make them accessible to populations with a lower educational level.
4) Use exponential technologies and a model for building digital ecosystems to ensure good communication between schools, teachers, and families, guaranteeing the quality development of children.
5) Establish pilots and evaluate them before implementing programs at scale. In early childhood, this is particularly important as it is a very sensitive age: we must scale services that are guaranteed to be of quality.
We look forward to continuing the exchange of ideas with this wonderful group of child development experts from our region. The interest and quality of the interventions are unmistakable signs that this Community of Practice is off to a strong start and that this is a conversation that is just beginning.
We invite you to share your work for early childhood with the hashtag #ECDhub and leave your comments below.
To learn more about multiple initiatives that promote the education of children from zero to five years of age, visit the Knowledge Hub on Early Childhood Development, a page with more than 2,000 resources on early childhood produced in the region.
The Early Childhood Development (ECD) Innovation Fund is a partnership between the Inter-American Development Bank (IDB), FEMSA Foundation, Maria Cecilia Souto Vidigal Foundation, Open Society Foundations, Porticus and the Bernard Van Leer Foundation that funds, designs, implements and evaluates innovative and scalable solutions to improve the lives of children in Latin America and the Caribbean.