Este artículo está también disponible en / This post is also available in: Spanish
Environmental health addresses the risks for human health related to the inhabited space, including interactions with air, water, soil, food, and local ecosystems. Poor environmental quality can create health issues by itself or contribute to diseases of different origin. Globally, environmental conditions cause 12,6 million death a year. Additionally, there is robust evidence about environmental inequities within a city, with a clear correlation between indicators such as worse air conditions in neighborhoods and socioeconomic indicators such as lower income.
In 2020, over 80% of Latin America and the Caribbean population (LAC), lives in cities. Figure 1 summarizes the risks related to four key indicators on environmental health:
Outdoor air quality,
Indoor air quality,
Availability of water and sanitation, and
Lead exposure; also in this figure we illustrate the risk associated with (5);
Physical inactivity, which has an important urban component.
These risks are usually measured in (a) deaths and (b) disability-adjusted life years (DALY), which measures the overall disease burden causing social losses and having consequences for the economy and productivity.
The main elements of environmental health are explained below as they relate to urban management. All these can be mitigated and addressed through urban governance as it will be concluded in this article.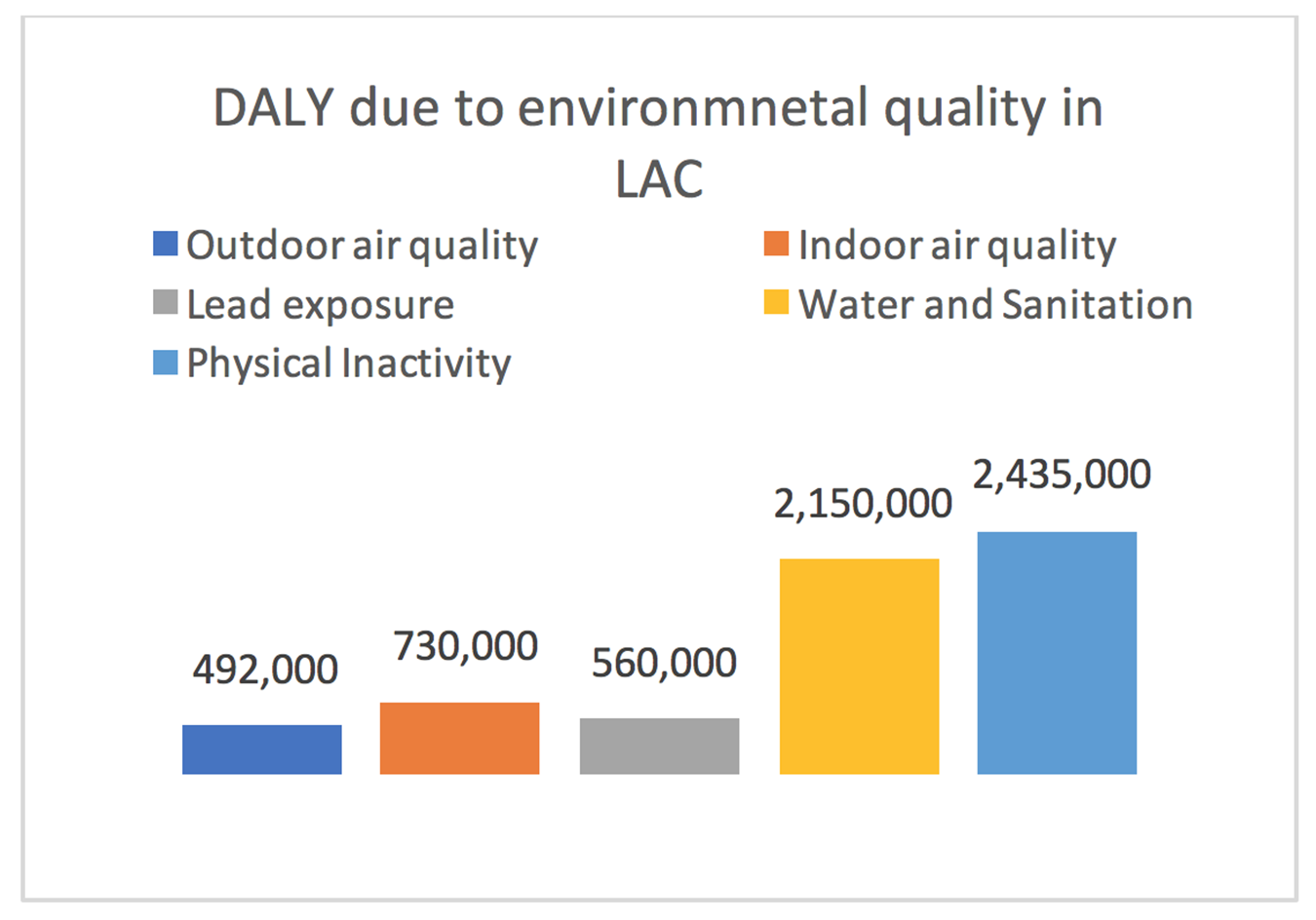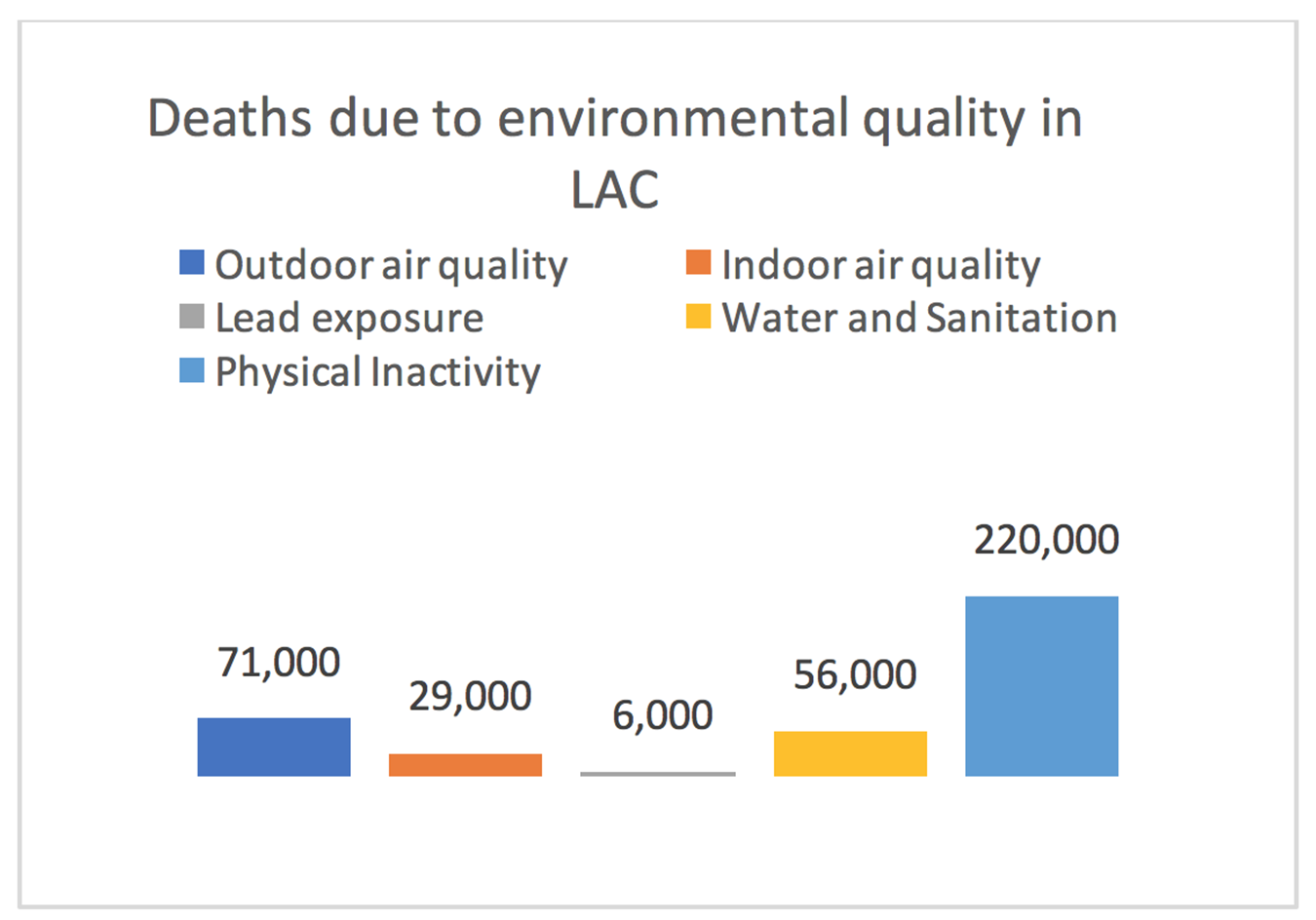 Air
Poor air quality is produced due to particulate matter (PM) or different pollutant gases such as NO2, SO2 and tropospheric ozone, which react in the atmosphere creating smog. Exposure to these substances is widely correlated to a higher incidence of respiratory and cardiac diseases, killing 8.2 million people a year.
Poor air quality can happen both in outdoor air, due to industrial activity and transit, and indoor air due to the use of biofuels of chimneys and stoves. In LAC, 101 cities did not meet health criteria from the World Health Organization (WHO) for coarse particulate matter, 35 of them with recurrent critical levels (Figure 2). As for indoor air quality, 18% of households use biofuels in LAC, generating a high burden of disease due to poor indoor air quality (Figure 2).

Figure 2. Air Quality in main LAC cities. Source: Created by the author with data from: CEPAL (2020). Nivel de Concentración de material particulado grueso (MP10), 2016. CEPALSTAT, Comisión Económica para américa Latina y el Caribe, Naciones Unidas; CEPAL (2020). Nivel de Concentración de material particulado fino (MP2.5), 2016. CEPALSTAT, Comisión Económica para américa Latina y el Caribe, Naciones Unidas; y OMS (2018) Calidad del Aire Urbano.

Water
When untreated, water may contain bacteriological and parasitic diseases, causing diarrhea, schistosomiasis, or worms. Additionally, when water scarcity leads to drinking water from sources with fecal pollution, it can lead to dysentery and paratyphoid fevers. Another element of water pollution is driven by chemicals such as arsenic, which can happen due to natural causes, such as geologic traits of water tables; or due to traces of industrial waste, such as mining. Exposure to arsenic leads to cancer, reproductive issues, and cognitive impairments in the long term.
Although most of the water-related deaths take place in rural areas, LAC cities still have gaps related to water services in informal settlements, where 21% of the urban population lives. As a result, 12.1% of LAC urban population lacks basic sanitation infrastructure, and 2.6% has no access to drinking water, creating a health-related burden (Figure 1).

Source: Pixabay.com by aitoff. Outfall pipe waste water effluent. Free commercial use.

Buildings
Materials and construction techniques are key in the exposure to toxic chemicals, which can have either a natural or an anthropogenic origin. For example, radon is a gas naturally present in some geologic floors and construction materials and can lead to fetal damage and cancers in the long term. To prevent radon intoxication, it is essential to know the geologic floors of cities and avoid materials that can emit radon. This risk can also be addressed creating urban regulation of ventilation in buildings.Asbestos is another chemical widely used as thermal insulation in construction. All forms of asbestos are carcinogens, particularly regarding lung, larynx, and ovary, as well as acute pulmonary fibrosis. In LAC, only five countries (Argentina, Brazil, Chile, Honduras, and Uruguay) have formally banned their use, leading to situations such as Guatemala, where 29% of floors have asbestos, or El Salvador, where 25% of roofs contain it.Lead is another toxin historically used in plumbing, paints, and coatings. Although its use has mostly halted, buildings that used them are still standing, causing both deaths and illnesses. Lead especially affects the brain and nervous system, causing impairment of the intellectual development, coma, convulsions, or even death in acute intoxication. On a similar note, extended exposure to low levels of lead is associated with anemia, hypertension, kidney dysfunction, immunotoxicity, and reproductive toxicity.The management and inspection of the risks associated with building materials are hindered by the high level of informality in buildings in LAC, which often surpasses 40%.
Climate Change
Underlying issues related to environmental health, such as water unavailability, or respiratory problems, will be exacerbated by climate change, adding 250,0000 annual deaths between 2030 and 2050. For example, 2 billion people currently live in cities with water stress; this number will grow in the coming years, worsening the situation.Climate change implications for environmental health in cities can be either direct or indirect. Among direct ones are problems related to water, or air quality problems due to the increased reactivity of pollutants caused by higher temperatures. Indirect effects, on the other hand, are those arising from climate change on other systems, such as food production.The IPCC highlights that the most effective way to reduce climate change-related risks to urban health is to grant equitable access to basic infrastructure and services as well as reducing poverty and vulnerability.Other climate-related health issues are the forecasted expansion of mosquito-transmitted diseases such as dengue or malaria due to the rising temperatures; and also, the double effects of land-use change which both exacerbates climate change and exposes humans to zoonotic diseases.
Physical Inactivity
Physical inactivity is not an environmental health issue per se, but a rather behavioral condition heavily influenced by urban design, which has the potential to create barriers or incentives to its development.  All four elements that WHO identified as leading to physical inactivity are urban management-related: (1) fear of violence in the streets, (2) high traffic density; (3) poor air quality; (4) lack of parks, sidewalks and sports facilities.Currently, physical inactivity is the fourth cause of mortality in the world, responsible for 6% of total deaths. It is the leading cause of about 21% to 25% of breast and colon cancers, 27% of diabetes, and 30% of ischemic heart diseases. Cities in LAC report having between 2 to 5 sqm of green areas per person, while in Europe there is an estimated 15 sqm per person, with its health consequences (Figure 1).
The city as an action axis
Cities and the built environment are at the core of action that can modify, mitigate, and manage environmental health-related risks. In this sense, there are actions in three levels that may address these problems:
City level: urban planning has direct effects on the provision of water and sanitation services, the minimization of climate change impacts, and access to parks and sports facilities, directly influencing at least three components. Similarly, the deployment of specific plans such as decontamination or transport plans directly affect parameters that determine environmental quality.
Neighborhood level: specific interventions in neighborhoods, such as the creation of bike lanes and sidewalks and interventions aiming at reducing violence, directly affect space availability for physical activity and change of habits. Similarly, interventions destined to provide services to informal neighborhoods reduce water and sanitation-related risks.
Housing and building level: city regulations, projects, and interventions aimed at ensuring housing quality, either of new construction or reconditioning of existing ones, notably reduce environmental health risk exposure. Among these tools are regulations for ventilations, material security, and access to non-fuel-dependent domestic appliances.
The COVID-19 pandemic evidenced humans' vulnerability to pathogens. Although more research is required, its incidence and criticality in certain areas arise suspicion of its behaving like other respiratory and immunological ailments, where air quality is determinant in populations' vulnerability.
Undoubtedly, this pandemic will provide lessons to the development of tomorrow's cities, among them, the relevance of accessing an adequate environment for human health. Priorities for post-COVID19 economic reconstruction should consider Hipocrates lessons, which highlight the importance of environmental causes of most diseases. After all, he is the father of modern medicine.
---
Cover Image Source: Pixabay.com by marcinjozwiak. Pollution. Environment. Drone aerial shot. Free commercial use.