Este artículo está también disponible en / This post is also available in: Spanish
Having a disability (either congenital or acquired), being elderly (with reduced mobility or degeneration of the cognitive abilities) or being a child in a city in Latin America and the Caribbean (LAC) is not an easy task because most public spaces and services are neither accessible nor inclusive.
In LAC, about 80 million people have some type of disability (more than the population of Argentina and Peru combined). It is also estimated that 12% of the population will be over 65 years old. However, neither people with disabilities, nor the elderly, nor their caretakers, are taken into account, in most cases, when designing public space in the cities of our region.
It is evident that accessibility and inclusion in cities affects a significant proportion of the population. For this reason, it is essential to consider the needs of the entire population when designing public spaces appropriately. When this happens, social cohesion, identity building, and economic development are promoted.
To advance towards inclusionary urban development, LAC countries have recognized the rights of People with Disabilities by ratifying the Convention on the Rights of Persons with Disabilities adopted by the United Nations. Likewise, they have adopted the OAS Inter-American Convention for the Elimination of All Forms of Discrimination against Persons with Disabilities. In addition, inclusion is a dominant topic within the United Nations' Sustainable Development Goals.
However, despite the advances in cities' regulatory frameworks, there is still a long way to achieve inclusion in cities' urban development.
How do urban barriers affect the day-to-day life of people with disabilities?
The lack of access for people with disabilities to public spaces also undermines the quality of life of their families and caretakers. Still, everywhere in our cities we encounter spaces that can only be accessed by climbing stairs or walking through narrow paths, systems that can only be navigated by reading written instructions, or buses and metros that cannot be accessed with a wheelchair or a stroller.
As these urban practices are ubiquitous, they have come to define our expectations for what needs can and cannot be accommodated in public spaces and systems. These barriers affect more than people with disabilities' mobility, they also affect their opportunities for socialization and economic prosperity. For example, playgrounds that lack equipment for children with disabilities segregate them from other children, and transportation system that cannot accommodate people with disabilities hinder their abilities to access jobs.
Perhaps current views that limit accessibility are remnants of the narrowly utilitarian rationale guiding the urban plans of the industrial cities of last century. Cities planned to enable factories for mass production, in search of efficiencies in moving workers and merchandise, are clearly obsolete today when access to information and communication technologies marks the pace of economic production.
By enabling access to urban centers and to transit for more people, cities would only increase economic opportunities and economic productivity. The costs of non-inclusive cities are high. For example, the lower rates of employment for people with disabilities translate into a heavy welfare weight on governments, representing between three and seven percent of the global GDP and a loss of the 20 percent of the global market of tourism.
How to build public spaces for people with disabilities, children and the elderly?
Recognizing the relevance of inclusionary urban spaces, some cities in LAC are investing in accessible public spaces and urban systems. The Brazilian cities of Curitiba and Uberlandia have committed to a public transport fleet fully accessible to people with disabilities. Other cities in the region have also made significant progress. La Paz, for example, with the world's largest cable car system, has opened opportunities for many of its citizens.
However, these regional examples are still the exception rather than the rule. For many of the countries in the region signatories of the Convention, effective implementation of the Convention presents a major challenge with a long road ahead before the accessibility becomes a reality.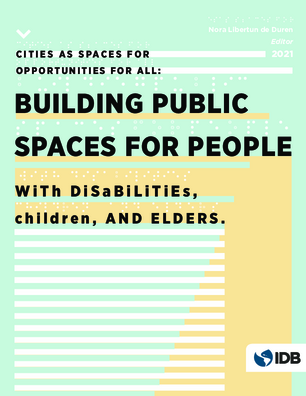 To support cities' efforts, at the IDB we have developed a monograph (which can be downloaded here) that offers nine case studies of how cities have proactively increased inclusion of people with disabilities. The cases encompass initiatives from governments, civil organizations, and private entities; some of them are more focused on removing urban barriers, while others aim to promote activities that further social integration.
The projects include actions in real and virtual spaces; in spaces to stay, to play and to transit; and in cities in Brazil, Bolivia, Colombia, Ecuador, Israel, the United States, and Spain. Importantly, all cases presented are real projects that have been successfully implemented. Our aim is to ensure that inclusion is taken into consideration from the early stages of project planning, through participation of different social groups, elimination of physical and social barriers, as well as awareness campaigns, among other activities.
Cities should be built for everyone with the objective to increase the freedom of their residents.
The sum of these essays and case studies shows that many cities are making important progress but that there is still much more to do to make cities truly inclusive. Urban planning and urban design should and could remove environmental obstacles and thus increase the independence of movement and enjoyment of spaces for most people. Ultimately, cities need to be built to increase the freedom and capabilities of all their residents. Please, share in the comments section, initiatives that your city has implemented by eliminating environmental obstacles and favoring access and enjoyment of public spaces. We will be happy to learn from them!