World Water Day calls for ensuring water for all. Peru's Andean communities are taking steps to warrant water and sanitation rights 4,000 meters above sea level.
In Romatambo, Peru, at the foothills of the snow-covered Caullaraju, on the white Andes Mountains and 4,000 meters above sea level, temperatures usually drop below 0° Celsius (32° Fahrenheit) in the summer and never exceed 10° C (50° F) in the winter. This beautiful and lonely place is where Maria and her husband live. Their combined ages total more than 120 years.
For thousands of years, this steep site has been home to Quechua communities, one of the human groups with less access to drinking water and sanitation in Peru.
The latrine built by Maria's children, who now live in the city and visit her once a month, was more than 70 meters from her house. Cold temperatures and solitude –the closest neighbors live nearly 800 meters away– limited the use of the latrine, badly beaten by a combination of outdoor exposure and poor construction using inadequate materials.
These harsh conditions are shared by millions of people around the world, particularly in rural areas.
The Sustainable Development Goals adopted in 2015 by the United Nations General Assembly include the human right to water and the human right to sanitation in the section about goals on universal access to basic services and universal access to safely managed drinking water and sanitation services, including an end to open defecation.
While over the past few decades access to drinking water and sanitation services has improved dramatically in the region, huge gaps between urban and rural areas still remain. In 2015, according to the UN Joint Monitoring Program, 2.7 million rural area dwellers had to walk at least 30 minutes to reach a safe source of water. The numbers swell if we take into account the more than 15.2 million people in rural areas who were drinking from unprotected sources or from surface waters.
In this context, four pilot projects financed by Aquafund, a multidonor program managed by the Inter-American Development Bank (IDB), are working hard to ensure that those human rights reach all sites, including those 4,000 meters above sea level.
The sanitation unit –with dual-chamber dry toilet, sink with drinking water and shower– built under the pilot program financed in Peru, not only brought the bathroom closer to Maria (it was built two steps away from her house door), but thanks to a boiler connected to an improved kitchen stove, she could enjoy a hot-water shower for the first time.
Many gaps to bridge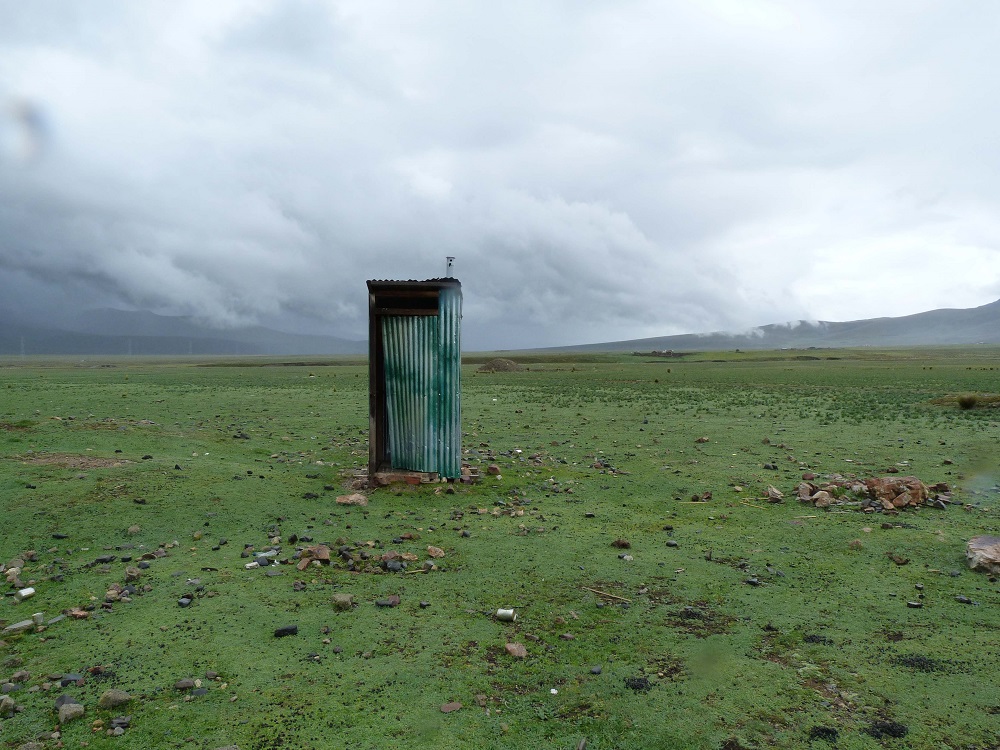 Investing in sanitation infrastructure in scattered rural sites calls for special conditions that need careful attention.
But the gap is not only about access, it is also about gender. Most of the water-fetching burden in rural areas is borne by women and girls who walk for hours carrying water containers of up to 20 liters. According to JMP data, women and girls are in charge of hauling water in 8 out of every 10 households.  This not only means that they have less time for productive, educational or recreational activities – it also entails health and personal safety hazards.
Throughout Latin America and the Caribbean, more than 19.6 million people living in rural areas share sanitation facilities or use unimproved facilities such as pit latrines without slab, and more than 14.1 million continue to practice open defecation. Lack of bathrooms at schools hampers girls' attendance, especially during their menses. Several studies have shown that student enrollment rises by 15% in communities where schools have drinking water and bathrooms, which sheds light on the multisectoral impact of drinking water and sanitation access.
Universal availability of these services, which means safe, affordable, readily available and quality access for all men and women, requires reaching out to the most remote communities. Typically, these communities comprise spread-out houses far from urban areas, challenging access, low population density, low income and educational levels, great ethnical diversity, low presence of public institutions, and limited access to basic health and education services.
In 2017 the IDB issued a and sanitation rights in Latin America and the Caribbean, laying out the regulative criteria to ensure universal access to these services.
A pilot plan to ensure rights
The Multi-donor Aquafund is a thematic fund issued by the IDB and financed with resources from the Bank as well as from the following donor partners: the Spanish Agency for International Development Cooperation (AECID); the Swiss government, through the Swiss Cooperation Agency for Development (COSUDE) and the Secretary of State for Economic Affairs (SECO); the government of Austria; and the PepsiCo Foundation. Since 2011, Aquafund has financed projects in Colombia, Honduras, Mexico and Peru aimed at developing intervention models for the access to drinking water and sanitation services in spread-out rural areas. A total of 3,546 people benefited from new or improved access to drinking water and 2,818 people from new or improved access to at least basic sanitation services.
The intervention models to attend to the needs for spread-out rural areas' access to drinking water and sanitation services pose specific challenges at institutional, environmental, technical, social, and financial level. They also require defining post-construction-support management mechanisms adjusted to each community's characteristics to ensure the sustainability of the systems.
Pilot tests suggest a need to adapt technologies to dispersion scenarios, implementing systems that are simple to operate and generally aimed at self-sufficiency. It is also vital to take into account social aspects (women's role, interculturalism) and behavioral change (paying bills, washing hands, menstrual hygiene, use of facilities, protection of the source, responsible consumption, etc.), as well as providing training on new facilities' operation and maintenance, and involving public institutions to ensure service appropriation and sustainability.
Every day now, Maria washes her face while contemplating the Caullaraju and looks at herself in the mirror that she bought for her new bathroom. She proudly shows off her home and makes the point that her grandchildren, when they come to visit, can use her bathroom "as if they were in the city." Maria and her family saw not only their living standards rise, but their dignity too.