On this International Women's Day, we want to highlight women who work every day in water, sanitation and solid waste projects to improve the quality of life in their communities.
Written by Paul Constance
Laura Guanoluisa starts every day outnumbered by men. She is the only woman in a household with four children and a husband, "my five boys," as she affectionately calls them. But it is this habit of living with her "boys" that allows her to lead in a highly masculine environment as president of the National Network of Recyclers of Ecuador (RENAREC).
RENAREC represents some 50 recycling organizations and thousands of people who earn their living as waste and recycling workers. As their leader, Laura is at the center of complex negotiations on job security, social security benefits, wages and labor rights. She is the public face of a sector that has just emerged from the shadows thanks to a generation of informal waste workers who struggled over the past two decades to dignify and improve their working conditions.
Laura got her start in recycling thanks to her grandfather. "When I was five or six years old, I started accompanying my grandfather to the construction sites where he recycled. I remember finding lots of stuffed animals and dolls, some of which I still have," she says.
Eventually, Laura followed in her grandfather's footsteps and joined the ranks of Quito workers who sort waste at municipal landfills to recover materials that can be sold to recyclers. The work was dangerous and unpleasant, but it provided a reliable income. Over time, she began talking to co-workers who were angry about the risks involved in handling hospital waste and improperly disposed animals. They also wondered why their work was not properly recognized and valued by government authorities or the recycling industry.
In 2008, Laura joined the newly created RENAREC and began speaking at meetings. She was soon asked to start visiting municipal landfills throughout Ecuador to interview workers and study their problems and concerns. In 2014, Laura was part of the team that secured a meeting with the then President of Ecuador, Rafael Correa. This historic event produced an agreement to recognize waste pickers as formal workers and laid the groundwork for reforms that could enable them to receive better compensation and government benefits.
Although women make up a large percentage of Ecuador's recycling and waste workers, they were not initially welcomed in RENAREC's leadership positions. "When I first became a leader, it was a challenge for me," Laura recounts. "My colleagues said, 'But you're a woman! How are you going to have time for meetings? How are you going to travel to exchange experiences with other countries?' One of my colleagues, with whom I got along very well, said: 'Laura, you have children'. And I said, 'Don't worry about it… I'll be able to travel!'"
In fact, as president, Laura has visited Italy, Indonesia, Argentina and Colombia, among other destinations, to speak at conferences and share experiences with other leaders in the recycling and sanitation industries. "I've been able to show my male and female colleagues [what we can achieve]," she says. "I've worked with ministers [and] the president. They've learned that they can't close the door on us."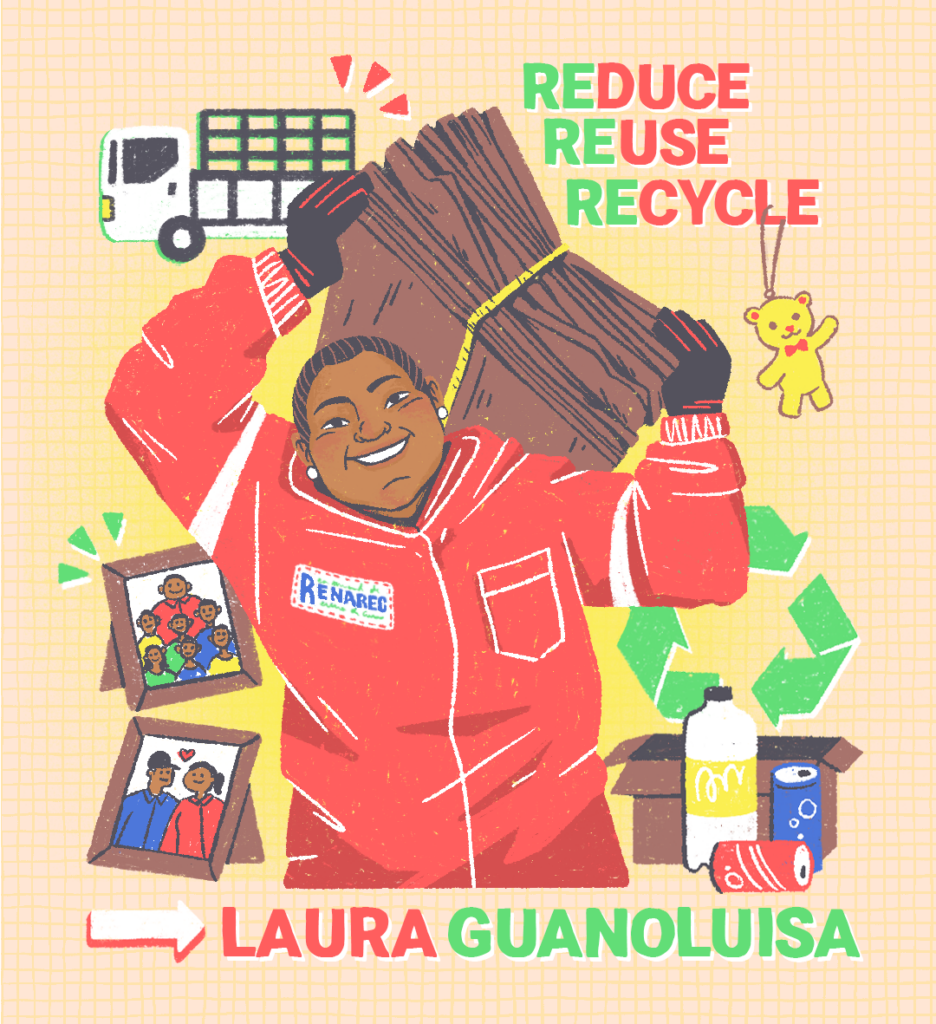 Laura acknowledges that she has the support of her husband and children, but she also trains herself to improve day by day. Thanks to leadership workshops funded by Fundación AVINA and other organizations, she has become an effective public speaker and advocate for shared responsibility to better manage waste, increasing RENAREC's visibility in the media. "When people properly sort garbage [in] their homes, they take better care of nature, because we can avoid sending tons of waste to landfills and make sure instead that it goes back into the productive chain of recyclable materials," she said.
Although the reforms called for by RENAREC have not yet been fully implemented, Laura believes that garbage workers and waste pickers made significant progress. "I am very proud of the work we have done to give greater visibility to the contributions of informal recyclers," she says.
"We will continue to defend our rights, and we will continue to work to improve the quality of life of our compañeras and compañeros. Little by little, we are helping people understand that our work is very important, that we also contribute to the city, the environment, the economy and the nation, while earning a living," she says.
Laura now has six grandchildren and hopes that at least one of them will study environmental engineering or a related field; "My dream is that one of them will end up contributing to everything we've done in the recycling field".
View Spanish version video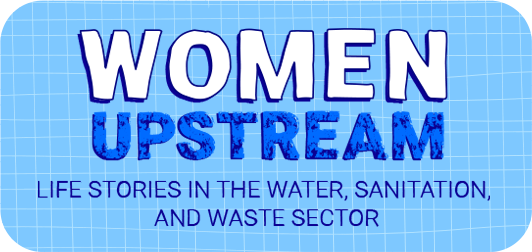 Series: Women Upstream
Follow each story to learn more about the lives of women who worked for the benefit of their community with tenacity and perseverance by taking leadership in spaces that used to be only for men.
Meet Cristina Arango: The director who fights for the inclusion of more women in water and sanitation
Every two weeks we will upload a new profile. To learn more about "Women Upstream" subscribe to our blog here.
Upstream Women's Team:
Coordination: Anamaría Núñez, María Augusta Olmedo and Leticia Ortega
IDB Gender Specialists: Naiara Martínez
Content: Andrea Ortega Carreño and Paul Constance
Illustration: Verónica Alvarado and Carolina Curbelo
Audiovisual Production: Adriana Loeff