Latin America and the Caribbean is the fastest-aging region in the world. People living longer is a positive development, but it brings with it more widespread care dependence—difficulty performing activities of daily living like bathing or getting dressed. We estimate that by 2050, between 27 and 35 million people in our region will need help completing these basic tasks. This help has traditionally been provided by families, specifically women, with negative consequences for their productivity and financial independence: women who take care of the elderly in their homes participate less in the labor market and work less hours when they do participate. How can we improve this situation? The answer is long-term care systems.
What do the region's time use surveys tell us?
In a new study based on time use surveys, we found that a large majority of the work of caring for older people in families falls to women: 72% in Mexico, 78% in Chile, 86% in Columbia, and 88% in Costa Rica. The same source shows that women who take care of older people are less likely to work outside the home. In Chile, for example, 53% of working-age women not taking care of older people work outside the home, as opposed to 43% of women who are providing that care. The most striking case is Costa Rica, where only one in four women taking care of older people works outside the home (25%), as compared to 47% of women without these caregiving duties.
Furthermore, data from Colombian and Mexican time use surveys shows that female caregivers who do continue to work outside the home work significantly fewer hours than their non-caregiving counterparts. In Colombia, for example, they work 36 hours per week, while working women without eldercare duties average 43 hours. Productivity takes a double hit from the lower likelihood of employment and the fewer number of hours worked.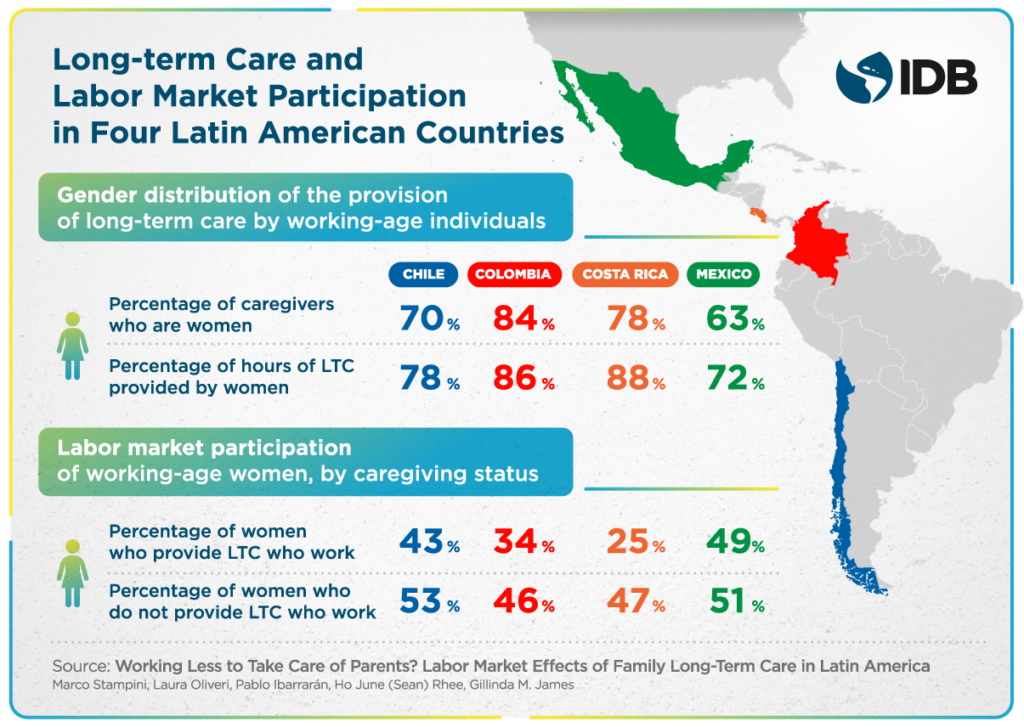 Time use surveys can describe the situation, but they can't establish a causal link. In other words, it can't be concluded that caring for an older family member is the cause of the drop in employment. Skeptics might say the trend is driven by self-selection. For example, it could be that the women who choose to stay home and care for older people are the women who would work less outside the home anyway, due to factors like motivation, skill, or preference. Should this be true, policymakers should perhaps not be concerned, because what we see is optimal, desirable. In the same study, we analyze this possibility using data from Mexico's National Health and Aging Study (Estudio Nacional de Salud y Envejecimiento—ENASEM)
What can we learn from the region's only longitudinal study on older people?
Data from the ENASEM tracks various cohorts of 50-year-old and 64-year-old Mexican women over the course of up to 18 months, observing how their labor participation changes as a function of the care needs of their father or mother. Based on the longitudinal nature of this data and the statistical techniques used, it can be concluded that the drop in women's employment is due to caregiving, not their personal traits and preferences. We found that having a care-dependent father or mother is associated with a 2.4 percentage point drop in likelihood of employment. We also found a 7% reduction in hours worked (around three hours per week) for women who continued to work. By contrast, having a care-dependent mother or father has no effect on men's labor market participation.
We need to build systems of long-term care services
These results are the first of their kind for Latin America and the Caribbean, and they highlight the need to build systems of long-term care services. The current situation is unsustainable, given the demographic and social trends of smaller household sizes and children living farther from their parents. It is also unfair for women to have to shoulder the entire burden of caregiving, a burden which contributes to women's continued position of social and financial subordination. In this sense, the emerging silver economy, which calls for strategic coordination between the public and private sectors, could be a powerful force for financial independence for women and job creation through the development of long-term care services.
What is the situation in your country? Are there women who can't work because they have to take care of older people? Are there long-term care services that allow women to keep working if they want to? Leave us a comment or mention us on Twitter @BIDgente