Data compiled by NASA shows that 2020 was the hottest year globally on record, tied with 2016, when compared to the average temperature recorded between 1951 and 1980. Since the 1880s, the Earth's average temperature has risen more than 1°C and there is consensus that countries need to move far more aggressively to decarbonize their economies.
Finance and planning ministries have a central role to play. To tackle the climate crisis, they must prioritize climate action and put together fiscal policies that consider the impacts of climate change and contribute to a just transition to low-carbon economies.
The impacts of climate change are increasingly severe across Latin America and the Caribbean. Hurricanes strike the Caribbean and Central America causing great economic and social losses while droughts and floods affect large productive areas. In sectors with redundant and polluting technologies, jobs are permanently lost and the energy transition and growth of electromobility put the fiscal sustainability of fossil fuel producing countries at risk.
What can finance ministries do?
This complex situation requires finance ministries to assume their role in designing and implementing fiscal policies that address the impacts of climate change while laying the foundations for a just and orderly transition to green and resilient economies.
The present situation, where countries are seeking to boost economic growth after the damages caused by the pandemic, offers the opportunity to invest in a better type of development. This could lead to a substantial increase in the adaptive capacity of countries to manage the impacts of climate change and support the shift towards net zero carbon emissions economies.
Indeed, the latest science warns us that it is necessary to substantially reduce carbon emissions by 2030 and achieve net zero emissions by mid-century if we want to avoid the most negative effects of global warming and limit the rise in the global temperature to 1.5°C or 2°C compared to pre-industrial levels.
With that in mind, the new book, Fiscal Policy and Climate Change, shows the recent progress, challenges and experiences of Latin America and the Caribbean finance ministries using fiscal policy measures to achieve these objectives. It presents three areas where these ministries can help solve the climate crisis and concrete experiences that could contribute to establishing green fiscal policies.
1. Managing economic and fiscal risks
The impact of extreme weather events generates considerable fiscal pressures. As a result, there must be mechanisms to mitigate these risks using financial instruments as well as establishing governance and risk management mechanisms within fiscal policy.
The incorporation of risk management into medium-term fiscal programming and integrating elements of resilience and sustainability in the management of public and private investments must be part of this effort. The potential benefits of these interventions are enormous: every dollar invested in infrastructure resilience can generate up to four dollars in economic benefits.
In addition, the transition to net zero emissions economies will disrupt sectors, such as the fossil fuel industry, that have traditionally contributed to tax revenues. The public finances of several countries will be affected by the fall in income from oil and natural gas exploitation and by the existence of assets that cannot be exploited or used. For this reason, it is important that finance ministries anticipate the risks that these changes will have in income and plan measures that guarantee fiscal sustainability.
The energy transition will also require the elimination of price distortions of polluting energy sources in relation to clean sources where incentives are generated for improving energy efficiency and innovation and support for adopting green technologies. To achieve this, it is necessary for finance ministries to reform energy subsidy policies and establish complementary measures that improve the acceptability of the reforms by citizens; particularly helping the most vulnerable households, workers, and regions.
2. Promoting a just and inclusive transition
The transition to green economies has very important implications as it will generate new patterns of production and consumption. The role of finance ministries is key to this transition since they must direct spending and public investments towards economic activities that are low-carbon and create jobs. It is estimated that the transition to net zero emission economies could create, if well managed, up to 15 million net new jobs in Latin America and the Caribbean by 2030.
Directing public resources towards sustainable infrastructures is among the roles that entities responsible for public investment must fulfill (such is the case of the finance or planning ministries depending on the country). In this sense, public policies to support sustainable investment are essential to channel them towards new areas that are sources of employment and economic growth that result from the adoption and development of new technologies.
With these effects, it is essential that investments are aligned with long-term mitigation and adaptation strategies and connect them with investment programming and integrating the climate dimension throughout the different stages of the project cycle. This in turn would strengthen the capacity to manage public investment and the mobilization of financial resources.
3. Facilitating access to finance
Fiscal policies play a crucial role in facilitating investment in sustainable infrastructure as they make it possible to establish incentives and implement regulatory reforms that mitigate barriers to public and private investment. For example, finance ministries can help attract green financial resources by establishing strategies against climate change that capture the growing interest of capital markets in placing resources in sustainable projects.
The case of Chile's Financial Strategy for Climate Change is especially relevant in this regard. It established a framework of action under three work areas: i) the generation of information, data and analysis to mobilize resource flows consistent with the country's climate objectives; (ii) promoting the design and implementation of green financial instruments and supporting the market; and (iii) strengthening the capacities of the local financial sector in terms of risks and opportunities derived from climate change.
This strategy facilitated the launch of the sovereign green bonds by Chile in 2019, which were not only the first of their kind in the Americas, but also showed the potential of this new financing modality and the catalytic role of finance ministries in the development of new green financial markets.
Finance ministries can take climate action to the next level while supporting a sustainable recovery
The urgency of addressing the climate crisis and achieving a sustainable recovery from the pandemic requires a strong participation by finance ministries. This would not only "help" but also effectively contribute to accelerating the transition to green economies, increasing resilience to climate impacts, and create new economic opportunities that generate more and better jobs.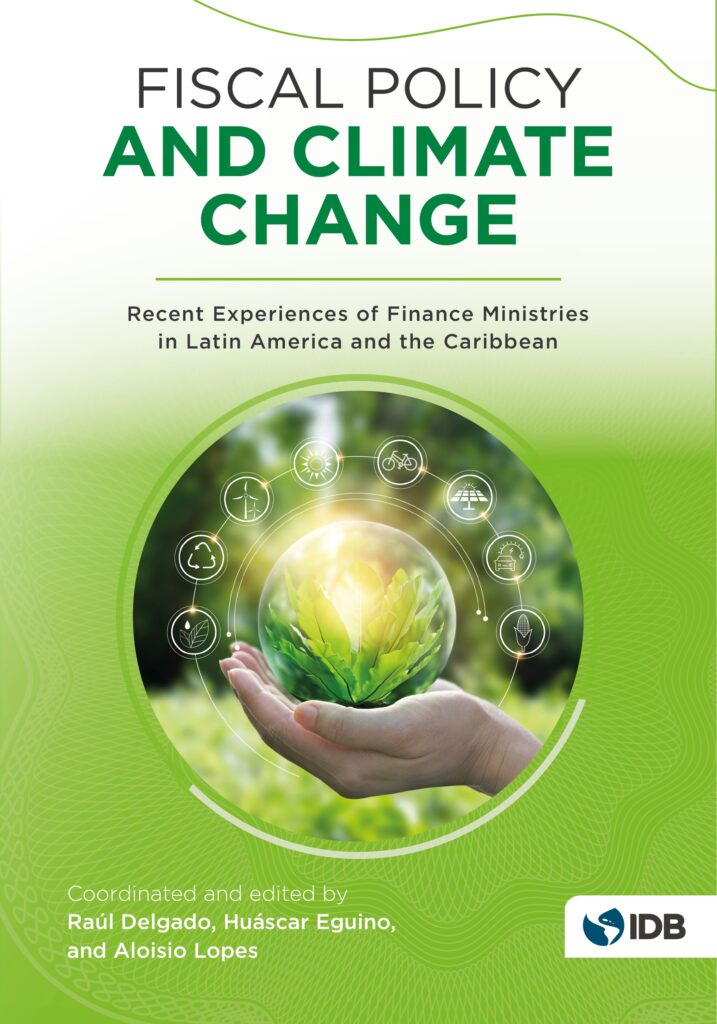 We invite you to read, Fiscal Policy and Climate Change, and discover what tools finance ministries are already using and others which are within their reach, as well as key elements for decision-making that can ensure sustainable and inclusive growth after the pandemic.