Did you know that one kilogram of hydrogen has roughly the same energy content as one gallon of gasoline, and yet when burnt, it only emits water? In other words, the combustion of hydrogen is 100% without any carbon emission. When the hydrogen is obtained from the reforming of natural gas, and its carbon emission is captured, stored and/or utilized (CCSU) we refer to it as blue hydrogen. However, if the source of hydrogen is water, in which a water molecule is split into O2 and H2, by using electricity from a renewable energy source, then we call it green hydrogen. Hydrogen can bring huge opportunities, together with carbon capture technologies, for future power generation and for the decarbonization of activities that are difficult to abate and electrify, particularly for heavy transport (air, freight, maritime) and heavy industry such as metallurgic, cement, chemical and petrochemical activities.
Hydrogen is today mostly produced from natural gas and coal processing, and directed to produce ammonia, methanol, and refining activities. This is what we call grey and black hydrogen, respectively. Different countries are adopting different strategies. Some countries are moving forward still based on fossil fuel, using Carbon Capture Storage and Utilization (CCSU) techniques with a significant reduction in grey hydrogen production. Other countries are pledging to move directly to green hydrogen, allowing the use of renewables to decarbonize other uses of energy, currently based on fossil fuels.
The actual hydrogen color path will probably depend on the pace of cost reductions and the strength of climate change policies. While some studies such as BNEF[1] estimate that green hydrogen will be competitive by 2030, other studies -such as International Energy Agency – estimate that blue hydrogen will be important for the transition by 2030. Many countries rich in fossil fuels are already moving in the direction of blue hydrogen. The question is what is the best strategy for your country? It should consider the natural resources endowment, the countries' objectives and the different scenarios for technological development.
The ever-lower prices in renewable electricity, in the order of US$0.4/kWh, are bringing an opportunity to direct the excess of renewable energy towards the electrolysis of water to produce green hydrogen at a competitive price, below US$2.5/kgH2. According to the IEA, by 2050 there will be around 300 million tons of hydrogen produced annually, more than four times the current demand, and almost half of it is expected to be in the form of green hydrogen. In the figure below, the IEA showed a hydrogen demand forecast under the sustainable development scenario until 2070, also showing the key role that green and blue hydrogen will play, and how the sectors demanding it will be diverse, including power generation, transport, industry, ammonia, and synfuel production. To achieve net-zero emission by 2050, the effort of decarbonization should be still more important than the scenarios below. It means the clean hydrogen can be still higher than the scenarios below.
Global hydrogen production by fuel and hydrogen demand by sector 2019-2070 Under the Sustainable Development Scenario (Source IEA, Energy Technology Perspectives, 2020)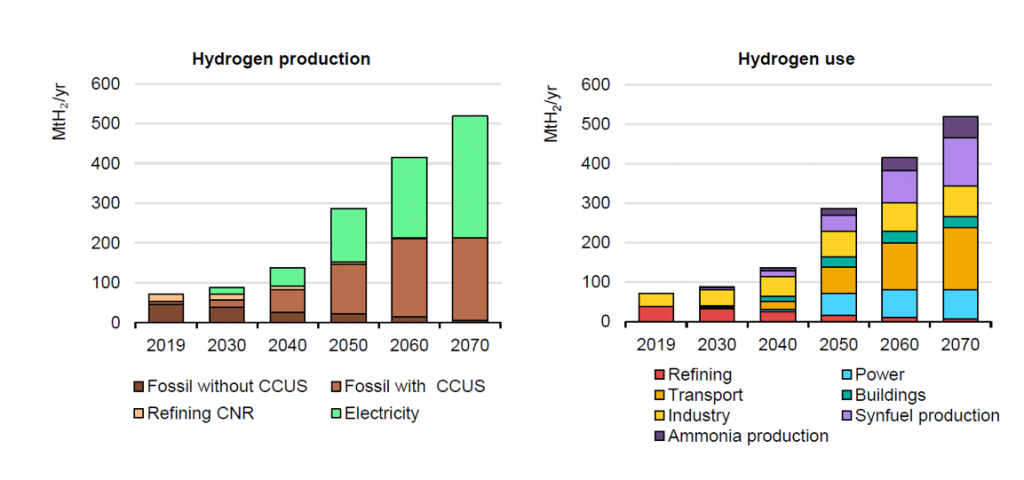 Latin America and the Caribbean region has an enormous amount of renewable resources such as wind, solar, geothermal, and hydrological resources, which allows the region to have 55% of clean power generation compared with the global average of 35%. Yet, that renewable energy was developed for the electricity market. What would happen if more renewable energy projects were built with the objective of producing green hydrogen for domestic needs and exports in the format of ammonia or methanol?  The current and future renewable energy resources could be directed to the production of green hydrogen and provide a strong position for the region in this new worldwide industrial value chain that starts to develop. Hydrogen is also a great opportunity for Latin America and the Caribbean countries to achieve cleaner domestic energy matrices, particularly for that 17% of emissions originating in industrial activities.
Moreover, green hydrogen has been considered a key element for green recovery and decarbonization. EU has announced a 40-gigawatt (GW) electrolyzer capacity target for 2030, which two times Chile's installed capacity. The IEA-IMF report on Green Recovery, boost innovation in green hydrogen is one of the pillars for the green recovery plan, which aims to boost economic growth, create jobs, and build more resilient and cleaner energy systems. According to the Hydrogen Council, more than 30 countries have already published hydrogen-specific strategies as part of their Climate Change Policies.
There are great opportunities in this new economy of hydrogen for countries such as Paraguay, Uruguay, Costa Rica that have among the highest renewable participation share in the world and with a surplus that could be directed to electrolysis processes. Also, there is an important opportunity for the decarbonization of the main industrial and mining clusters of the region in Trinidad and Tobago, Mexico, Brazil, Chile, or Argentina, where hydrogen could be used either directly or through energy carriers such as methanol or ammonia. Latin American countries are taking steps to develop all this new economic activity around hydrogen, particularly that from renewable sources, or green. Costa Rica already published in 2018 a directive to promote hydrogen as part of its decarbonization strategy, and last year Chile approved its National Roadmap for the Development of Hydrogen, in both cases facilitating the investment decision of private stakeholders.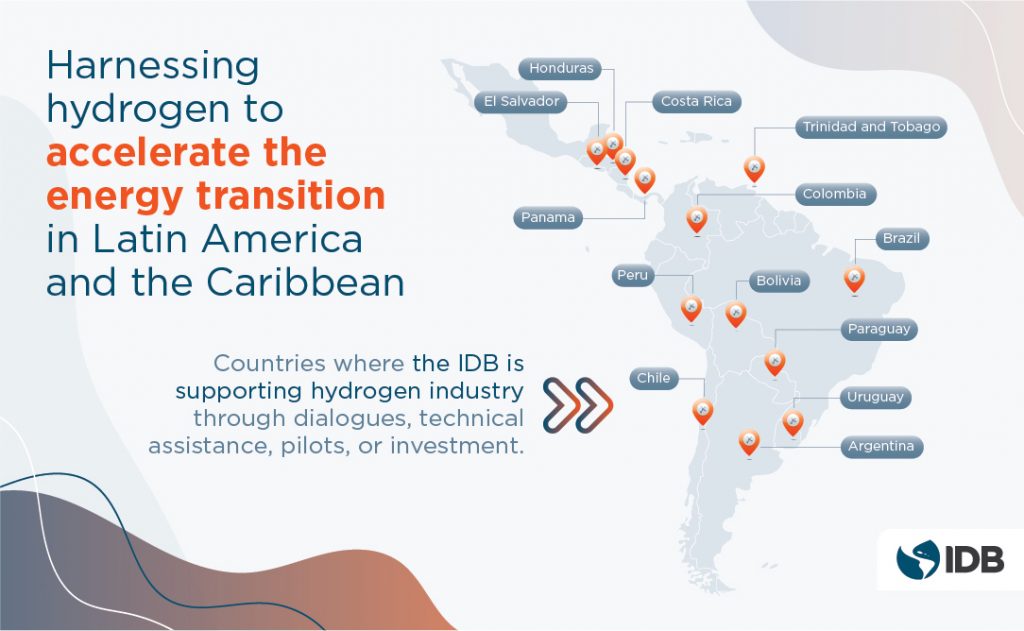 In this path, the Inter-American Development Bank (IDB) is a key partner for regional countries and private investors, and as such, we are already responding to thirteen requests of support to develop this new economic activity. We will be able to provide our ability to drive political dialogue and stakeholder engagement, offering our technical assistance to find solutions to the key regulatory and technical challenges that the development of hydrogen faces. As we have been doing for decades, we will be able to provide our ability to outreach the best international expertise and to provide the countries with financing in the form of grants, guarantees, and loans that will help to boost innovation and facilitating participation of private investors.
For this reason, the IDB is co-hosting the organization of the first Hydrogen Congress for Latin America and the Caribbean H2LAC. This congress will take place on April 14th, and 15th 2021, and will be followed up by a technical round table on April 22nd. We are excited to be able to hear from representatives of the countries their strategies and priorities when talking about the development of a green hydrogen economy. Also, we will be able to hear from our colleagues from other financial multilateral and bilateral organizations working in Latin America and the Caribbean, on their vision on how to joint efforts more efficiently to achieve this goal. Finally, we will also be able to hear from private investors that are already developing spearhead projects for the production or application of hydrogen in industrial activities.
---
[1] BNEF: BloombergNEF (2021). Green Hydrogen to Outcompete Bule Everywhere by 2030.