The fight against climate change is one of the greatest global challenges of the 21st century, and as paradoxical as it may be, the mining industry, including lithium, will be responsible for providing much of the material needed to make this change possible. Today's environmental challenges require, among other things, a profound transformation of the global energy system.[1] This transformation involves accelerating the decarbonization and the electrification of the economy; increasing the use of solar, wind, and low-carbon technologies; increasing storage capacities; and the use of microgrids and smart grids, among others. This will require, in addition to willingness and cooperation, substantial material inputs and the development of supply chains.
The acceleration of the energy transition towards clean energy highlights the need and importance of minerals and metals in the decarbonization and electrification of the economies, and the implementation of more sustainable development models. Contrary to what is commonly believed, non-conventional renewable energy technologies (such as solar and wind) generally require more minerals than their fossil fuel-based counterparts. Production of minerals such as lithium, cobalt, and graphite is estimated to increase exponentially due to the growing demand for clean energy technologies, including batteries, wind turbines, solar panels, or electric vehicles (EVs). A low carbon future implies tons of new minerals and metals. That is a fact.[2]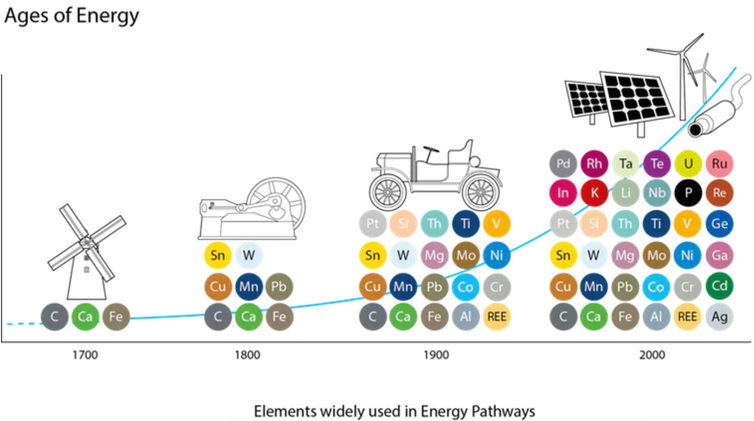 In recent years, the boom in the use of non-conventional renewable energy has been accompanied by greater interest in lithium, because batteries made from this metal provide an effective solution to the challenge of storing energy generated by intermittent sources (wind and solar). By 2050, global demand for lithium is expected to increase by more than 950%, driven mainly by a thirteen-fold increase in battery-based energy storage.[3]
The importance of lithium for the energy transition in the region
Lithium is commercialized mainly as carbonate, chloride, or hydroxide, and is used as a raw material for other goods or final products. Its uses are diverse: outside the energy field, its properties are known for various pharmacological and industrial uses, such as the manufacture of glass, ceramics, and aluminum. However, the greatest expectation about lithium is currently generated by its relevance as a critical input for the manufacture of batteries for EVs and energy storage. Lithium-ion (Li-ion) batteries are a key element of current technological developments and efforts to electrify the economy. Batteries provide a rapid response, modularization, and flexible installation and will allow for the decarbonization of the transportation sector, and greater integration of intermittent renewable energy technologies into the grid.
Argentina, Bolivia, and Chile make up the so-called "Lithium Triangle" and have about 60% of the global lithium resources. Additionally, Peru has discovered lithium hard rock deposits[4] which, if commercialized, is expected to further increase the region's importance on the global lithium market. The growing demand and new economic opportunities for lithium-rich countries, brings new challenges for their industrialization in the context of a responsible and sustainable energy transition.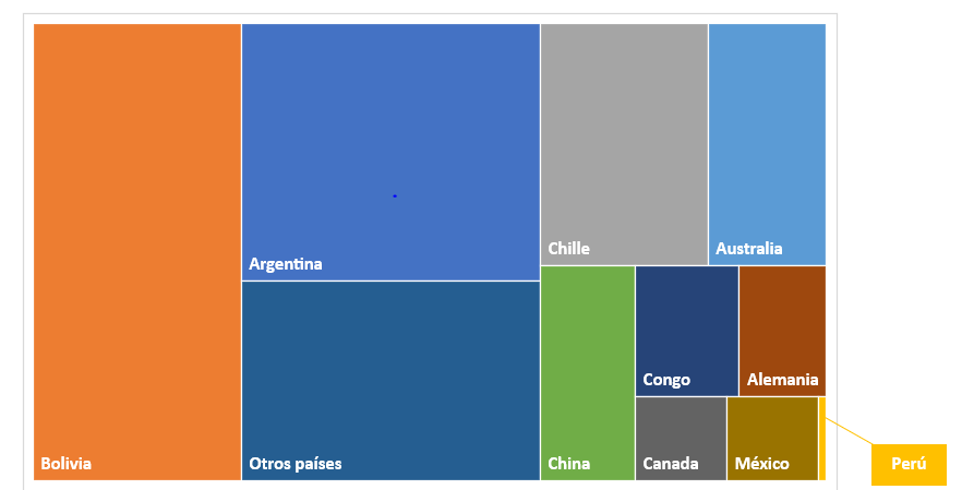 Lithium and other minerals on which the low-carbon energy future depends are a "finite" or non-renewable resource. Protecting and securing the mineral supply chains requires not only the creation of new tools and more sustainable techniques for exploration and extraction, but also a commitment to circular systems for critical minerals. On the side of the extraction of lithium from brines and rocks, the sustainability of the use of lithium in industrial processes must necessarily go hand-in-hand with the optimization of extraction techniques, the efficient use of water (lithium extraction process uses a lot of water—approximately 500,000 gallons per metric ton of lithium), and the identification and adoption of best practices for the least impact on surrounding communities and on the environment in which the mining industry directly operates.
The need for sustainable production in the lithium industry
Meeting the growing demand for mineral inputs in a sustained manner will require not only increased and improved production, but also demand management that includes solutions such as reuse and recycling. We must also raise awareness of the need for circular models, promoting a second life for materials. Each gram of lithium that is reused, is one gram less of demand on salt flats and other sites where lithium is produced, but we will discuss that in another blog.
The global energy transition require us to work on strategies that allow us to transform challenges and risks into opportunities. Every challenge brings with it a new opportunity. For a successful and sustainable industrialization of the lithium in LAC, we must rethink, reimagine, and redesign our strategy for insertion into global value chains. Greater efforts are needed from both local and national governments, and even new regional alliances that will allow for the effective development of more and better ecosystems.
At the IDB, we are supporting Argentina, Bolivia, Chile and Peru overcome the challenges of productivity and environmental sustainability. It is time to materialize the battery of opportunities that Lithium provides us. The time is now, tomorrow will be too late!
To learn more about the opportunities and restrictions within the construction of productive and technological linkages that positively impacts Argentina, and more particularly the provinces where the respective reserves are located, take a look at our publication: https://publications.iadb.org/es/litio-en-la-argentina-oportunidades-y-desafios-para-el-desarrollo-de-la-cadena-de-valor
---
[1] IPCC (2018) Summary for Policymakers. In: Global Warming of 1.5°C. An IPCC Special Report on the impacts of global warming of 1.5°C above pre-industrial levels and related global greenhouse gas emission pathways, in the context of strengthening the global response to the threat of climate change, sustainable development, and efforts to eradicate poverty. In Press. https://www.ipcc.ch/sr15/chapter/spm/
[2] About 3 billion tons of minerals and metals will be needed to expand the base of non-traditional renewable energy sources.
[3] Wood MacKenzie Power & Renewable Global Outlook, 2019.
[4] Almost 60% of the world's lithium resources are found in brines, 25% in minerals and the rest in clays, geothermal waters and oil field brines.