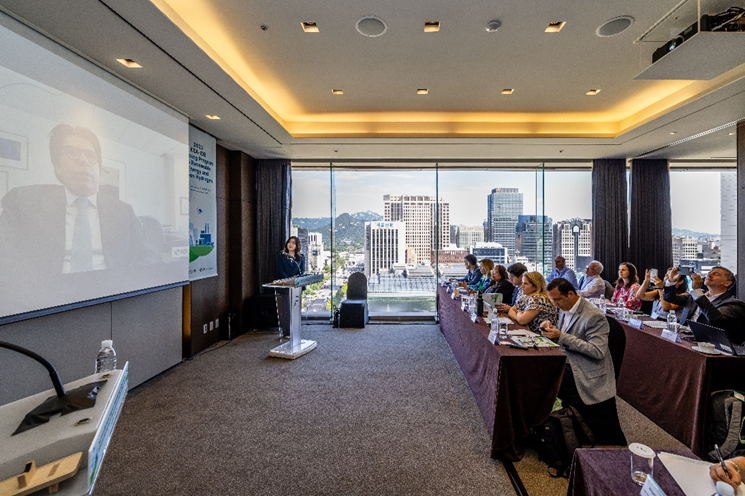 During the first week of September 2023, in collaboration with the Inter-American Development Bank (IDB), the Korea Energy Agency (KEA) welcomed a delegation from Argentina, Brazil, Chile, Costa Rica, Mexico, Paraguay, and Uruguay to the "2023 IDB-KEA Training Program on Renewable Energy and Green Hydrogen" in South Korea. This program covered a wide range of topics on energy manufacturing and value chain, artificial intelligence, electromobility, renewable energy, and green hydrogen and included presentations on Korea's energy policies and IDB's support in the LAC region. During this program, our delegation had the opportunity to listen to Korean experts in different fields such as "Supporting policies and programs to boost the availability of new and renewable energy (NRE)", "Korea's solar industry and strategies for market penetration", "Utilizing it technology for effective energy management systems", "Towards a sustainable hydrogen future: Korean policy and south American partnership", among others.
Currently, international attempts to cope with climate change have intensified and the world is witnessing revolutionary transformations in energy-related technologies and industries such as Information and Communication Technology (ICT), renewable energy, Energy Storage Systems (ESS), and electric and hydrogen vehicles. In alignment with this global trend, Korea is paving the road for the development and dissemination of renewable energy including solar and wind energy and ESS by supporting policies and programs to boost the availability of new and renewable energy.
Created in 1980 after the oil crises, the Korea Energy Agency (KEA), a government organization, has been at the forefront of efficient and rational energy use in Korea, supporting the country's economic development and a better quality of life. In addition, by 2030, Korea aims at a 40% reduction in carbon emissions, using 2018 as a baseline. One of Korea's policies is to be at the forefront of the global hydrogen industry by developing systems that enable the shift towards a clean hydrogen ecosystem, developing a clean hydrogen certification program, and creating international partnership agreements. 
During the program, the delegation also had the opportunity to see ongoing developments by visiting leading companies such as LG Energy Solution, Hyundai Energy Solution, Doosan Enerbility, and Hyundai Motors (Ulsan Factory), which handle projects related to energy storage systems, photovoltaic modules, electric mobility, and hydrogen turbines. In these site visits, we saw their high levels of research and dissemination and automation of manufacturing processes:
LG Energy Solution is one of the largest battery makers in the world. We were able to visit their primary production facility for lithium-ion batteries, which are widely used in various fields such as electric vehicles, energy storage systems (ESS), IT devices, and more. As the hub for global product development and manufacturing at LG Energy Solution, it takes on the role of the "mother factory."
Hyundai Energy Solutions produces and supplies world-class solar cells and modules through continuous investments in R&D and expansion in cutting-edge production facilities. They provide various solutions, such as floating photovoltaic, agri-photovoltaic, and Smart Solar City technologies. The factory has incorporated cutting-edge smart systems and unmanned automated robots. From raw material intake to final production, it manages and analyzes all processes and quality data. By implementing an integrated production management system that monitors various equipment statuses and operational conditions in real time, the defect rate in the manufacturing process has been reduced to zero levels.
Doosan Enerbility includes manufacturing and construction of nuclear power plants, thermal power stations, turbines and generators, desalination plants, castings, and forgings. The sole domestic manufacturer specializing in nuclear power plant equipment. The company is now transitioning to hydrogen turbines, producing small modular reactors, as well as next-generation nuclear power plants and renewable energy sources including offshore wind power, supplying the domestic and international markets.
Hyundai Motors Ulsan Factory is the world's single largest automobile plant. It has its own export shipment dock and quality control center. The plant is now manufacturing electric cars, and construction of a new factory is underway, with the aim of producing 150,000 electric cars annually by 2026. Furthermore, there are plans to transition the heat source in the vehicle painting factory from a liquefied natural gas burner system to a hydrogen burner system, with the aim of significantly reducing the generation of various harmful substances such as carbon dioxide.
This program was developed within the framework of a cooperative partnership between the IDB and the Government of Korea, specifically the Korea Energy Agency, whom we deeply thank for the opportunity to participate in this training program and look forward to continuing to share good practices and learning.