When we talk about sustainable energy transition, we often think of how a wind turbine can replace the energy generated by a coal plant, or how the installation of solar panels and electric vehicles increasingly replace energy from oil. However, a true energy transition not only implies replacing fossil fuels, but also more inclusive and equitable energy development policies that recognize the role of women in the sector's value chain.
Women, access to energy and inequalities
The relationship between the energy transition and gender equality is very close, and there are several studies that prove it. In particular:
The links between access to energy and gender roles are stronger in countries with low availability of basic electricity and modern fuels. In developing countries, women are the most impacted by the lack of access to electricity, as they are usually heads of households and have less access to health, education, and information.
At the crossroads of natural disasters linked to climate change, women are more vulnerable than men. This is mainly because these are most the world's poorest people and those most dependent on threatened natural resources for their livelihoods. Many times, women oversee access to water, food, and fuel to cook and heat their homes.
In many developing countries, such as those in our region, women in poverty tend to participate in the informal economic sector (for example, the food sector), which relies heavily on biomass as the main source of income, which, in turn, does not feature prominently in national energy policies and priorities. Likewise, they are also mostly responsible for collecting resources such as wood, coal and agricultural waste for typical household tasks that depend on these energy sources.
However, despite being the most vulnerable to climate change, women are and can be the most effective agents of change in their communities. Due to their roles in community or rural contexts, women's strong body of knowledge and experience can be used in disaster reduction and adaptation strategies to change environmental realities. This provides a unique opportunity to empower women to be more efficient energy managers at household and community levels, as well as to engage them in expanding access to sustainable energy, including renewable energy, especially in rural settings.
Panama: Leading a Fair Energy Transition
Understanding the potential that women in community contexts can play for the energy transition, as well as the need to provide energy options where it is most needed, the initiative "Training of rural solar panel installers in the Ngäbe Buglé Comarca" arises.  Organized by the National Secretariat of Energy of the Republic of Panama with the support of the IDB and other institutions, it aims to train 29 indigenous women of the Ngäbe community as rural solar panel installers, equipping them with the ability to install isolated solar systems in their homes and communities, as well as the skills to operate and maintain these systems. The participants have been selected through a multi-phase process, in which indigenous women leaders, with low resources, who are in a situation of poverty and are in communities that have only 4% access to electricity (one of the lowest levels in the country) were prioritized.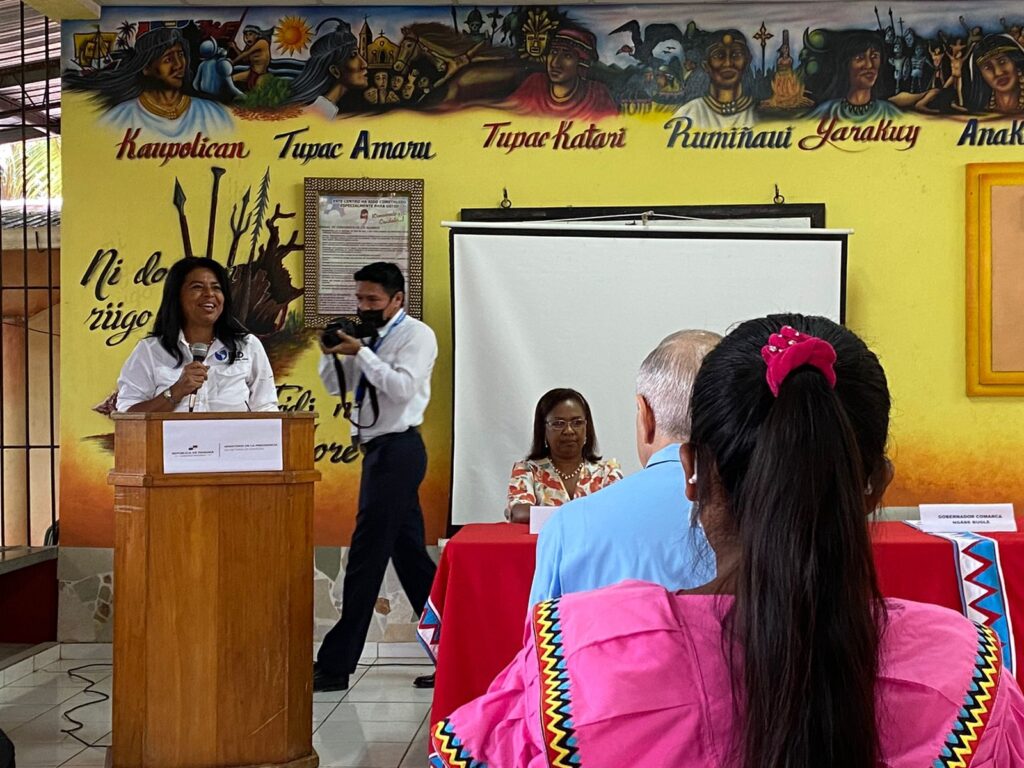 For 7 weeks, the participants will learn about electricity and solar energy and installation and preventive and corrective maintenance of photovoltaic systems. Additionally, they will attend information sessions on women's empowerment, finance and entrepreneurship, examples of women in the energy sector, opportunity programs and new technologies.
The objectives of this training include:
Encourage rural areas to take advantage of solar energy not only to provide light but also as a catalyst to create employment for the underemployed,
Provide vocational training to women,
Increase the income of rural communities, and
Protect and sustain the environment by reducing carbon emissions and deforestation.
The program is part of the Government of Panama's efforts, such as its roadmap "The nexus between Women and Energy in the Republic of Panama" and the National Strategy for Universal Access (ENACU), prepared with the support of the IDB.
Likewise, the program uses an innovative curriculum, focused on learning-by-doing methodologies, with Ngäbere-Spanish interpretation, the support of Ngäbe facilitators who are already trained in the installation of solar kits to facilitate understanding in the Ng Ngäbere language and demonstrations of how they will be successful as solar installers. Lastly, the course is supported by a facilitator of bilingual intercultural educational processes to reinforce the training. The trainings will be given without the need for an educational background or previous experience with solar systems.
Through these types of initiatives, not only will we be able to achieve the energy commitments to mitigate climate change. We will do so through a fair and inclusive energy transition that increasingly includes women from different sectors, giving them the tools to be agents of change and insert themselves in the labor market of renewable energies.