During COP27, countries reaffirmed their 2016 Paris Agreement commitments, as most global institutions agree that countries must shift away from coal, oil, and gas and towards cleaner sources of energy. These sources include constantly improving technologies such as wind and solar. They also include nascent industries like hydrogen. In Latin America and the Caribbean (LAC), countries have developed plans to expand renewable energy to meet their growing electricity demands.
Latin America and the Caribbean is on the right track with its decarbonization efforts, but it must pick up the pace
Since 2015, all countries in LAC have worked to reduce emissions. From 2015 to 2020, the region increased its renewable capacity by 33%, yet the pace needs to speed up. As populations grow, electricity demand is projected to increase by 48% from 2020 to 2030. Without significant changes in energy mixes and expansion plans, Latin America and the Caribbean will fall short of the goal of net-zero emissions by 2050.
Rising demand for electricity will be driven in part by the economic recovery
The COVID-19 pandemic temporarily suppressed total electricity demand by approximately 3%. As the appetite for electricity reaches and surpasses pre-pandemic levels, the region needs to work to make its power generation mix more sustainable. An IDB analysis predicts that demand for electricity in Latin America and the Caribbean will rebound to pre-pandemic levels between 2022 and 2024 and will continue to grow by around 3.9% on average per year for the rest of the decade.
Governments, the private sector, and international institutions must collaborate to reduce carbon emissions and support renewable energy
Many LAC governments plan to cut carbon and boost renewable energy sources. A recent IDB study indicates that the region plans to reduce reliance on carbon by an average of 5.4% each year. Meanwhile, solar is expected to increase by 10.4% and wind power should rise by 9.1% every year. Hydrogen also has the potential to play an important role in the energy transition, especially in sectors where it has historically been difficult to cut emissions, such as long-distance transport and heavy industry. Hydrogen—particularly green hydrogen generated from renewable sources of electricity—opens the door to many opportunities in Latin America and the Caribbean. Read our report on hydrogen here.
Latin America and the Caribbean is on course for a far-reaching and green energy transition. The road is long, but there are reasons to be optimistic. Several countries have already made changes in their energy mixes to include more renewable sources, and various regional initiatives currently seek to accelerate carbon neutrality in power grids. One is the Renewables in Latin America and the Caribbean (RELAC) initiative. In August 2022, 15 countries signed the RELAC Declaration of Principles, establishing their individual contribution to the regional target of 70% renewable energy by 2030.
Much of the success of the green transition will depend on improving energy efficiency and expanding electromobility throughout the region.
Energy efficient systems result in short-term electricity savings that affect long-term investment costs. They produce less waste and therefore reduce emissions. If countries in the region achieve energy efficiency standards of the International Energy Agency (IEA), regional electricity demand would drop by 25.9%.
Transportation is responsible for a fifth of emissions from total fuel combustion worldwide, in Latin America that figure exceeds a third of emissions (World Development Indicators, World Bank). The shift from traditional engines to battery-operated vehicles is an important part of the energy transition. A recent IDB study finds that in the most optimistic scenario for electric vehicle adoption, approximately 53 million electric vehicles (EV) would be on the region's roads by 2030. This number is equivalent to 20% of the total estimated vehicle fleet. This scenario would cut a cumulative total of 616 MtCO2e over 10 years. However, to scale up EV adoption, the region needs more infrastructure investments such as EV charging stations and more effective regulations facilitating EV use.
Several countries have already made significant strides towards an effective transition.
According to the World Economic Forum's Energy Transition Index (ETI) 2020, Argentina and Uruguay have made significant progress on adding renewable energy sources to their power generation mixes. Argentina has steadily reduced its reliance on fossil fuels ever since its government declared 2017 as "the year of renewable energy." Uruguay uses wind, water and sun to provide sustainable, reliable electricity to its residents. In its expansion plan, Chile predicts it will achieve one of the region's highest reductions in emissions (up to 82%) in its electricity sector.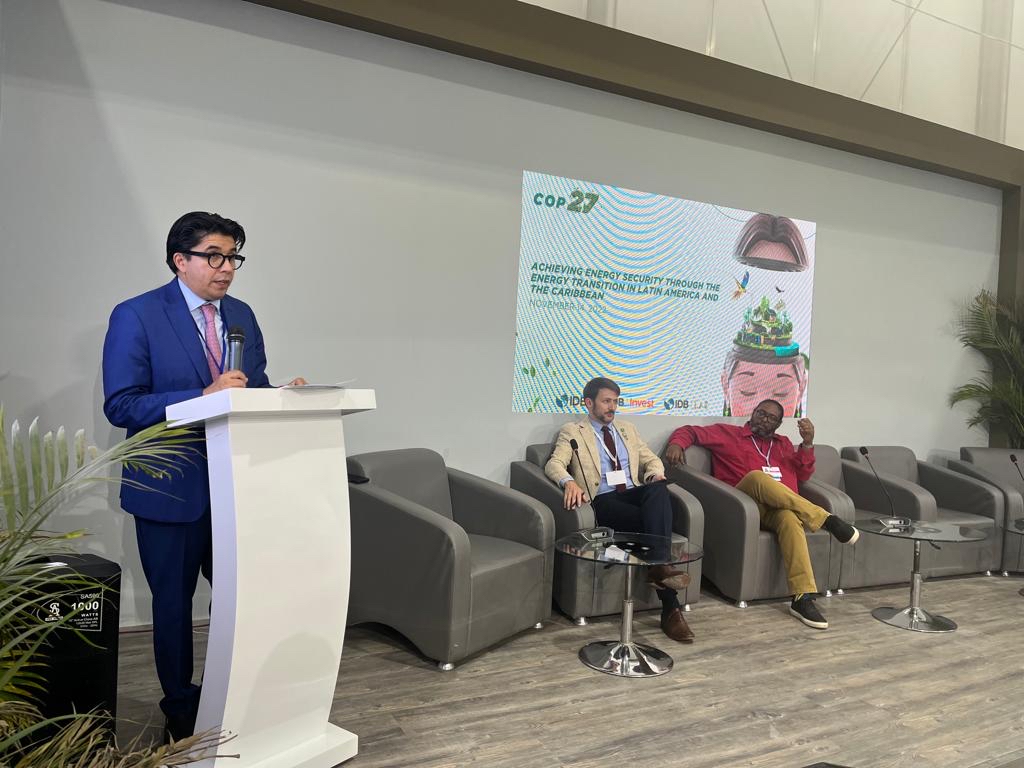 The 27th annual UN Climate Change Conference will be held in Sharm El-Sheikh (Egypt) from November 7 to 17. The year's top climate summit will bring together key stakeholders, with the aim of achieving more ambitious climate action. For Latin America and the Caribbean, the conference is an opportunity to strengthen and align development goals with climate objectives to build carbon-free and climate-resilient economies. Find out here what the IDB Group is doing at the COP27.
More resources:
La Ruta Energética de América Latina y el Caribe (in Spanish)
How much will it cost to achieve climate goals in Latin America and the Caribbean?
Green Transition and Gender Bias: An Analysis of Renewable Energy Generation Companies in Latin America
Rutas de descarbonización profunda en América Latina: Desafíos y oportunidades (in Spanish).
Estándares de sostenibilidad para la regulación del mercado de hidrógeno: estudio de certificación de hidrógeno (in Spanish)