Richard Wang is the CEO of the global technology education company Coding Dojo. As a leading education and technology executive, Richard is committed to creating economic mobility and increasing opportunities for workers to reskill or upskill so they can meaningfully participate in the digital economy. He is also a special guest in our blog series about the development of #skills21 in Latin America and the Caribbean.
---
The COVID-19 outbreak is unlike anything we've seen in our lifetimes. Beyond the public health crisis, the pandemic has severely impacted the global economy. Beyond the shock to customer demand and required operational changes, many companies are reevaluating their supply and value chains due to the breakdowns that occurred throughout the pandemic. This shift presents an opportunity for Latin American countries to not only rebuild their economies, but also strengthen and future-proof them in the process. The keys to do so will be rethinking education and investing in the workforce.
However, the pace of technological change and rising cost of a four-year degree has made traditional education a less palatable and less effective option. This is especially true for career changers and underserved communities, who rarely have the time or money to pursue a four-year degree. The end result is the "hollowing out" effect, where many middle-class workers end up "falling" into low-skill, low-wage jobs instead of acquiring the needed skills or knowledge to move up into higher-paying, higher-skill jobs.
Luckily, this trend can be reversed – and the fallout of COVID-19 offers an opportunity to realign global focus on workforce development. Accelerated technical training programs such as coding bootcamps offer a streamlined path to fill this need. Unlike traditional education, these programs focus heavily on experiential learning, so students learn the actual skills used on the job. By focusing on core competencies and skill sets, accelerated and experiential learning can fill the workforce with talented workers in a fraction of the time.
For example, Coding Dojo works as a strategic partner with the Chilean government for a public-private workforce development initiative, which is accelerating the country's transition to the digital economy by training 16,000 workers with in-demand technology skills.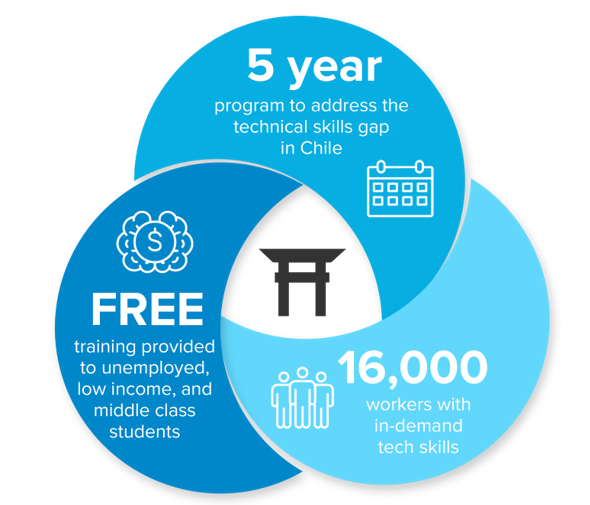 The five-year program is designed to address the technical skills gap in Chile. It is the country's first initiative to integrate private companies, training institutions like Coding Dojo, and government sectors for extensive talent development and job placement. The training is provided to unemployed, low income, and middle-class participants free of charge so they can pursue entry level technical jobs upon graduation.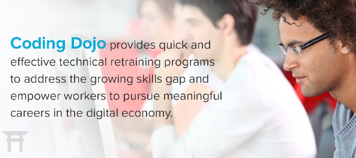 The program is continually expanding to teach additional subjects and train more students. Alumni of the program go on to work for local companies, as well as international organizations live Everis, Epson, and many more. This is just one example of the impact technical training can have on a national workforce. Coding Dojo is already in planning phases with additional countries throughout Latin America such as Costa Rica, where the first training cohorts will begin in September 2021, to replicate the early successes achieved with this program.
The end result of these programs is a digitally skilled workforce eager to fill the increasing job openings in local tech companies, which have grown significantly in recent years. Since 2016, investment in Latin American startups scaled from $500M in 2016 to $4.6B in 2019. Throughout the timeframe Latin America also produced 17 private startups valued at $1B or more, which has accelerated its presence in the global startup scene.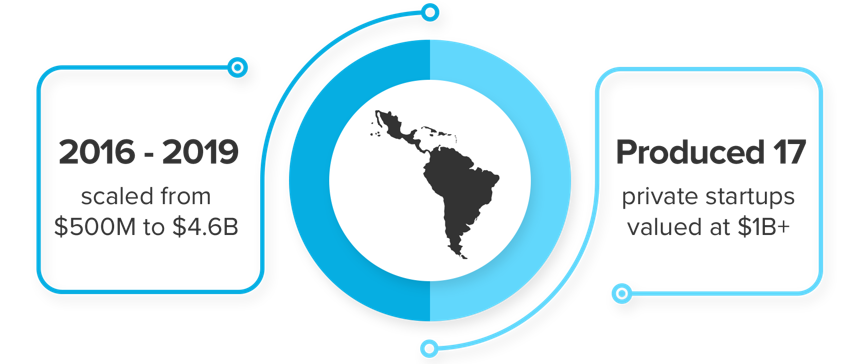 Widespread workforce development initiatives will prime Latin America and the Caribbean for even more explosive growth and economic opportunity. They also open the door for more U.S. organizations to "nearshore" capabilities, such as IT and web development, that are typically outsourced to east Asia.
Despite new levels of commitment and cooperation to promote nearshoring, Latin American countries face challenges attracting industries that have been based in Asia for decades. One of these difficulties is the availability of low cost and high human capital, specifically technically-skilled workers – just like those that accelerated technical training programs like coding bootcamps produce.
There is a time and place for theoretical or historical knowledge, the type of information typically taught in traditional higher education, but widespread workforce development initiatives require quicker results that skills-based training programs can deliver. By developing a workforce equipped with 21st Century skills, Latin America and the Caribbean can create an exponential number of homegrown jobs, and attract millions of nearshoring jobs, to drive economic growth for decades to come.
Stay tuned and follow our blog series on education, economic opportunities and #skills21. Download the Future is now and keep an eye out for our news!