This year's COP 27 in Egypt is depicted as the "implementation conference" and it focuses on the critical paths, actions, plans, and financing options to counter the effects of climate change. It also grants an opportunity to potentialize a nascent global project to achieve rapid and effective results: methane mitigation.
The Global Methane Pledge was launched during COP 26 by the United States and the European Union to generate a collaborative network for reducing methane emissions by at least 30% by 2030 (relative to 2020 levels).
But, why methane?
Methane – the primary component of natural gas – is over 80 times more potent than carbon dioxide at trapping heat in the first two decades after its release. With an average lifespan of twelve years, methane can capture more significant amounts of heat in a shorter period. As anthropogenic methane emissions have doubled, this gas contributes exponentially to global warming. Furthermore, 60% of available strategies to reduce methane are low cost – making methane an essential gas for rapid and effective mitigation of climate change.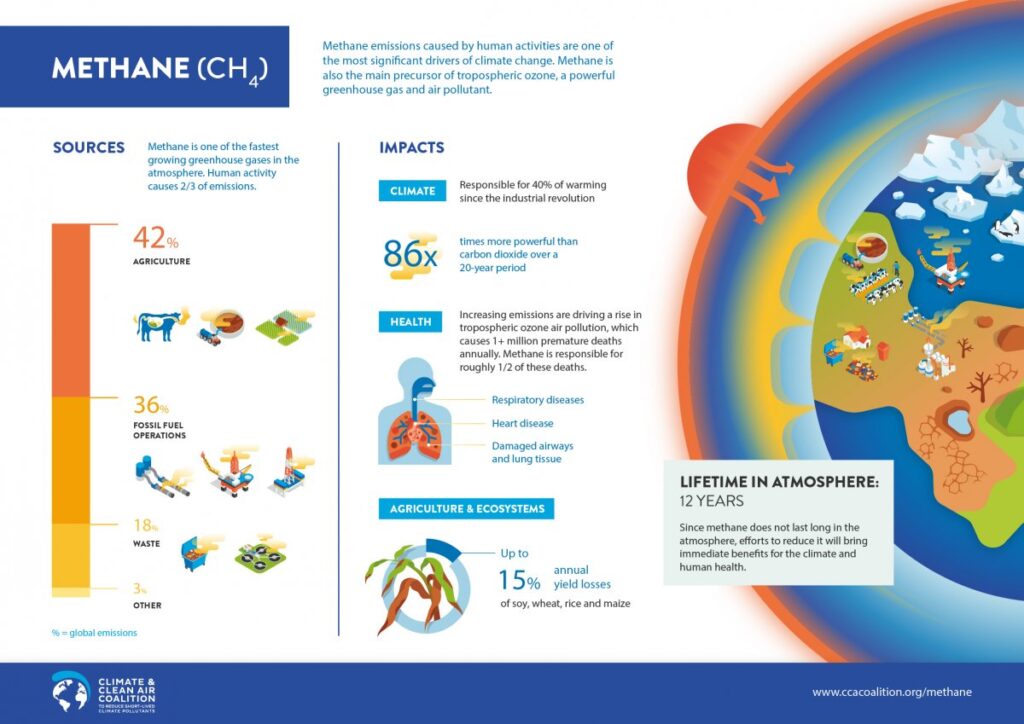 So, where do we start?
Anthropogenic methane is produced by three primary sources: agriculture, energy, and waste/wastewater. The waste sector emits methane from open dumps and landfills, where the degradation of organic material such as food and garden waste create biogas, which is released into the atmosphere over time. Recent satellite measurements detected city methane emissions 1.4 to 2.6 times higher than reported in inventories, in which landfills contributed to as much as 50% of emissions in cities like Buenos Aires.
Waste has the most significant mitigation potential, with a possible reduction of 47% compared to energy (35%) and agriculture (10%). A higher amount of emissions can be mitigated with lower cost and effort, which is fundamental if we have limited resources for financing climate change solutions.
In Latin America and the Caribbean (LAC), waste production continues to grow. Projections indicate that the region will produce 296 million tons of municipal solid waste by 2030, of which 52% is expected to be organic. Currently, LAC countries dispose of 56% of their waste in sanitary landfills – most of them without biogas capture systems – and 40% in inadequate disposal sites, while less than 4% of waste is valorized. This context not only increases the challenges for waste management in the region, but also poses a threat to methane mitigation.
Since methane and waste are a powerful duo, abatement strategies must be implemented throughout the waste management chain. Leading solutions include: preventing waste generation, deviating organic waste from disposal through selective collection, transport and treatment, introducing landfill gas capture and use, and closing open dumpsites.

With an active portfolio in the waste sector, the IDB funds projects with a high impact on methane reduction. For instance, it supports the Dominican Republic's government to prepare the progressive closure of the Duquesa dumpsite, the largest in the continent, with a mitigation potential of 1.4 million tons of CO2eq from biogas management. In addition, the IDB is funding the installation of new facilities in Argentina, Belize, Bolivia, Haiti, Mexico, and Peru, among other LAC countries, to promote valorisation and adequate final disposal. These actions are in line with the promise of the IDB to align 100% of its operations with the Paris Agreement by 2023.
The IDB also finances cooperations and studies to promote waste valorisation through regulation, infrastructure, data systems, and behaviour change. For example, the Waste Data Hub (Hub de Residuos) is an information and statistics platform for the region that will help quantify waste management under a circular economy model. Other IDB initiatives include #SinDesperdicio, which creates projects to reduce food loss in the region and Latitud R, which promotes inclusive circular systems.
However, there is more to be done. Alliances for resources from climate financing, green bonds, carbon markets, and cooperation resources are still needed to increase waste management investments for future projects and for the operation and maintenance, since 60-80% of costs correspond to operational expenditures. In 2023, the IDB will launch the Too Good to Waste facility to implement projects related to methane mitigation, through strategies that include society, environment, governance, and management.
The IDB emphasizes its compromise to build a methane-free waste sector and contribute to the global fight against climate change. We invite citizens, governments, institutions, and all other actors to join us in this challenging but vital task. If we want to tackle climate change, we MUST tackle waste.