Mobility for whom? Leveraging Transport for Socially Inclusive Development
Mobility is a cornerstone of daily life. While travel patterns and modes of transport may vary, individuals, regardless of age, gender, income level, physical ability, employment status, or urban or rural residence, to work, access public services like healthcare and education, purchase goods and services, or take part in social and leisure activities. Providing efficient, high-quality, safe, reliable, and efficient transport services can impact one's ability to improve living conditions, escape poverty, and meet even the most basic needs.
This is particularly relevant for disadvantaged populations such as people with disability PwD, children, and women that face additional challenges and for whom transport systems worldwide fall short of addressing their mobility needs. These disadvantaged groups are more likely than others to experience higher levels of poverty and significant levels of transport disadvantage and physical barriers in transport systems.
Challenges for disadvantaged groups
The inability to access transport infrastructure services – manifested as barriers in the design of vehicles, public spaces, streets, stations, bus stops, communication, and empathy – can expose vulnerable groups to disproportionate burdens of transport-related externalities. Due to a lack of universally accessible[1] public transportation infrastructure and services, people with disabilities and the elderly must frequently rely on private transportation, such as taxis, which consume a more significant portion of their budget. According to a study by the Universidad Pedagógica de Colombia in Tunja, people with disabilities use public transportation 33% less than the rest of the population and take taxis six times more than people without disabilities[2]. Similarly, in Santo Domingo, people with disabilities spend around 40% of their salary on taxis[3].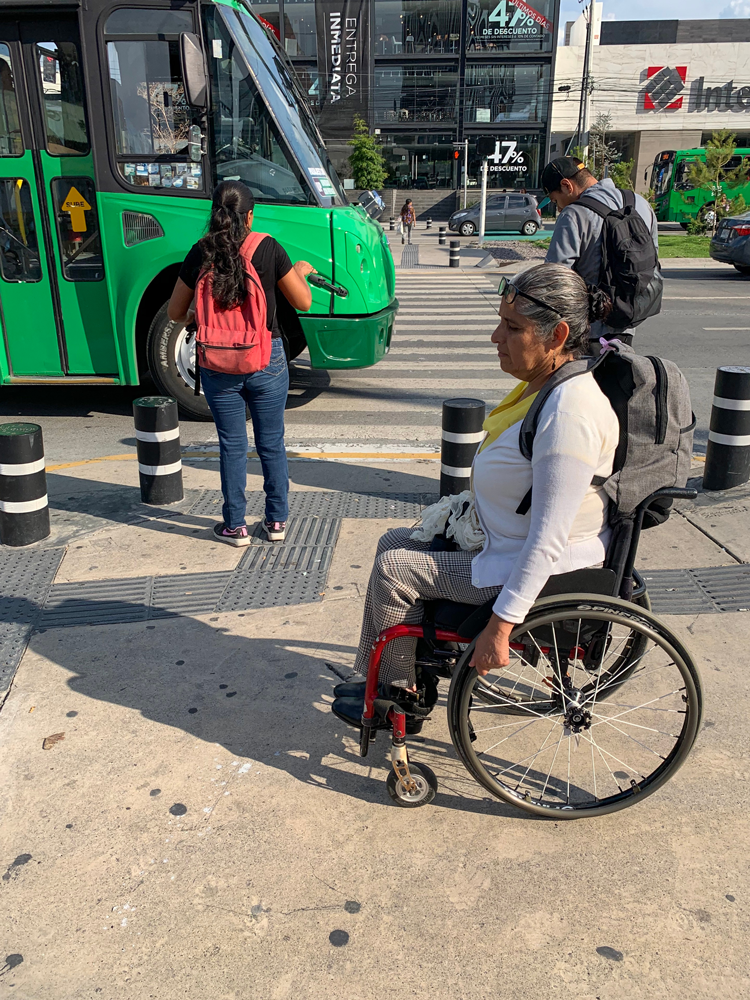 These barriers can also cause immobility amongst PwD. The international survey of local transport needs and priorities of persons with disabilities conducted in 39 countries by the Global Alliance of Accessible Environments and Technologies (GAATES)[4] in 2013 showed that the number of persons with disabilities who do not travel is much higher than that of people without disabilities due to several barriers in transport systems. Specifically, 47% cited public transport as inaccessible, 35% negative attitudes from drivers and other staff, 26% lack of availability of public transport in general, and 25% uneven or broken sidewalks, among other barriers that prevented them from accessing opportunities.
While specialized paratransit services may be a useful stopgap measure in cases where mass transit systems are limited, when a person with a severe disability cannot access public transport, the priority should be to make the entire transport system accessible due to the co-benefits of added accessibility for all (parents with strollers, small children, elderly, etc.). Universal accessibility to transportation is necessary to enable access to opportunities and services for people, not only with disabilities.
To improve the diagnosis of transportation accessibility in the region, the IDB developed the Travel Maps methodology in five cities to establish a baseline on the degree of universal accessibility in transportation systems and thus propose improvement actions to the authorities in charge of these cities' transportation. Transport systems in Latin America and the Caribbean need to make a stronger commitment to complying with universal accessibility regulations. While the 26 members of the IDB in the region have these regulations in place, it is necessary to implement accessibility standards in all new transport projects across the region.
Children's Mobility and Development
Children's travel behavior varies substantially from that of a typical adult, reflecting differences in their needs and vulnerabilities that must be considered. A lack of safe spaces to play and travel is associated with poor health conditions and adverse effects on children's cognitive and social development.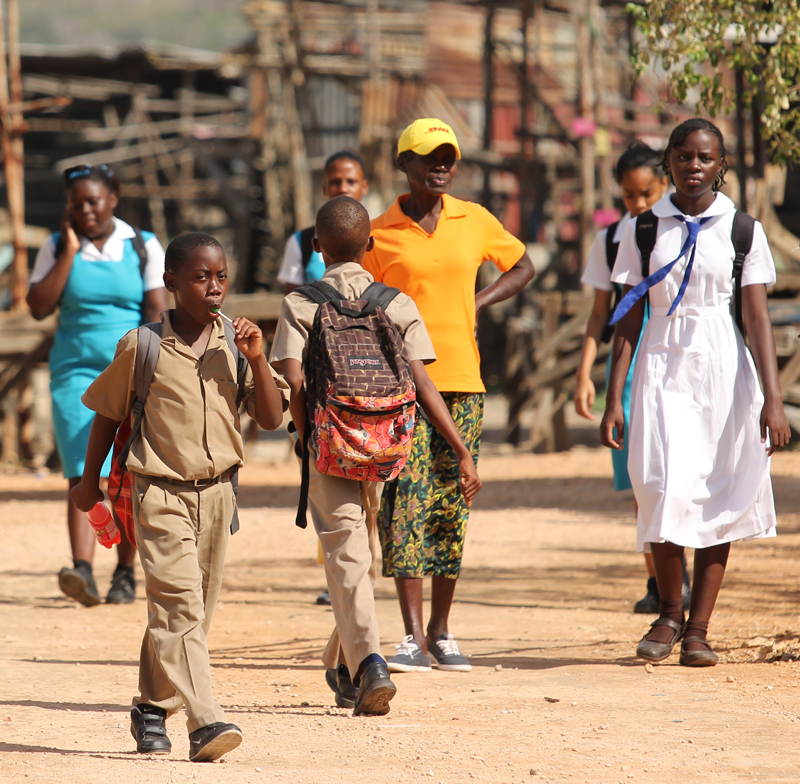 The impacts of limited mobility on children are associated with increased obesity and reduced school attendance. Moreover, while traffic safety disproportionately impacts many vulnerable populations, children, and youth, Latin America and the Caribbean are particularly vulnerable due to a lack of safe transport infrastructure in urban and rural areas. Annually, around 80,000 children in developing countries die on the world's roads, often on their way to school, due to a lack of road safety regulations and safe infrastructure, increased motorization rate, poor driving habits, high-speed traffic circulation, low use of seat belts and child seats, and deteriorating road infrastructure.
Additionally, long travel times to reach schools, associated with sprawling urban development and inadequate or unaffordable school transport systems, contribute to lower school enrollment and attendance and higher school dropout rates. A lack of affordable transport services for children also translates into affordability issues for their parents, as they are the ones who must pay for the trips and take the time to ensure that their children travel safely. Often this responsibility falls disproportionately on women.
Some programs have been developed to provide better service and safety for children. For example, in Medellin, Colombia, the school transportation system has been subsidized, helping reduce school transportation costs and positively influencing access to educational opportunities.
Urban Transport Is Not Gender-Neutral
Gender is among the most important sociodemographic determinants of women's travel patterns. Women often make more daily trips and are more likely to accompany others.
In addition, given that women tend to take on a disproportionate share of household work compared to men, the time constraints brought on by this imbalance reduce their time for commuting and limit their access to the labor market and other opportunities.
Many cities have taken action to address gender inequalities in transportation and make it more inclusive for women by implementing various initiatives such as targeted transport subsidies for women in Buenos Aires, Jalisco, and Sao Paulo, adoption of universal design principles in new transport projects as a way to meet the needs of all users in Chile, and policies to reduce gender-based violence in public transport such as the strategy "Bájale al acoso" in Quito.
There is still room for improvement despite the regional efforts to close gender gaps. Increased efforts are needed to collect and analyze mobility data with a gender lens. Additionally, measures to improve transport affordability and accessibility to address gender-based violence in transport and public spaces that respond to diverse needs are necessary to improve women's mobility and access to better opportunities.
Where do we go from here?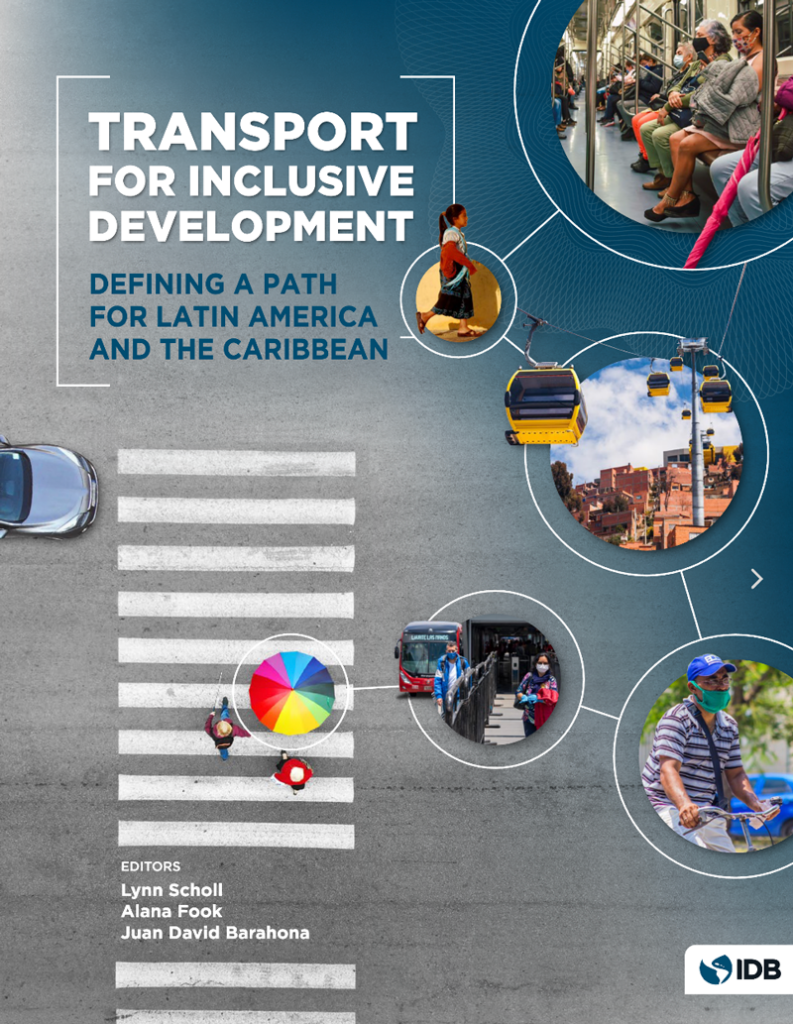 Urban mobility and accessibility are essential for a dignified life and the full development of people and societies. The ability to move and access efficient, affordable, and safe transport are key conduits to access education, healthcare, jobs, participation in civic life, and ultimately to reduce poverty and inequality. Prioritizing the social inclusion agenda in urban transport policies calls for a holistic approach that considers both the physical infrastructure and the services used during the journey while also considering vulnerable populations.
Download our publication here:
---
[1] Universal accessibility is the condition through which an environment is fully accessible to all individuals, regardless of whether they have a disability. Incluyeme
[4] The survey included a sample of 257 persons, of whom 76 percent reported at least one disability, from regions across the world. Most participants (88 percent) lived in urban or suburban areas (60 and 28 percent, respectively). GAATES, 2013