Internet of Things (IoT) works in various parts of our lives and connects our daily life with various "things." However, there is still a gap between people in our society, and there are vulnerable groups. How can this IoT technology be applied to connect the gap among people that exist in the transportation system and to help the mobility impaired? In this article, I would like to share ideas that incorporate IoT technology to improve the user experience for women, especially pregnant women who are carrying a new life inside.
Pregnant Women in the Public Transport
"In the early stages of pregnancy, I want to be seated, but people are totally focused on their phones."
"Never assume that a woman is pregnant."
According to the survey conducted by the Korean Ministry of Health and Welfare on pregnant women in 2016, 40.9% of pregnant women said they had not received consideration as a pregnant woman in the public transport. However, when asking the general passengers why they did not care, 49.4% said they did not know whether the women was pregnant. Women in their early months of pregnancy may not yet be showing, but this is the time when the mother and baby should stay in the most stable position to grow normally.
Please Offer a Seat
"It's not only polite, it's the law." New York City Transit
Transport for London has been giving out free "Baby on board" badges since 2005. 130,000 badges are handed out each year, but most of the time it is not easy to notice the badges. Smartphone applications can also improve the badge campaign to help pregnant women find a seat on public transportation. In London, the dual app service was launched and offers a Request Seat app and an Offer Seat app. The version of Request Seat with the alert feature costs £3.99, while the version for Offer Seat is available for free. 100% of profits from the app are donated to charity. Meanwhile in Tokyo, the popular messaging app in Japan is used to match pregnant women and the passengers who are willing to give up their seats through a message instead of downloading a new app. In New York City, passengers are required to relinquish seats in the priority seating areas under federal regulations and Metropolitan Transportation Authority (MTA) rules of conduct. Recently, MTA has also started a new awareness campaign "Baby on Board Buttons", handing out yellow badges for pregnant women to remind passengers to offer a seat for the mother-to-be.
"Pink Light Campaign": Signal light inside of metro?
"Consideration for pregnant women should prevail and they should be able to use public transportation more easily and conveniently with this policy." Busan's mayor Suh Byung-soo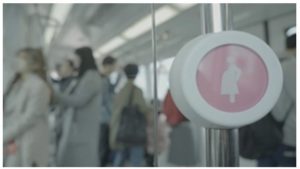 Could these campaigns and ideas be a package of public transportation infrastructure while avoiding the need for an awkward conversation?
The "Pink Light Campaign" is a public campaign using Busan's advanced Information and Communication Technologies (ICT). "Pink Light", which is a system designed to encourage passengers to offer their seat to a pregnant woman, was installed in Busan-Gimhae Light Railway for the first time in 2016. It emits a signal with Pink Light when pregnant women with a next-generation short-range communication technology with low-power Bluetooth (BLE) to more precisely locate priority seats. Beacons for pregnant women can be issued if they bring maternity passbooks or pregnancy certificates at public health centers or major transit stations of Busan City Railway. The newly created Pink Light has added a function to guide the passenger by voice as well as by light. The beacon pregnant women, who can control the light themselves. In addition, the Pink Light is certified by accredited organizations that have been subjected to physical property tests to block harmful components such as electromagnetic waves.
Steps

Pregnant woman receives pre-issued beacon
Pregnant women carrying beacons board Busan-Gimhae Light Rail
'Pink Light' installed beside the caring seat of the pregnant woman detects the beacon signal
Pink Light induce the people to yield a seat
Under the Mobility Enhancement for the Mobility Impaired Act 2009, more than one-tenth of the seats in the urban railroad in Korea should be assigned to the priority seats. However, during rush hour, passengers are packed like sardines on the subway, and it is not easy to leave the priority seat empty. The purpose of priority seat is not providing an exclusive seatbut it is intended to provide one when a mobility impaired person needs to have a seat. The Pink Light Campaign is receiving a good reputation because it has created a culture that encourages voluntary participation through . The satisfaction survey of pregnant women conducted by Busan city government showed that the campaign was mostly positively received. There is currently an ongoing discussion around applying the same campaign in city's other metro lines, and Tokyo Metro has recently made a visit to Busan for possible benchmarking of this campaign. It does not impose resigning a seat but provides a warm connection between people by offering an opportunity to yield one's seat to a pregnant woman.