Shirley Cañete on working in transport, adapting to new cultures and enjoying her work to the fullest
Shirley Cañete's office is an accurate representation of everything she loves. The first thing you see when you enter is a giant map of the region that shows the composition of roads and highways for development. By looking a little closer, you find various objects that help you know more about her personality. There are hard hats on the shelves surrounded by colorful ornaments and typical figures of the Bolivian culture.
Shirley, Paraguayan by birth, came to the Inter-American Development Bank (IDB) in 1999 as a consultant in transportation economics. She studied agricultural engineering, but has been working in the transport sector for more than 20 years. After years working in the private sector, she had the opportunity to work on the structuring of the first program of rural roads in Paraguay. There, she got to know the IDB closely and decided to join the Bank's Transportation division.
Connected with the earth and with development
"I was born to do this," says Shirley when she talks about her profession. "What I like the most about my work is the adrenaline it generates, it's very exciting. We not only build roads, but we connect people and create opportunities. We connect directly with people's development and learn from them to create more effective solutions."
"The Bank gave me many opportunities to meet many countries in the region. I worked in Central America. I connected with people. Once you come to the IDB there is a clear before and after. You completely change the lives of people, their access to health, to markets, to education, and to employment opportunities. That, honestly, is exciting."
Dancing in new ways
In 2016, Shirley decided to embark on a new adventure by becoming a Transport Specialist at the IDB's office in Bolivia. With a big smile on her face, she says that "Bolivia is an exciting country, very diverse. I like to know new places and people. I care about understanding and enjoying the Bolivian culture." For Shirley, moving to Bolivia helped her open her mind to new possibilities, especially after having witnessed the rituals that local communities do when starting a new infrastructure project.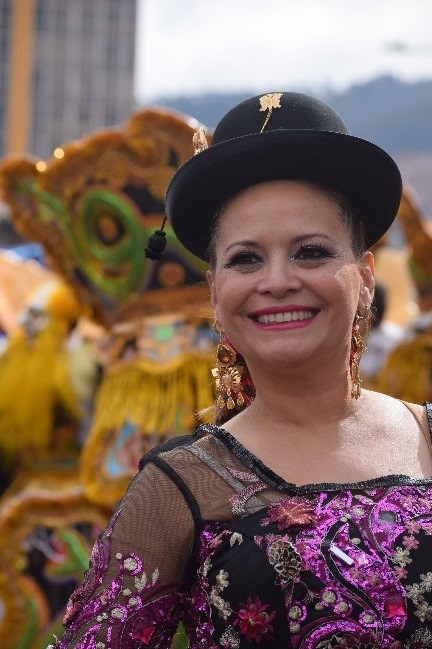 "Bolivia is very traditional in its customs. Before starting a project, people dance to the Pachamama to give thanks for what it has given them, and when the work is finished they do the same thing. The first time I was invited to live this experience, I fell in love with the meaning of it. It's a way to say thank you to life for all that it has given you. "
Since then, Shirley has been accompanying the Bolivian people with the tradition of "The Great Power". According to her, through these dances she is grateful for her work and for the opportunities that have been presented to her. "I came to this country with a lot of fear of being able to adapt, but at this moment I find it hard to imagine my life outside of it. The Bank offers many opportunities to leave your comfort zone and to interrelate with other cultures and people different from you. "
One day as a transport specialist
Shirley gets up at six in the morning and, like a good Paraguayan, drinks mate. "Then I go to the club a few blocks from home to swim. It is my point of release for the day that awaits me. I arrive at the office very early. There is a work period before the office opens to the public, where we generate solutions and we stay creative "
Shirley's team is broad and diverse. It is made up of a large number of women who work as analysts, specialists and consultants. For her to be surrounded by this type of inclusive team is energizing. "Every two weeks we evaluate the challenges and reach different agreements. When we make decisions with alternatives, we are more effective. The team always comes to me with different scenarios and options to better face the challenges that come our way. "
In Bolivia, the IDB has an interesting participation in the transport sector. For Shirley, the Bank makes a difference by providing support through technical cooperations that go beyond loans. According to Shirley, her work translates into improving the management of institutions in the country where she works. She comments that "it is an added value that we contribute and that keeps us in a continuous positive dialogue with the governments".
"Transportation is synonymous with challenge"
Working at the IDB means constant dialogue with governments and clients to execute current projects. It is about opening new opportunities in each of the strategic areas where the Bank operates.
Shirley is a development enthusiast and passionate about what she does. For her, "transport is synonymous with challenge". Her work goes beyond the construction of roads; it is about improving the lives of people and understanding their realities. She gets out of bed every day with the conviction that her work is positively affecting the communities that surround her.
Shirley recognizes the power of her work, that's why she dances to the Pachamama, to thank life for her work and for the challenges she faces. "If you dance one year it's to thank the Pachamama for all that life gave you, and if you dance three years is to make promises. I did both because I felt connected. Every day I think that I have to give thanks for the opportunities I have. "
If you are interested in the work we do in Transport and want to contribute, like Shirley, to the development of the region, visit the following link.
Follow us on Twitter @BIDtransporte.
*Luis Trenard is a communications professional specialized in marketing and public Relations, he focuses on solving problems and maximizing opportunities.  Proven track record of developing and executing innovative strategies for clients, both in the U.S and Latin America. Fascinated by storytelling and its power to impact society. Currently he serves as Communications Consultant in the Human Resources Department at the Inter-American Development Bank.