Investing in the quality and adequate coverage of infrastructure services is essential for achieving sustainable economic development in Latin America and the Caribbean (LAC). The role of infrastructure is crucial in this effort, as it can cut production costs, create jobs, boost access to quality essential services, and improve service prices through greater competition, among other benefits. LAC's current infrastructure challenge requires investments that involve doubling what countries have historically invested and aligning priorities to push the development and climate agenda forward.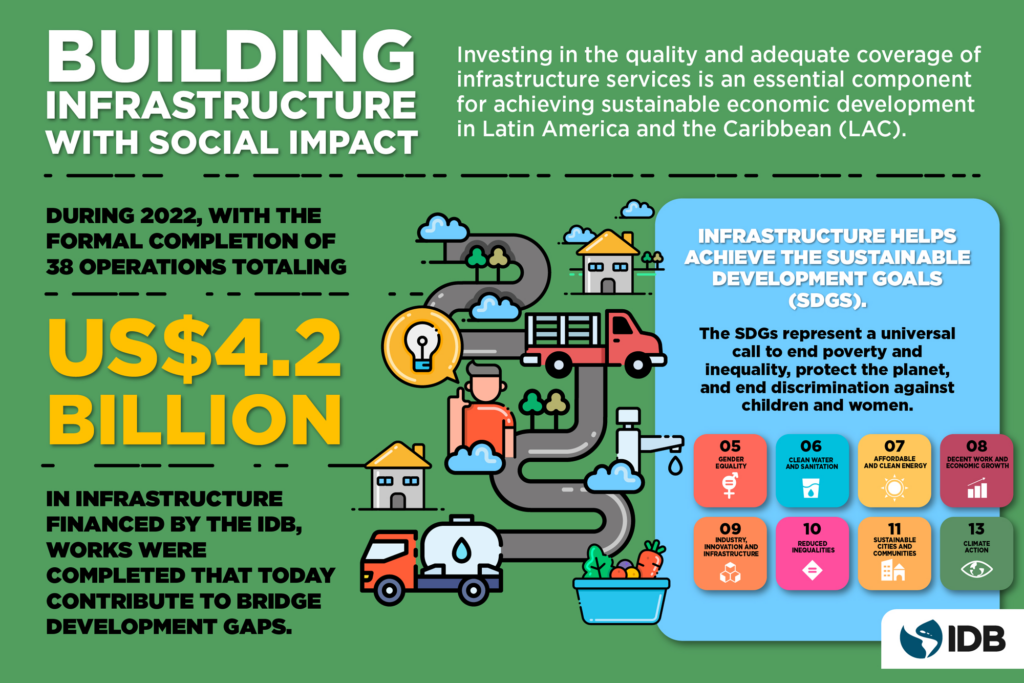 Infrastructure helps achieve Sustainable Development Goals (SDGs). The SDGs represent a universal call to end poverty and inequality, protect the planet, and end discrimination against children and women (United Nations, 2015). To work on this joint commitment, LAC governments, with the support of the IDB, carry out specific actions through the development of infrastructure projects, which directly contribute to various development goals: SDG5 gender equality; SDG6 clean water and sanitation; SDG7 affordable and clean energy; SDG8 decent work and economic growth; SDG9 industry, innovation, and infrastructure; SDG10 reduced inequality; SDG11 sustainable cities and communities; and SDG13 climate action.
During 2022, with the formal completion of 38 operations totaling US$4.2 billion in infrastructure financed by the IDB, works were completed that today contribute to bridging development gaps. In energy, for example, through Panama's Sustainable Rural Electrification Program, 6,177 homes in rural areas were provided with 24-hour electricity service (PN-L1095), helping raise the access rate in rural areas. In Suriname, through the Program to Improve the Sustainability of the Electric Service, the percentage of the population with access to electricity rose from 85% to 90.3% (SU-L1009).
In transportation, with the Road Investment Program of the State of São Paulo, Brazil, the economic cost of road accidents was reduced by 38% (BR-L1373). In Colombia, through the Program to Support the Application of the National Logistics Policy, productivity in companies producing goods and merchandise was improved by cutting logistics costs from 14.9% to 12.6% (CO-L1109). In Nicaragua, with the Road Integration Programs, 131 km of rural roads were improved, reducing average vehicle operation costs by 52% in the intervened sections and helping lower food prices and boost food security in the region (NI-L1087, NI-L1097, NI-L1092).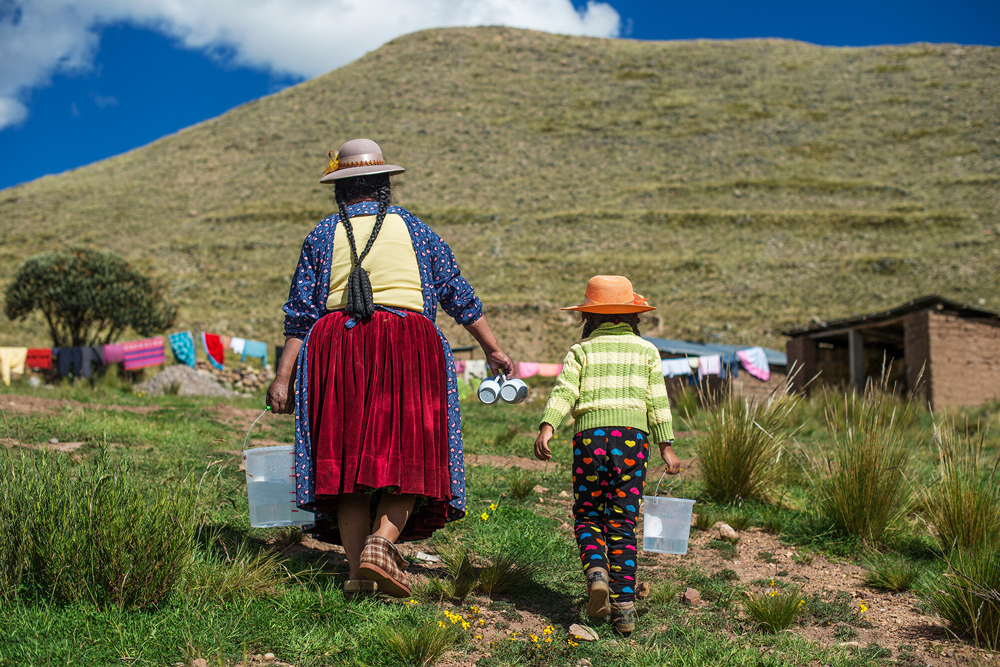 And in water, sanitation, and solid waste, the Policy Reform Program for Water, Sanitation, Solid Waste, and Water Resources Sectors provided 423,000 households in Bolivia with access to drinking water nationwide (BO-L1200). In Brazil, the Social and Environmental Program for Igarapés, Manaus, relocated 680 families from homes at risk of flooding (BR-L1297). In the Dominican Republic and Nicaragua, through the Program to Improve the Water Supply Service in Santiago and the Drinking Water Project in the City of Bilwi, more than 38,000 households benefited from formal connections to drinking water (NI-G1002, DR-L1057). In Colombia, in the Adaptation to Climate Impact on Water Regulation and Supply program in the Chigaza-Sumapaz-Guerrero area, adaptation measures were incorporated to reduce the vulnerability of water to climate change in processes benefiting 364 families (CO-G1002).
We want to acknowledge the valuable joint work of the infrastructure projects' executing agencies teams and that of IDB specialists and consultants, who have undertaken projects with the common goal of improving lives in the region.