Lizzie Marsters
Lizzie Marsters is an Environmental Finance Manager with the Natural Infrastructure Initiative, where she works to advance the pace and scale of natural infrastructure projects by unlocking access to capital. She works with municipalities, utilities, impact investors, infrastructure operators, non-profit institutions, businesses, and civil society to identify green infrastructure investment opportunities to build stronger, more resilient communities and ecosystems.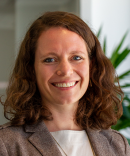 Lizzie Marsters
Lizzie Marsters é Gerente de Finanças Ambientais da Iniciativa de Infraestrutura Natural do WRI, onde trabalha para aumentar o ritmo e a escala dos projetos de infraestrutura natural, desbloqueando o acesso ao capital. Trabalha com municípios, serviços públicos, investidores de impacto, operadores de infraestrutura, instituições sem fins lucrativos, empresas e sociedade civil para identificar oportunidades de investimento em infraestrutura verde para construir comunidades e ecossistemas mais fortes e resilientes. Lizzie traz uma perspectiva única para a gestão de recursos naturais, tendo trabalhado nessas questões tanto no setor público quanto no privado.
Sorry, no content matched your criteria.