"The minute a refugee gets a job, they stop being a refugee." Some time ago Chobani's CEO and TENT founder, Kurd immigrant himself Hamdi Ulukaya, said it while discussing inclusion programs in Latin America and the Caribbean (LAC) with the IDB.
There is nothing more powerful for the integration of migrants and refugees than a job.
Access to the labor market is not only good for migrants and their families but for their host societies, too. Regions that receive more migrants see an increase in their economic productivity because migrant workers on average tend to complement native workers and encourage business investment. Evidence shows that immigrants can expand labor supply and create greater competition for native-born workers and that immigrants can expand labor demand by starting new firms.
In host countries, migration brings about economic growth, younger cohorts, trade, investment, and entrepreneurship, since migrants are concentrated in economic sectors that are more innovative and create more companies compared to the local population.
But migration as such is not enough to awake migrants' potential. Countries need to create the conditions for their capabilities to be enhanced. However, that is not a simple challenge. Large and sudden population cross-border movements put additional pressures and constraints on government spending in contexts of limited fiscal capacity, especially in the short-term.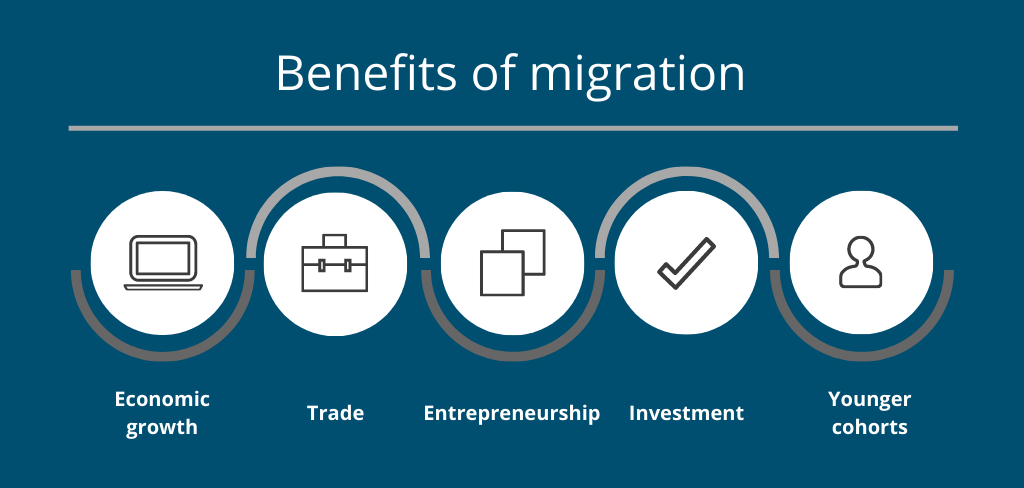 What can governments and private sector do to reap migration benefits?
A key determinant for including migrants in their host communities and enabling them to make a positive contribution to their host and return countries is the availability of services for their integration into the formal labor market and the generation of economic opportunities. This is especially relevant considering that the main cause of emigration in LAC is the search for economic opportunities either for the 6 million Venezuelans or the hundreds of thousands of Haitians, Nicaraguan and other Central American citizens.
As a result of the migrants' uncertain or undocumented status, migrants in LAC suffer what is call "skilldowngrading", as they tend to work in sectors that require fewer skills in the informal sector. Furthermore, some 65% of the migrant population works in the informal sector, compared to 50% of the local population.
Additionally, COVID-19 has heightened the challenges faced by women migrant workers, who are at greater risk of losing their livelihoods due to the types of employment they are engaged in service sectors, including the care economy, and caring for their children or grandchildren. They may also be excluded from social security and healthcare systems. Some 8.5 million women engaged in domestic work saw their income reduced during the pandemic but were unable to return to their places of origin through regular channels because of COVID-19 border closures.
10 clues to get migrants jobs
Throughout the years, and thanks to our close work with countries and the private sector, we have been able to identify and learn some lessons on how to promote the socioeconomic integration of migrants.
Work in the process of documentation and regularization of migrants' to allow them to continue with other aspects of their socio-economic integration. Having an ID is key to find a job in the formal labor market or to meet the requirements to open a business;
Create migrant-specific employment roadmaps in employment services to start closing information asymmetries;
Implement technological improvements to manage the existing mismatch between migrant labor supply and demand more effectively, including with the use of algorithms;
Partner with employers to ensure they are fully informed and up to date with the labor legislation, regulation and possible incentives, and include in the regulations business' concerns and needs to employ migrants and emigrant returnees;
Strengthen job training, including digital skills and remote freelancing. Programs that create jobs will not only enable migrants to become more self-reliant, but to maintain and improve their skill set. It will be important to re-skill or up-skill migrants and refugees to adapt to the needs of the local labor market;
Speed up labor certifications and re-certifications for migrants in host-country systems, to reduce skilldowngrading and informality;
Manage economic opportunity services for migrants. These services may be articulated with initiatives to promote entrepreneurship among migrants and develop SMEs
Promote financial inclusion for migrants, so that they do not pay informal sector premiums to send remittances home and be mindful of the importance for the local economy of migrants', with special emphasis on women, access to a bank account and financing;
Attract investment in areas that have been affected by migration, especially some border regions through establishing or regenerating export processing zones with effective links to the local economy; and
Fight xenophobia to prevent misperceptions among local population and government officials that can unleash social and political unrest that is not at all conducive to economic growth.
Migration may a powerful driver for development. Empowering migrants and creating conditions for their social and economic inclusion can be a driver for the recovery of Latin American and Caribbean countries.
¿Have you experienced or know of successful employment initiatives for migrants? Please share in the comments.