'Mentoring is a brain to pick, an ear to listen, and a push in the right direction ~ John Crosby
In 2009, I was thrilled to join the Inter-American Development Bank as part of the Young Professionals Program. From the beginning, I had the opportunity to participate directly in field operations in La Paz and Cochabamba, Bolivia where I helped the energy team with the first leg of the execution of a power plant.
Today, 14 years later, as a Lead Energy Specialist within the IDB's Energy Division and with more HQ and country experiences to reflect upon, I look back at my career, the opportunities I was provided, the different field postings that exposed me to boots-on-the-ground project implementation, and I am grateful. These experiences helped me to reflect on the need to continue exposing professionals to missions and projects. Project implementation experiences highlighted for me the importance of de-tangling seemingly complex problems, finding the pieces of the puzzle together with a range of stakeholders, creating spaces for change, listening to, and working side by side with our clients in the field to achieve effective solutions.
For this reason, I was proud to participate in the pilot edition of Cross-Institutional Mentoring (CIM) as a mentor. This project, which stems from a collaboration between the Inter-American Development Bank (IDB), the Development Bank of Latin America (CAF), the Caribbean Development Bank (CDB), the International Finance Corporation (IFC), and the World Bank (WB), sparked my reflections about creating spaces for specialists to share work experiences, shared values and not just dreams but concrete actions for making a difference in the Caribbean with young women who will become part of the workforce of the future.
The Mentor-Mentee Match
During this initiative, I had the opportunity to mentor Antonia Malika Hart, an Operations Officer, and civil engineer who now works as an operations officer within the Project Appraisal and Design team of the Economic Infrastructure Division of the Caribbean Development Bank. Based on sector similarity, we were immediately able to discuss the design and development of regional infrastructure projects. We bonded on our similarities and discussed common networks, along with the insights and critical thinking we were developing in our respective roles. We both see ourselves as change agents, passionate about innovation and making a difference, but we also recognize the importance of sharing our work and life hacks with others and recognizing when it's time to chill out. A key point of convergence was the need to support talent in the Caribbean and, in our case, contribute to the career development of women in technical roles.
We shared our insights into development effectiveness and the tools for evaluating this. We discussed the Results Monitoring Framework of a selected IDB project and compared how this tool is used to evaluate project success. Thanks to behind-the-scenes support from HR and the IDB Country office, we were able to facilitate in-person observation of a Project Completion Report (PCR) workshop.
Bringing shared insights to Life: Guyana Power and Light Project
The PCR workshop looked at the effectiveness and efficiency of electricity supply with the Utility from design to project close out. Stakeholders discussed the management and administration, system planning and design, information technology, and infrastructure to allow for loss reduction, consistent with the Utility's strategic plans. As part of our mentoring sessions, we discussed project objectives and execution trends, and challenges. The face-to-face workshop for the Guyana Power and Light (GPL) project brought to life the discussions we had around effective and efficient development impact and provided a first-hand opportunity to hear stakeholders' perspectives on impact and lessons learned. During the event, we also celebrated the participation of other Caribbean women who interacted on energy and technical issues in the workshop like Dr. Niebert Blair (IDB PCR Consultant); Hollace Dazzalle (GPL- PEU Financial Specialist), and Chitra Singh (GPL-PEU ESG/Communications Specialist).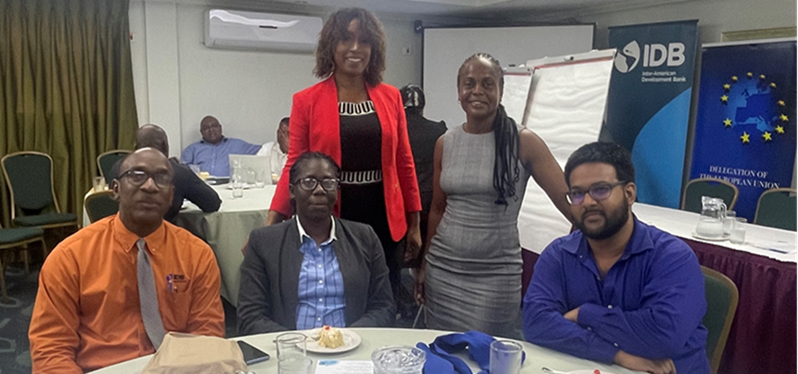 From Left: Mr. Andrew Thorington (IDB Consultant), Dr. Niebert Blair (IDB Consultant), Mr. Amir Dillawar (GPL Engineer & Program Coordinator), Dr. Malaika Masson (Lead Energy Specialist IDB), and Ms. Antonia Hart
These discussions of the project life cycle provided an opportunity to share how we would do things differently next time around – be more flexible, simplified, and coordinated. It also highlighted the importance of shadow-managing, providing in-the-field opportunities to learn how innovations in project design can result in better outcomes in execution.
During our university studies, we learn about best-practice concepts, designs, and standards, and as infrastructure-development professionals to make a difference and have an impact going into the field and working through the complexity of different environments, rules, behaviors, and systems is critical. The journey is thrilling and fulfilling, offering loads of opportunities to grow professionally and personally. As busy women in our technical and project management fields, mentoring gives us the space to reflect and share what works and where change is needed. After all, a problem shared is a problem halved, and sharing is critical to building an ecosystem of innovators equipped to be the change we wish to see in the world.
We wish to thank the Human Resources Departments in IDB and CDB for making this possible. Specifically, we recognize Mr. Bruno Taborga and Ms. Patricia Arenas of IDB; Ms. Lianne Fingall and Ms. Ria Balbos Jordan of CDB; Ms. Lorena Solórzano Salazar, IDB Guyana Country Representative, and Marcelino Madrigal, IDB Energy Division Chief whose collaborative efforts facilitated the logistics of CDB attendance at the workshop in Guyana.