The global landscape of the extractive sector is changing rapidly. Digital disruption and automation are reshaping opportunities for those who work in the sector. Global efforts are underway to decarbonize our societies but with the added challenge of an increasing demand for the minerals needed for this transition. At the same time, the economic repercussions of the COVID-19) have had negative and differentiated effects on men and women.
Where does gender equality fit in this scenario? What impacts will a global crisis and potential recession have on progress towards gender parity? These are some of the questions that will be debated at the Second World Conference on Gender in the oil, gas and mining sectors.
The conference's aim is to share and generate knowledge among governments, industry, and essential actors such as members of civil society and research, on actions that can improve gender equality in the extractive sector.
What are we looking for?
Provide a space for knowledge exchange and development on policies, project implementation, and innovative approaches to address gender gaps in extractives.
Discuss the progress made by various actors since 2018 in reducing gender gaps in extractives, with a focus on identifying the gender dimensions related to technological disruption and the change in associated infrastructure.
Identify the most pressing women's rights issues.
Propose means of greater collaboration to improve gender equality in the extractive industries, promote equitable and inclusive distribution of benefits and mitigate harm to women and girls in mining communities.
Determine ways to track progress and be accountable for gender equality initiatives.
Women's rights and gender equality in extractive sector
To this end, the Inter-American Development Bank and the World Bank's Extractives Global Programmatic Support (EGPS) Trust Fund are pleased to solicit proposals for the Second Global Gender in Oil, Gas, and Mining Conference that will be held virtually on March 3-4, 2021.
We invite interested parties to submit case studies, working papers, presentations, and novel data that explore one or more of the conference sub-themes. Proposals must analyze innovative ways to promote women's rights and gender equality in extractives. The proposal should also identify and discuss challenges, opportunities, interventions, and lessons learned.
Interested parties should submit a 500-word abstract by November 30, 2020 to wbextractives@worldbank.org.
The Organizing Committee will evaluate all submissions in terms of originality and relevance. Authors of accepted submissions will be contacted by December 23, 2020, at which time they will be invited to submit the full proposal no later than 45 days prior to the conference.
For information on calls for proposal, go to https://getting2equal.iadb.org or download the pdf instructions here.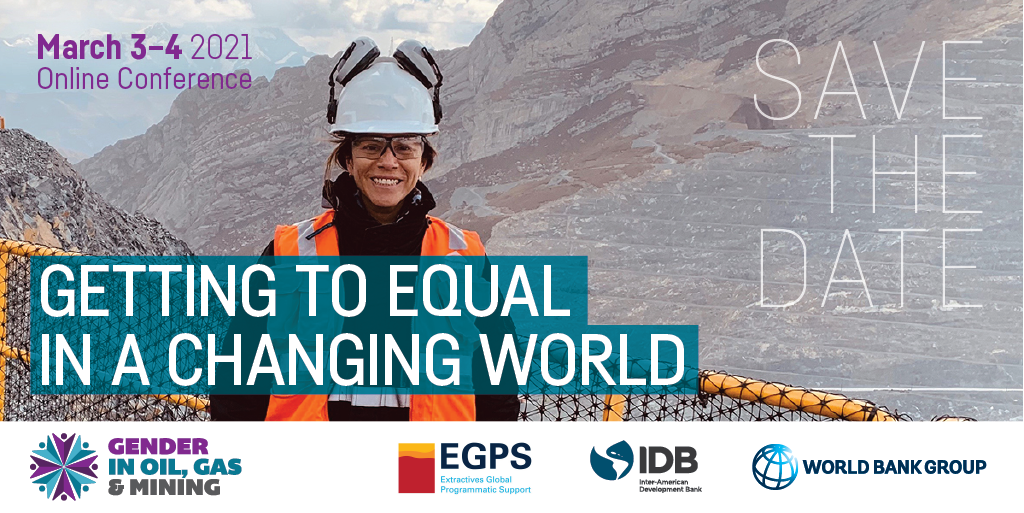 This blog is made in collaboration between the IDB- MGH (Mining, Hydrocarbon and Geothermal Energy) team and the World Bank's Extractives Global Programmatic Support (EGPS) team.