In aiming to improve lives and protect the planet, the Sustainable Development Goals cannot be designed with a single benefit in mind.
Challenges such as civil conflict, forced displacement, environmental degradation, poverty and inequality are almost always mutually reinforcing. So are their solutions. To be effective the response must embrace economic, social and environmental dimensions.
The Inter-American Development Bank Group (IDBG) has stepped up its efforts to contribute to meeting the SDGs by 2030, both individually and with partners.  All 17 Sustainable Development Goals (SDGs) are interconnected and must be tackled as such. This is how the IDBG is responding to the call for a holistic approach.
Sustainability in Colombia
In Colombia, a countrywide initiative targets 170 municipalities affected by the country's civil conflict with the FARC (Revolutionary Armed Forces of Colombia), which came to an end in 2016. Approved in 2017, the Sustainable Colombia Program -or SCP as it is known- is supported by a $100 million loan.
The country's post-conflict zones have experienced disproportionate environmental destruction and poverty. As a result, the program contributes directly to a range of goals including economic development (SDG 8: Decent Work and Economic Growth), climate change (SDG 13: Climate Action), and social equality (SDG 10: Reduced Inequalities). The program also addresses the restoration of natural resources (SDG 15: Life on Land) and development of sustainable sources of income for residents (SDG 12: Responsible Production and Consumption).
Strategic alignment with the SDGs
The IDB Group is well positioned to support the countries of the region in their effort to play a leading role in shaping and delivering the SDGs.
With this in mind, the IDBG has aligned its strategic framework with the SDGs, focusing on three regional development challenges.
social exclusion and inequality
low productivity and innovation
lack of regional economic integration.
At the same time, the strategic framework cites three crosscutting issues that must be addressed when working on these challenges:
gender equality and diversity
climate change and environmental sustainability
institutional capacity and the rule of law.
As shown below, each of these challenges and crosscutting issues is aligned with at least one of the 17 SDGs.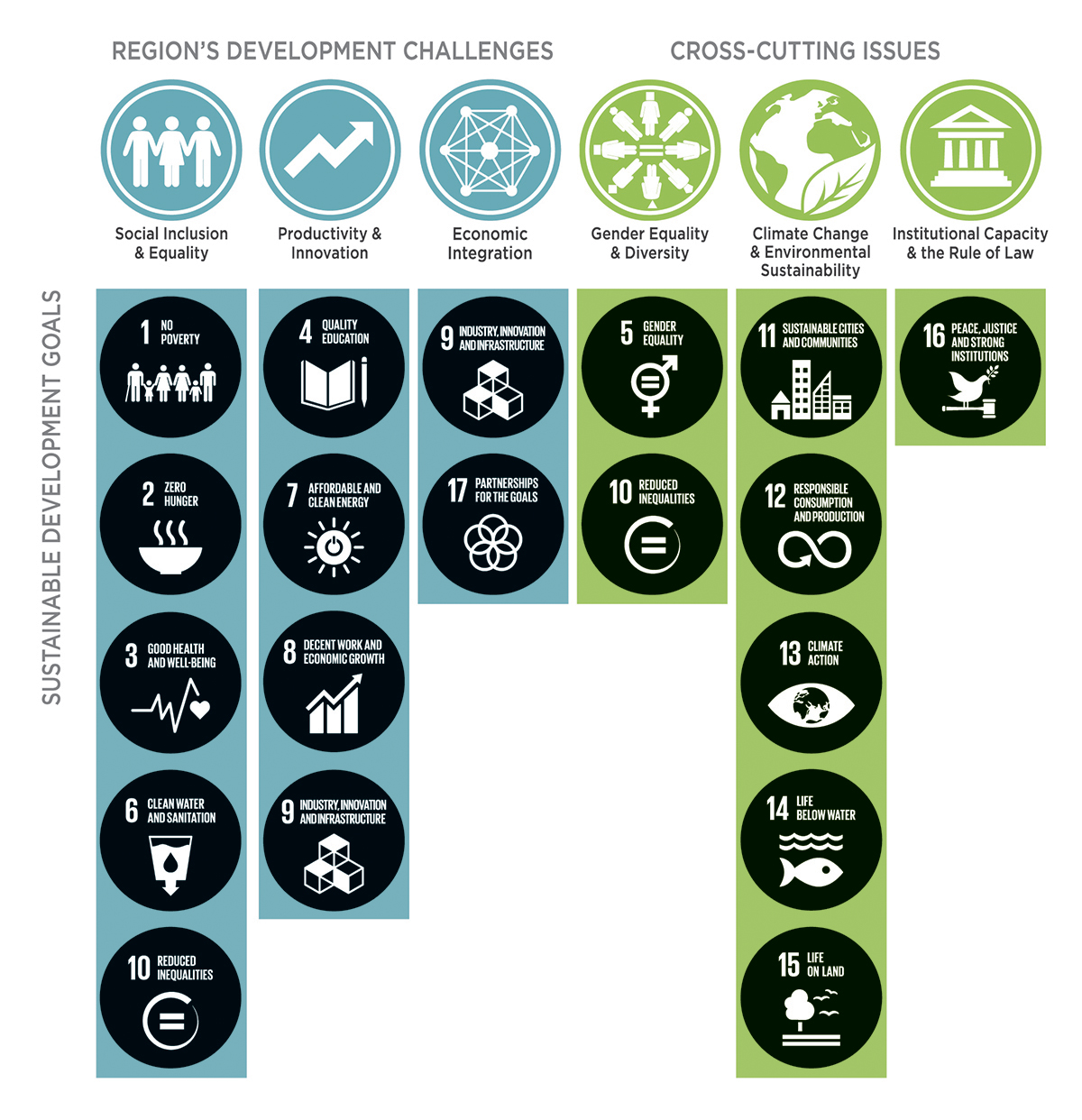 Source: Based on Inter-American Development Bank, Inter-American Investment Corporation, Multilateral Investment Fund (2016). Development Effectiveness Overview 2016. Washington, D.C.
Coordinating stakeholders for Costa Rica
The holistic nature of the 2030 Agenda to meet the SDGs requires coordination among stakeholders. And multilateral organisations such as the IDB Group are well positioned to facilitate.
A good example of is the recently completed Reventazón Hydroelectric Project in Costa Rica, an IDB Group-led initiative worth $1.345 billion which brought together a number of investors including IDB Invest (the Group´s private sector arm) the International Finance Corporation and four local banks.
Given the level of resources required for Reventazón, securing the involvement of a wide range of parties was critical to the project's successful financing and execution. The hydroelectric plant now supplies 10 percent of Costa Rica's electric generation capacity (SDG 7: Affordable and clean energy). It is also a major step towards that country's goal of carbon neutrality (SDG 13: Climate action) and includes a jaguar corridor to protect critical habitats adjacent to the project site (SDG 15: Life on land).
Private sector engagement
Public sector resources alone are not sufficient to bring development finance from "billions to trillions" to achieve the SDGs. To meet the ambitious targets laid out by the SDGs, we must harness resources across the public, private, and civil society sectors.
To this end, the IDB Group has taken steps to deepen engagement with the private sector. It has set up a public–private coordination team to identify synergies and business opportunities as well as mobilize greater private sector finance.
Another new initiative is the NDC Invest platform: a one-stop shop to help countries access the resources needed to translate national climate commitments under the Paris Agreement into concrete investment plans and bankable projects.
The IDB Group stands ready to leverage its financial resources, technical expertise and multilateral coordination in support of the public and private sector to achieve the Sustainable Development Goals.
For an in-depth look into how the IDB Group is supporting the SDGs check out Chapter 2 of the "Development Effectiveness Overview", our latest flagship report on impact and results.
To see how IDB Group interventions contribute to specific SDGs check out our 2030 Agenda website.
This post is an edited version of the article "A new development approach in action".