The coronovarius pandemic (COVID-19) is a reminder of how vital safe water and sanitation services are to all.
Today as we commemorate World Water Day, we remind you of the importance of taking care of the resource, but in this particular year we want to underline the importance of taking care of ourselves and our communities. Washing your hands thoroughly with soap and water for 20 seconds is the best way to prevent the spread of the coronavirus. Along with social distancing measures, soap and water is, to date, the most efficient and cheapest method to avoid contagion. For this reason, this World Water Day, our call cannot be more urgent: To take care of water more than ever and to wash your hands!
However, what happens when the only source of water for families or entire communities is far from home? Like the vast majority of global crises, the coronavirus pandemic poses a greater threat to the most vulnerable citizens.
In Latin America and the Caribbean we have greatly improved in providing access to water; but universal services are still far ahead. This is particularly important for our region, the most urbanized on the planet, where nearly 80% live in cities.
It is precisely the most vulnerable population to which we have to focus a good part of our efforts in times of global emergency such as the one we are experiencing. Today about a third of the population in our city lacks safe drinking water service. The situation is much more precarious in terms of sanitation service, since 70% of households do not have access to adequate human waste management. A significant percentage of households would not have access to hygiene facilities: about 75% or less of households in at least six countries do not have basic hygiene services.
It is also important to ensure the provision of water, sanitation and hygiene services in health centers. About 5% of healthcare centers do not have access to water services, which represents a double challenge for these healthcare centers when facing the coronavirus emergency, as they experience high patient demand and lack the means to maintain a clean environment.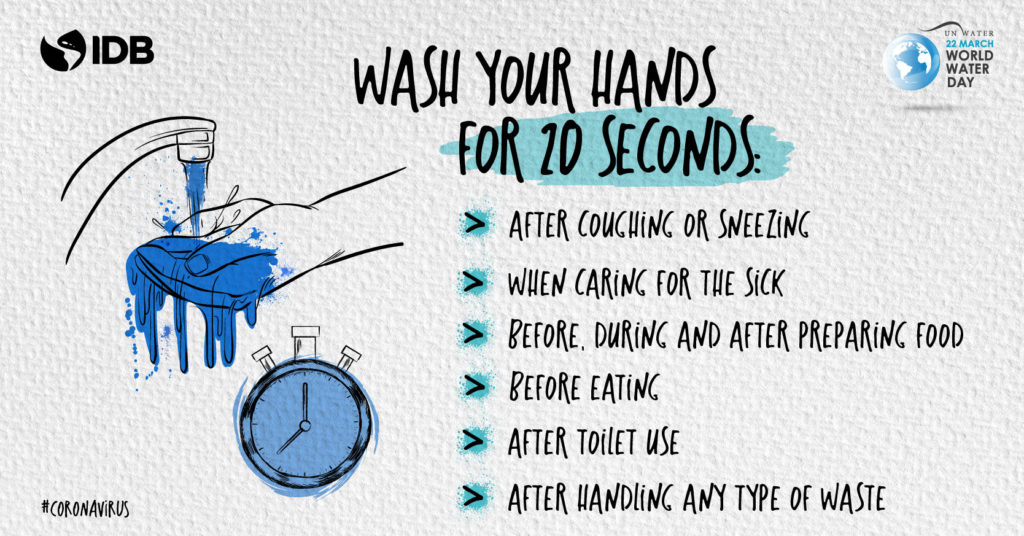 In this scenario, the water and sanitation operating companies are an important ally to contain the advance of the pandemic. Emergency measures must be taken, including developing contingency plans, if they do not already have them, to ensure continuous quality service.
Right now the rational use of water is critical to face the pandemic. It is extremely important to use water primarily for personal hygiene, without excesses and to postpone other less urgent uses, so as not to expose the water production and distribution systems to limits that are difficult to manage. In this sense, it is important to turn off the water tap while rubbing your hands for 20 seconds to avoid wasting it. It's also important to stay calm and not hoard bottled water stocks in a way that doesn't happen, as we've all seen, with other products like toilet paper and alcohol based hand sanitizers.
In our region, countries like El Salvador and cities like Sao Paulo have already announced extensions for payment and suspension of the collection of basic services. This is particularly important for users in the informal sector who will not receive daily wages due to the drastic decreases in economic activity as a consequence of social distancing and quarantine measures; as well as vulnerable population in hospitals, asylums, sanatoriums and jails.
The pandemic forces us to act quickly, but appropriately, without forgetting that the great pending task is to ensure that basic water and sanitation services are accessible to all citizens.
This World Water Day once again presents us with the reminder that the best investment of any country is to ensure that access to resources such as water have the highest priority. The call is to wash our hands, to avoid contagion, but the goal of bringing safe water and sanitation for everyone today requires more than ever a hands on approach.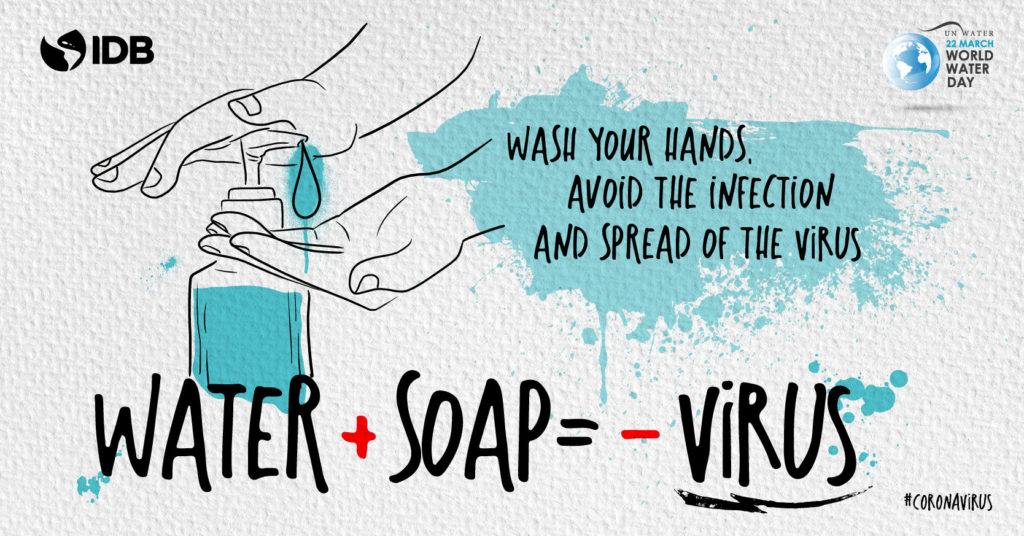 To stay informed about preventive measures against coronavirus, we recommend to check on the official website of the World Health Organization.