*Jihoon Lee and Raul Muñoz
Most of the effects of climate change are felt through water. Disruptive and unpredictable weather patterns cause more droughts and floods, rising sea levels, and environmental contamination. As a result, farmers' abilities to save their crops, access to clean drinking water, and community protection from extreme weather events are all under stress. We cannot address climate change without considering its effects on water.
To ensure that communities are resilient to water scarcity, managers at all levels – from the city to the transboundary river basin – must develop integrated water and climate policies, while leveraging data and informed decision-making. Yet, many stakeholders cannot provide effective and sustainable solutions due to a lack of data on current and future resource availability, drinking water supply, and food and energy demand. According to the World Meteorological Organization (WMO), sixty percent of all countries report declining hydrological monitoring capabilities, and more than half do not have quality water data management systems. A widening information gap makes it more difficult to maximize the use and reuse of water resources.
The Inter-American Development Bank (IDB) supports countries in Latin America and the Caribbean to combat this trend. In Chile, theIDB promotes scientific research and participatory bottom-up pilots to determine the robustness of potential adaptation paths under different climate, environmental, and societal uncertainties. These initiatives define and prioritize robust local Action Strategies (AS) against high uncertainty scenarios.
The Robust Decision Making (RDM) methodology was applied in two basins in central Chile that have different hydrological conditions and demographics. Instead of focusing solely on improving predictability, the RDM promotes the methodical creation and selection of short-term activities that are compatible with long-term goals. A problem tree for each basin and corresponding AS for use optimization, demand reduction, and wastewater treatment and reuse were established based on the RDM.
A Water Security Index (WSI) was defined as a performance measure and an intervention plan cost-benefit analysis was developed as well. The AS considered strategies associated with efficiency and targeted use of water resources. WaterALLOC – a GIS-based platform that com­bines the HydroBID hydrologic modeling system with the MODSIM network model used to simulate withdrawals, reservoirs, and other human ef­fects on the watershed – was used to simulate various scenarios and the impact of the AS on water availability.
The IDB is strengthening modeling tools by adding functions such as drought indices, so decision-makers and water managers can more effectively manage their resources based on comprehensive and predictable scenarios with more reliable hydrometeorological data. Although drought indices are conceptually straightforward to generate, it can be difficult for decision-makers to handle massive volumes of data and automate visualization over vast areas.
The IDB partnered with the Research Triangle Institute (RTI) to create the GIS-based WaterALLOC planning platform, which includes the Drought Management Tool (DMT). In the Maipo river basin, a semi-arid basin in central Chile, the DMT was incorporated to WaterAlloc to calculate a Standardized Precipitation Index (SPI) and assess drought in all catchments (see Figure).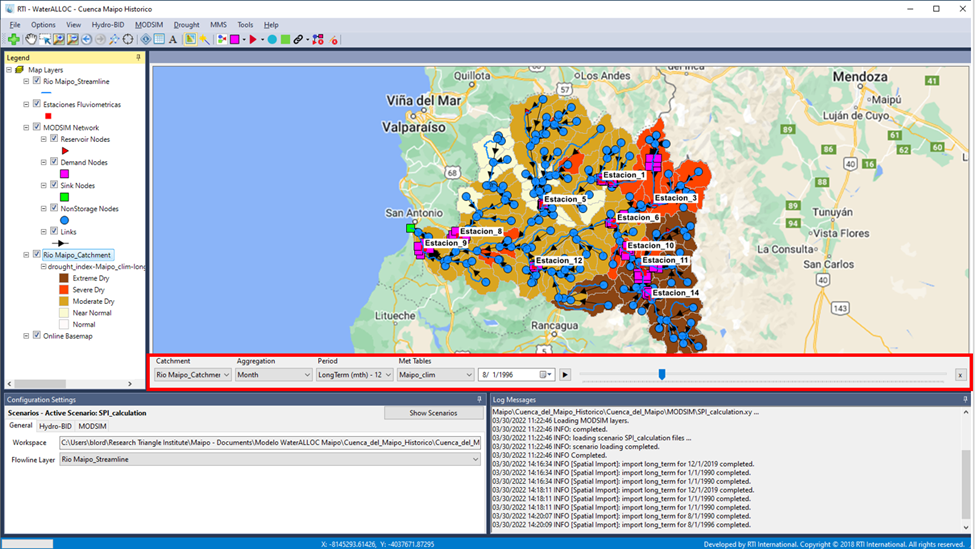 Climate change challenges us to re-imagine our entire water approach and pivot away from traditional management methods. Resilient water resource management requires integrated, robust, and forward-thinking policies, based on more reliable hydrometeorological data. Yet, implementing a sustainable strategy in a single city, nation, or transboundary organization will not be sufficient to shift the current paradigm. The IDB continuously seeks opportunities to spread and scale the RDM methodology used in Chile to other basins in the region.
Find out more
Read more about the topic: Climate Resilient Water Resources Management – Driving the conversation forward.
Guest author
Jihoon Lee. An Engineering Consultant at the Water and Sanitation Division, Infrastructure and Energy Sector of the IDB. He has more than 7 years of experience in urban climate resilience, smart water management and water infrastructure at the UN programmes, Multilateral Development Bank, and research institutes. He has been supporting sustainable water resource management and urban climate resilience agenda in Africa, Asia-Pacific and Latin America and the Caribbean. He has a Master's degree in Urban Planning with a focus on Water Resources Management, and a Bachelor's in Urban Engineering.