By María Augusta Olmedo Velasco*
The IDB-FEMSA Award is one of the most important prizes for the water and sanitation sector in Latin America and the Caribbean. Organized by the Inter-American Development Bank (IDB) in partnership with the FEMSA Foundation, it promotes innovative and entrepreneurial solutions to water, sanitation and solid waste challenges.
This year's edition of the award will focus on sanitation, a critical issue for our region. Sanitation refers to all measures that protect public health by preventing and controlling diseases related to water, food and the environment, including proper waste disposal, the provision of safe drinking water, and the control of pollution.
Innovative sanitation ideas for all
Does it matter if you have a bathroom in your home or if you have sewage in your neighborhood? The answer might be obvious to many, since most homes have at least one toilet. However, rural, informal or remote communities face harsher circumstances. Lack of basic sanitation and sewage service worsens their quality of life.
The IDB-FEMSA Award seeks to support mature or developing ideas from entrepreneurs and innovators with the ability to think creatively and find solutions for these communities.
This competition presents a valuable opportunity to support early-stage projects that can evolve and transform the industry. Becoming a successful innovator or entrepreneur requires much more than having a brilliant idea; it takes courage, perseverance, and motivation. Although ideas can fade away, determination can allow it to resurface and fulfill its original purpose to serve vulnerable communities.
This award demonstrates the IDB and FEMSA Foundation's commitment to sustainable development in Latin America and the Caribbean.
IDB-FEMSA Awards 2023 Edition
This edition will be held virtually and in person to promote and support entrepreneurs, innovators, and organizations that bring creative solutions to the community in sanitation. It will recognize individuals and companies that have achieved progress and measurable results, improving the quality and access to this service.
The award will consist of two categories:
Innovative idea: Category 1 for individuals or representatives of a team who present an innovative idea in sanitation. Category 2 is for legal entities, such as companies, non-governmental organizations, public institutions, universities, educational and research centers, who wish to present a viable, innovative and scalable idea and/or technological sanitation project. This year, the award will focus on the scalability of these solutions.
Emerging or prototype venture: Thiscategory will give awards to solutions that provide sanitation in peri-urban areas and informal settlements; use/reuse of sludge to promote circular economy and resource savings; innovative systems for the treatment and disposal of solid and liquid waste; and/or innovative solutions for water supply and sanitation in rural areas.
The award will consist of several stages:
Initial application
Selection of semifinalists
Advanced application
Selection of finalists
Bootcamp
The award ceremony will be held in person in Stockholm during World Water Week, between August 20 and 24, 2023.
Acknowledgments
Finalists will participate in an intensive virtual bootcamp for social innovators, where they will have the opportunity to meet high-level professionals.
Two IDB-FEMSA 2023 Award winners will then be selected. The jury will award first place winners for each category.
The "Innovative idea" category winner will receive $10,000 USD
The "Emerging or prototype venture" category winner will receive $15,000 USD
Let's launch a call to action together for creativity and commitment to bring solutions within everyone's reach!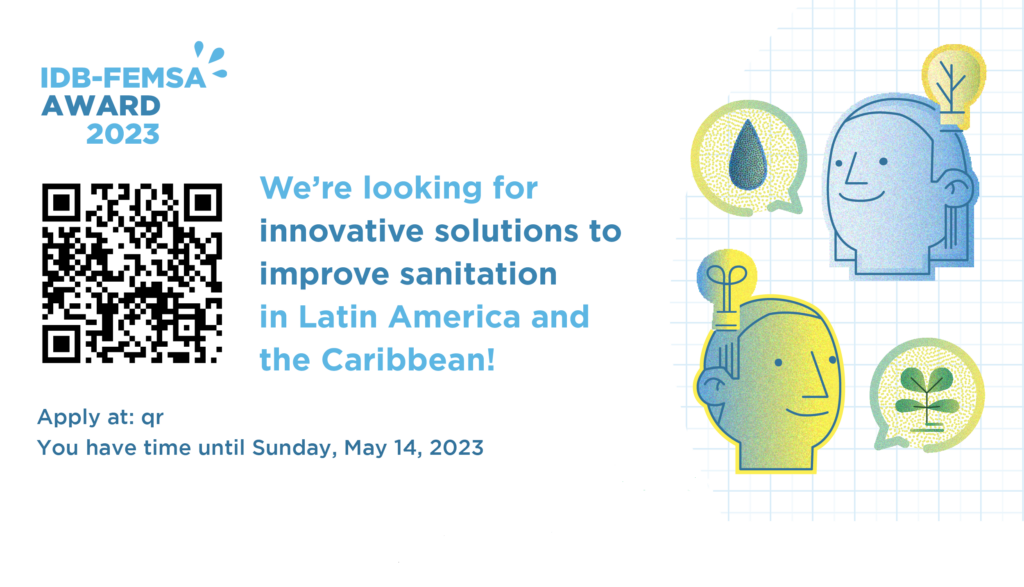 About Source of Innovation
The IDB-FEMSA Award is part of Source of Innovation, an alliance of the IDB Group with external partners to promote the development and adoption of innovative solutions in the water, sanitation and solid waste sector to achieve smart, inclusive and sustainable services, with a focus on service providers in Latin America and the Caribbean. It is funded by the Government of Switzerland through its State Secretariat for Economic Affairs (SECO), the FEMSA Foundation, the Republic of Korea through its Ministry of Environment, and the Government of Israel. This partnership is also complemented by direct contributions from IDB Lab and the IDB's Water and Sanitation Division.

*María Augusta Olmedo Velasco, Ecuadorian organizational communicator with a degree in Advertising from Universidad Tecnológica Equinoccial and a master's degree in Corporate Communication from Universidad de Barcelona. With more than 20 years of experience, she stands out in the development of integral communication projects, digital communication management, information analysis, acquisition of new clients, production of editorial products and international corporate communication management.