26 semifinalists in the categories of water, sanitation, and solid waste are moving to the second round of application, in which the jury will define the nine finalists who will compete for three prizes of US $10,000.
The call for the BID-FEMSA 2021 Award was a big success. More than 200 proposals were received, which indicates once again that the innovation ecosystem in water, sanitation, and solid waste in Latin America and the Caribbean is active and generating solutions, despite the adverse conditions that the COVID-19 pandemic has imposed for the second year in a row to the region.
This year, and for the first time, the Prize was split into two rounds to select the winners from the three categories of water, sanitation, and solid waste, who will each receive a cash prize of US $10,000. The jury has selected 26 semifinalists who have advanced to the second phase and will have until January 9, 2022, to complete their proposal and send a video pitch in which they explain why their solution deserves to be awarded. The jury will select nine finalists, three from each category, who will participate in an intensive training program (bootcamp) for social innovators and will compete in the final round in March where they will present their solution to a jury of experts who will select the winners.
The semi-finalists are:
Water category

• Faircap
• Spring suspended in the air
• Igua – Pure water, healthy life
• Remote Waters
• AGRICULTURAL
• 1 gallon of liters – Escola BETA
• Collective care infrastructure in the Peruvian Amazon
• Filter for water treatment for peasant and native communities in Peru
• Innovation to create sources of water supply and to recharge aquifers
• DIME H20
• PWTech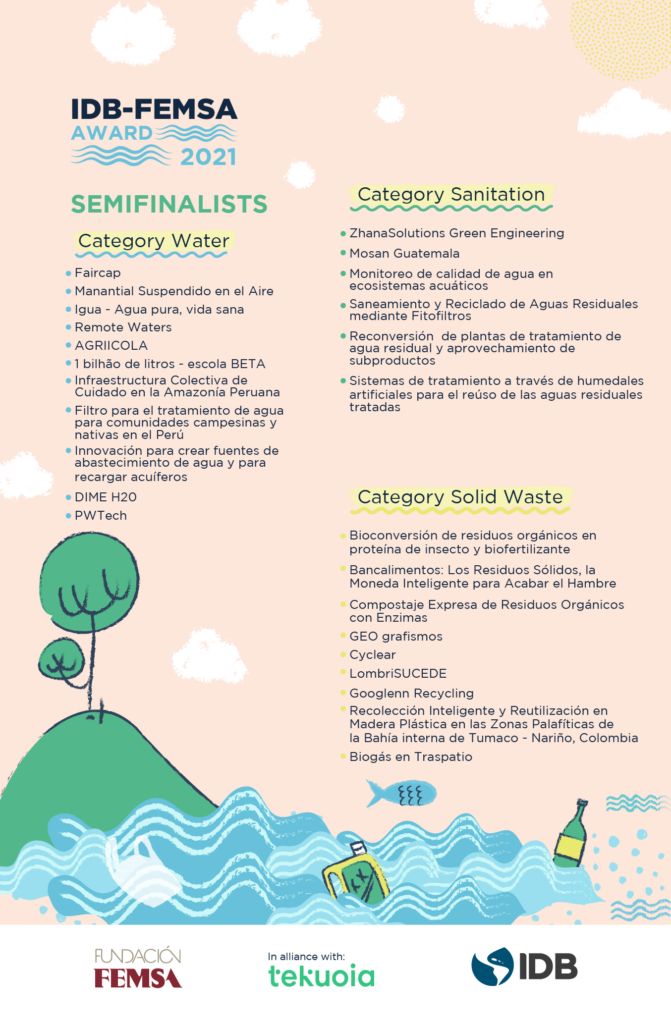 Sanitation category

• ZhanaSolutions Green Engineering
• Mosan Guatemala
• Monitoring of water quality in aquatic ecosystems
• Sanitation and recycling of wastewater through phytofilters
• Reconversion of wastewater treatment plants and use of by-products
• Treatment systems through artificial wetlands for the reuse of treated wastewater

Solid Waste category

• Bioconversion of organic waste into insect protein and biofertilizer
• Bancalimentos: Solid waste, the smart currency to end hunger
• Express composting of organic waste with enzymes
• GEO graphics
• Cyclear
• Lombri HAPPENS
• Googlenn Recycling
• Smart collection and reuse of plastic wood in the stilt areas of the internal bay of Tumaco – Nariño, Colombia
• Biogas in backyard
The final round will take place virtually, which will allow the general public to know first-hand the finalists and their solutions. The final "pitch by fire" competition is scheduled to take place in March, and the jury will announce the winners of each category at an awards ceremony during the same month.
Soon we will announce the details so that you do not miss the final round and the award ceremony for the best innovations in water, sanitation and solid waste in Latin America and the Caribbean.