Marisa (12 years old) lives in a peri-urban community in the outskirts of Kingston, Jamaica. In 2021, her water utility, the National Water Commission (NWC), was severely affected by a hurricane and it took over 3 months to resume service. During that time, this 12-year-old had to walk and wait for the water truck every day to get four gallons of water, barely enough for drinking, cooking and cleaning.
This year, a stronger hurricane ripped through the community, but it did not disrupt Marisa's water service. Luckily, prior to the hurricane season, NWC contracted a natural disaster risk parametric insurance policy with the Caribbean Water Utility Insurance Company (CWUIC SP). As a result, the water utility received a payout 2 weeks after the weather event and it was able to rebuild its water systems and facilities.

Water utilities must restore services to their customers as quickly as possible after natural disasters to protect public health. It typically takes a utility at least two months to restore operations following a category one hurricane. Hospitals, which depend on clean water services, cannot operate effectively under these conditions. In urban areas, the impact of floods is magnified when superficial runoffs transport heavy metals, organic loads, suspended solids, oils, and grease.

The Caribbean is particularly susceptible to floods, which can destroy infrastructure and obstruct livelihoods. In 2016, hurricane Matthew destroyed parts of Haiti. In 2019, a category five hurricane hit the Bahamas and caused damages exceeding 25 percent of the country's GDP. Climate projections estimate that storms will increase in intensity, enhancing the potential for substantial damage.

Utilities need more and better insurance for natural disasters. Today, utilities still lack the financial capacity to restore services quickly, and they often do not have the resources to fund concerted efforts to improve their systems' resilience. In-depth surveys of Caribbean water and sanitation utilities demonstrate that the premiums for natural disaster risk insurance have historically been too expensive and did not provide the desired level of coverage.
Many utilities use "self-insurance"; they cover damages with their own resources and do not cover potential damages from natural disasters. To address this issue, the IDB Group designed an affordable parametric hazard insurance product: the Caribbean Water Utility Insurance Company (CWUIC SP), which could be issued through a segregated portfolio within the Caribbean Catastrophe Risk Insurance Facility (CCRIF SPC). Created in 2007, CCRIF SPC was the first multi-country risk pool and insurance instrument to successfully develop parametric policies backed by both traditional and capital markets.
Funding from the government of the United Kingdom (UK) has been instrumental in providing technical assistance and premium subsidies to support the structuring of CWUIC SP. In August 2022, the UK government contributed over $3.5 million through a technical cooperation.
Teams are now working on formalizing a $1.8 million Investment Grant operation, funded by the UK government, to finance premium subsidies for public water and sanitation utilities in the Caribbean.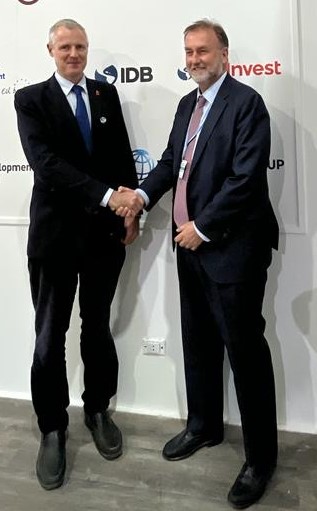 More specifically, the UK government is supporting the parametric hazard insurance response program, the development of risk modeling for different weather events, resilient water infrastructure projects, consulting services and staffing of CWUIC SP, as well as funding parametric insurance premium support to make it more affordable for the participating utilities.
To protect and insure water utilities' assets, CWUIC SP provides: (i) a rapid response program to support post-disaster assistance and coordination between utilities; (ii) parametric insurance; and (iii) support to identify and prepare proposals for the financing of resilient infrastructure.
---
The 27th annual UN Climate Change Conference will be held in Sharm El-Sheikh (Egypt) from November 7 to 17. The largest annual meeting of the year will bring together key actors in search of greater climate ambition. For Latin America and the Caribbean, it is an opportunity to strengthen and align development goals with climate objectives and translate them into carbon-free and climate-resilient economies. Find out here what is the IDB Group doing at COP27.