It is at work that one finds true happiness.

Fyodor Dostoevsky
In Latin America and the Caribbean, we are at a critical moment to rethink how work and its rewards – such as our pensions- can guarantee the happiness that Fyodor Dostoevsky spoke of, but in the later stages of our lives. The large increase in life expectancy expected in the coming decades for the region brings good news, but also new concerns. In other countries of the world with older populations, increased longevity has translated into financial and sustainability problems for pension systems. How can we avoid poverty in old age and be confident that our savings will be sufficient to cover our needs in the years after retirement? Among other solutions, life annuities can be an interesting tool to address widespread longevity.
Weaknesses of pension systems in the face of increasing longevity
Pensions in some countries in the region are based mainly on individual contributions. That is, if savings generated throughout the productive lifetime are very low, the worker receives a single lump sum payment or is forced to purchase a payment plan without protection against the eventuality of living longer than expected (the so-called "longevity risk"). In these systems, increased longevity is borne by savers in the form of lower pensions.
On the other hand, in PAYG and defined benefit systems, greater longevity has a direct impact on the viability of the system, and the requirement of a minimum number of years of contributions becomes a significant barrier to accessing the right to receive a pension. This situation is alarming in Latin America and the Caribbean, a region with high levels of labor turnover and informality, and where people pay pension contributions for less than half of their working life.
To address increasing longevity, reforms are needed that go beyond the design of pension systems. While pension reform discussions have focused primarily on the labor stage of workers, the proper design and operation of the payout stage is critical as well. A pension system should aim to provide retirement income for life rather than lump-sum payments at retirement. Unfortunately, in Latin America there is a scarce supply of options for acquiring decumulation financial products – pension payments in the non-productive stage – that offer lifetime income.
Download the newest edition of our future of work and pensiones series here
Annuities in Latin America and the Caribbean
Low levels of savings are an impediment to the development of annuity markets that could protect individuals against longevity and inflation risks. With the exception of Chile, there are no functional annuity markets in the region. Historically, annuities in that country reached about 60% of pensioners' preferences, but this percentage has declined in the last decade to levels close to 50%.
In Peru, until a few years ago there was a dynamic annuity market, however, it disappeared with the approval of Law No. 30425 of 2016 (the so-called "95.5 law") that allowed members of the private pension system to have up to 95.5% of the funds in their mandatory individual savings account at the time of retirement. Since then, around 90% of pensioners receive their savings as a lump sum payment.
In Uruguay, since 2004, there have been no private insurers offering life annuities.
In Colombia, annuity providers have been reduced from 13 to 3 in the last decade. According to the Colombian Financial Superintendency, only 10% of the elderly who retire in the privately funded pension system do so through an annuity. The remaining 90% opt for programmed retirement, which does not offer lifetime payments and works more like a financial income, since constitutionally pensions cannot be less than the minimum wage.
Given that the raison d'être of a pension system is to provide financial protection during old age, and not simply to return the resources contributed with interest in one fell swoop, the lack of private providers of life-long pensions is a major market failure in Latin America and the Caribbean.
Coming soon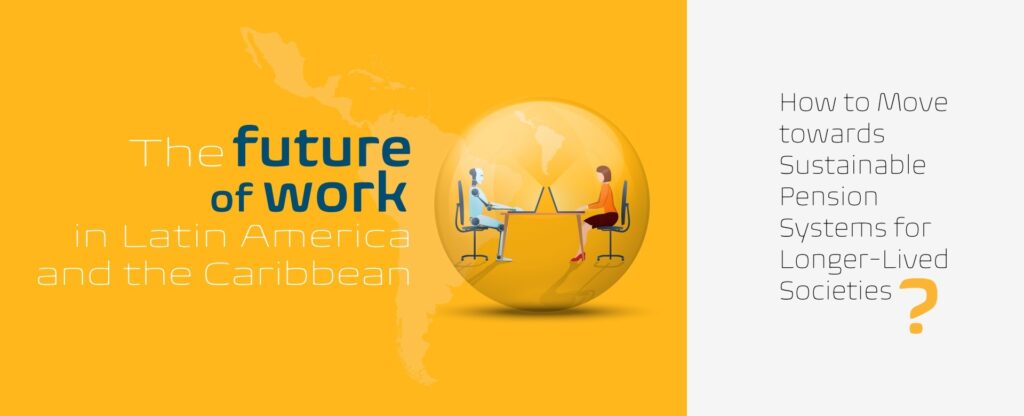 How can we transform longevity into an opportunity for Latin America and the Caribbean? Find out in the latest edition of our series on the future of work and pensions (available in Spanish. English and Portuguese version are coming soon)
Innovations in longevity
Some countries in Latin America and the Caribbean are already exploring the introduction of innovative retirement solutions. These solutions are based on participants sharing longevity risk. This can be at the level of a pension fund or a national collective fund that offers lifetime payments, even in scenarios where annuities do not exist, as in Colombia, or complementary to these, where there is a market for annuities, as in Chile, or they are offered in a monopolistic way by a state-owned company, as in Uruguay. This type of pension financial product, or decumulation product, is called by various names globally, for example "longevity income fund", "pension mutual fund", "variable collective annuity" or "life annuity".
The Inter-American Development Bank and the Organization for Economic Cooperation and Development (OECD) consider this type of solution as one of the options to be taken into account in the good design of defined contribution pension plans. Uruguay, Chile and Colombia are exploring these options, which already exist in countries such as Australia, Canada, Denmark, the United States, Iceland, Israel, the Netherlands, Singapore and Sweden.