Art and culture, of course, plays a significant role in society by exploring and expanding our conceptions, attitudes, and place in the universe. It triggers new thoughts and evokes visceral, emotional experiences. While individual pieces often explore specific ideas or concepts, art – taken collectively – represents a sort of canon of human experience and thought. By exploring the artist's ability to manipulate form, material, and experience, we can come to a better appreciation for humanity's unique ability to change and transform the world around us.
Art is not the only medium with which man's terraforming capacity is revealed. Throughout our culture, we can find endless examples. Botanics, technology, and development are also representations of these global changes. In light of the ever increasing necessity for our world to address climate change, can contemporary institutions and public cultural sites endeavor to harness the power of human ingenuity and creativity to provide transformational experiences that impact visitor's thinking and desire to change their behaviors and better understand their role, as a human being, in creating a more symbiotic relationship with our planet?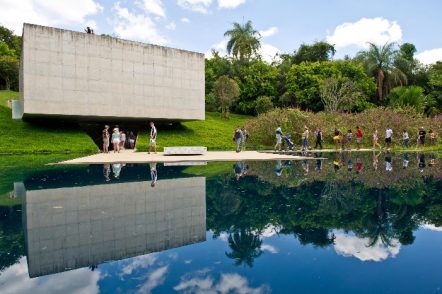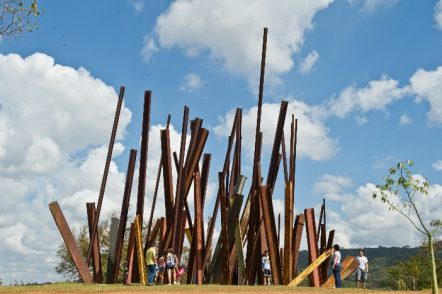 The Inhotim Institute in Brumadinho, Minas Gerais, Brazil is a synthesis of this attitude. There, over 400,000 visitors a year enjoy 346 acres of carefully considered botanical gardens that houses 4,500 plant species and 23 contemporary art galleries that displays over 700 artworks at any given time. The artwork, in and of itself, is enough to make any art cynic a die-hard fan. However, the transformative nature of this site lies in the magnificently-scaled vision of their harmonious synthesis of man's intervention in its gardens, artwork, and technology.
Such a cultural institution inherently demands a response to climate change – though this is never overtly "on display." Rather, it is the sheer awesome power of the beauty and creativity of the human spirit that shines and demands a call-to-action. In a unique manner, Inhotim leads by example and provides a new model for human endeavor and ingenuity that seeks to celebrate mankind and nature simultaneously and as one.
The IDB Cultural Center in Washington DC will be hosting Inhotim's first international exhibition, Inhotim: At the Crossroads of Glocal Change, which will be on display July 19 – October 13, 2017. The exhibition will feature a:
"narrative on the walls of the exhibition convey Inhotim's sensorial, visual, and conceptual vocabulary. Artworks by Iran do Espírito Santo, Luiz Zerbini, Olafur Eliasson and Vik Muniz, along with a video recording of an installation by Chris Burden, reflect on elements of nature such as water, land, plants, and landscape, always complemented by human action. For their part, the experiences present Inhotim from perspectives ranging from a panoramic aerial vantage, a microscopic view, and a 360° walkthrough, all coupled with sound compositions inspired by its gardens." (Excerpted from Inhotim: At the Crossroads of Glocal Change)
The public opening reception will be on July 18th at 6pm. Registration is required and can be found here.