Creativity powers innovation. In Latin America and the Caribbean, creativity has the potential to solve global development challenges and we want to know your project. We've launched an open call for startups improving lives through five categories: design, multimedia, new technologies and export of creative products and services.
This is the story of Ariana Green, who was selected to participate at Demand Solution's pitch competition last year in Miami winning the heart of thousands, and winning an award that boosted her video game studio.
The email that came from Demand Solutions letting us know that we'd scored a spot in the finals was a complete surprise to the entire team at Couple Six. Barbados is the 14th smallest country in the world. There isn't an established video game industry on the island and yet here we were competing with the most amazing start-ups and companies from across Latin America!
Needless to say, I was terrified.
While my co-founder Mark Ramsay was the one who entered Couple Six into the pitch competition, we decided I should be the one to attend. Pitching isn't my strong suit but being not only the co-founder of the company but also the Project Lead and Head Developer for our first game, Le Loupgarou, I'm the most knowledgeable about the depth and breadth of what we're making. I also happened to be the only person with a US visa at the time, although our artist Joshua Clarke did scramble to get one at the last minute so I wouldn't have to go alone.
That's one of the things I love about Couple Six – although we've been developing the game with no financial support up to this point, we have a team composed of people who are dedicated to taking care of each other.
When we talk about our game we say it's Caribbean inspired, but that isn't exactly true. The real inspirational impetus for Le Loupgarou was how few honest and careful portrayals of queer and black folk there were in video games. We wanted to make something that was representative of our experience – who we are as people – the way we live our lives.
Le Loupgarou is our hope and dream for the game industry as a whole made manifest in one project – a lot is riding on it.  
Le Loupgarou is a game about a plantation fire, a pact with a creature called a Baccou, and a civil rights activist masquerading as a maid. It's a game set in 1930s Barbados flipped upside down and colored with the mad brush of our artist, Joshua.
You play as the titular character, Le Loupgarou, which is the Caribbean's version of the werewolf. You hunt souls through darkened streets in a world where there are monsters far more terrifying than you. You have to survive long enough to pick apart your own history and identity, and the history of those you're hunting.
When we brought our baby to the competition we weren't expecting it to be so well received.
The most surprising thing about the experience was making so many great friends throughout the competition. I'd looked folks up before the competition, but it was wonderful to get to know them as people. Watching old footage of previous pitches I noticed loud applause originating from the same section of the audience whenever someone finished presenting. It seemed implausible to me that everyone who competed was able to fly their family out to attend, so I could only assume that friends were made during the competition itself.
That ended up being the case for me in October. There was Barbara from Ecoplaso, and my namesake, Ari from Xintiba with her co-founder Javier. There were people making fabric from fruits, people creating video games to help kids with developmental challenges. Laure, the CEO of Anacaona, was recycling soap in Haiti on her mission to reduce waterborne diseases by 50%. Surrounded by so many amazing people, I'd never felt so inspired. It was particularly wonderful to meet so many women founders, and to see their amazing work.
The days were packed, exhausting, but ultimately rewarding. We participated in workshops and learned so much, from funding our start-ups to running analytics – the kinds of things that a founder asks themselves constantly. The speakers were engaging, helpful and positive. They taught me almost as much in two days than I'd learned through self-education in two years.
The team behind Demand Solutions were incredibly supportive and worked hard behind the scenes to make the experience a smooth one for us all. I found the pitch mentor, Cristina Nolasco's help to be invaluable. She worked with me and everyone else to refine our pitches, giving advice on our timing, diction and phrasing. Most importantly she gave me confidence in my pitch, assuring me that the words I had written were bound to reach anyone who listened.
It was incredible to hear my name read out when Couple Six took second place. What struck me the most was that the other attendees were so happy to see Couple Six place, for them to recognize the importance of Caribbean stories. I later learned that we were the first start-up from the Caribbean, and that I am the first Black woman to place in a Demand Solutions competition. Both achievements make me immensely proud.
Demand Solutions gave me many things. First and foremost, a bunch of wonderful new friends, opportunities that I certainly wouldn't have had otherwise, and lastly, a huge boost to my confidence.
We were overjoyed for our project to be recognized and validated in such an arena. Starting a company is difficult – it's kind of like walking down a flight of steps backwards, blindfolded, on your hands.
The money that we received for placing second officially allows us to put some of our team members onto a modest payroll. It gives us the agency to reward them for the labour of love that we've assembled to undertake. That's an incredible feeling – agency.
However, the material value of our win was far overshadowed by what we received from the people we met. The networking opportunities were mind-blowing. We were able to get in direct contact with one of the ex-heads of E.A. for LATAM. That kind of connection doesn't just happen – it has to be fostered and encouraged and Demand Solutions created an atmosphere where that felt natural and necessary. It is an incredible feeling, to know that the game that we've worked so hard on was reaching people other than ourselves. That the magic and fidelity we inscribe into our game could be felt by everyone in attendance.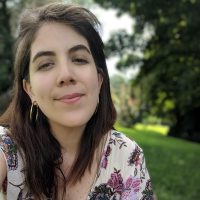 Latest posts by Barbara Aranda
(see all)