The IDB calls on the public and private sectors to take action and invest in education to address the region's learning crisis and its aggravation by the COVID-19 pandemic
More than two years since the start of the COVID-19 pandemic, today we now know that the costs of the prolonged closure of schools are very high. The consequences may not be evident in the short term, but will have a very high impact on various aspects of the lives of future adults and the next generations. During these two years in which education has been interrupted, we have been able to identify different effects on students such as learning losses, school dropout, teenage pregnancies and a deterioration in mental health. If this is what has happened after two years, what will happen in a few more years if we do not act now to recover what children lost during the closure of their schools?
In recent history, we have seen cases in which children's school attendance has been interrupted by natural phenomena, epidemics, teachers' strikes, wars and conflicts. Academics and researchers have studied the consequences, showing us some of the scenarios that could occur without action to correct the current course of education.
In addition, studies carried out in the last two years have estimated the effects that the pandemic could have in different areas if we fail to address the educational crisis we are now experiencing.
Four findings and prognoses: what the pandemic left behind
1. Learning losses
2. Loss of future income
3. School dropout
4. Decreased social mobility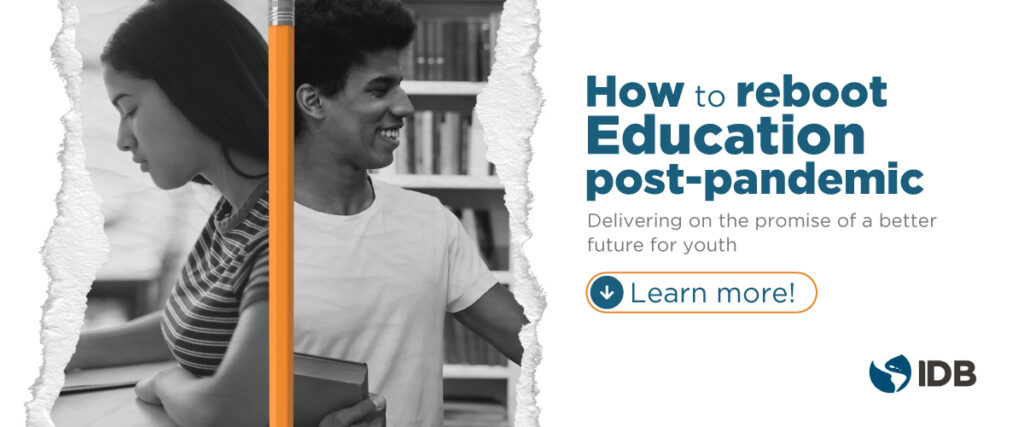 Investing in education: the response for post-COVID-19 recovery
Is there a solution to avoid these scenarios?
The answer is clear. Today more than ever, adequate and timely investment in education must be a fundamental part of the strategy to recover from the health crisis. We must prevent educational inequality from deepening further because, the longer we allow its consequences to persist, the more difficult it will be to reverse them.
What can the region's countries do to invest more and better in their education systems? What possibilities do you imagine for improving your own school or education system?
Share your comments and learn more in our publication How to reboot education post-pandemic. Delivering on the promise of a better future for youth.