Saharan dust plumes are ramping up over the Caribbean region, creating health hazards that are particularly dangerous for those with their health compromised by COVID-19 or other problems. This is clear evidence that the region is not isolated from the effects of climate change elsewhere.
Imagine waking up one morning expecting a clear tropical sunrise, only to find that it was replaced by a dense dust haze that traveled 5000 thousand miles from the Sahara desert.
Although they sound like the stuff of dystopian fiction, Saharan dust plumes have been a reality for many living in the Caribbean and along the Gulf Coast for years. The annual phenomenon has recently ramped up in intensity, threatening the health of humans and coral reefs, and highlighting the exposure of the region to global climate trends.
According to the National Oceanic and Atmospheric Administration (NOAA), this trans-Atlantic disturbance is called "Saharan Air Layer," or SAL. It usually escalates in mid-June, peaks from late June to mid-August and rapidly declines thereafter. Interestingly, the dust itself is comprised of the "skeletons" of diatoms (single-celled algae) that existed in a mega-lake system over 7000 years ago in the area we now call the Sahara Desert.
---
You may also like:
---
This dust is rich in essential macronutrients and micronutrients that are highly beneficial to plants and acts as a source of nutrients to phytoplankton in the ocean; in addition, Saharan dust is believed to be the main mineral source that fertilizes the Amazon Basin, so it would seem that it takes an arid desert to nourish a lush tropical forest. The dust may have also helped build beaches in the Bahamas after being deposited over thousands of years.
Now, for the downsides. Recently, dust clouds have brought dangerously high levels of fine particulate pollution that can compromise the health of local residents with COVID-19 and other serious respiratory illnesses.
Dust leads to additional complications such as dry skin, asthma and desert lung syndrome. A recent IDB paper found that, in the case of Kingston, Jamaica, a mere 10% reduction in ambient air particulates could potentially improve health and reduce mortality with cost savings for the city starting at $6 million per year and rising to as much as $110 million per year.
Still, in many Caribbean territories, the Air Quality Index (AQI) – a scale that runs from 0 to 500 – stayed in "unhealthy" levels, above 100, for much of last month.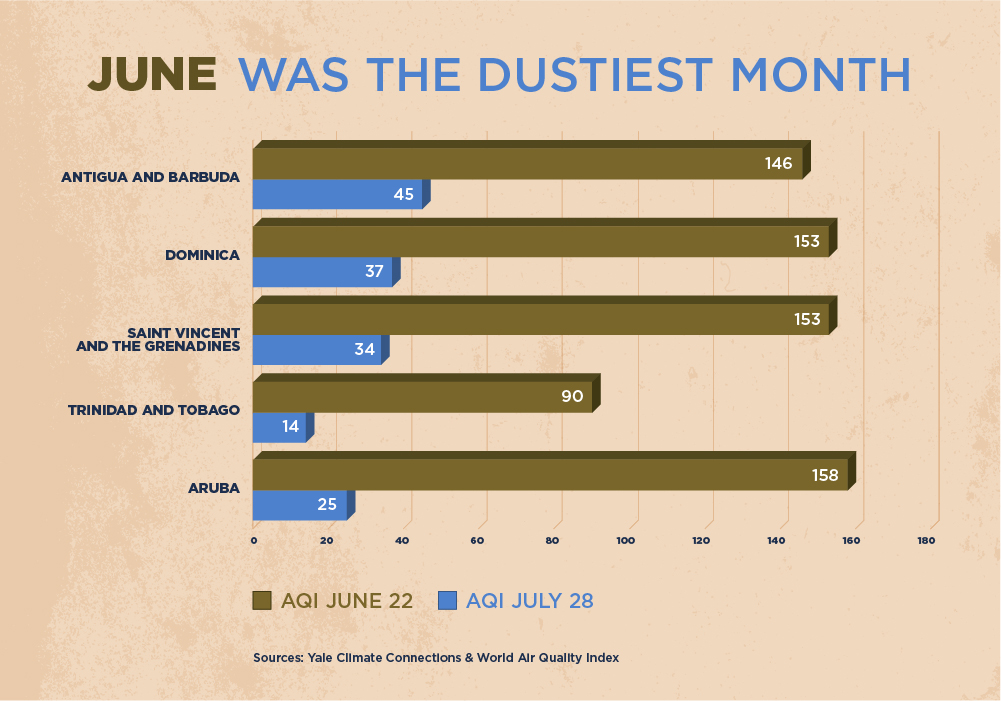 The same territories have had an added visibility problem over the last two decades, an issue highlighted by the World Meteorological Organization (WMO) that affects worker safety in in multiple industries, of particular concern for BID Invest. Dust hazes are also a hindrance for the all-important tourism sector.
On top of that, the dust can contain hazardous materials: researchers at the United States Geologic Survey (USGS) have detected chemical contaminants (pesticides, microbial pathogens and more than 1000 taxa of bacteria in dust sampled within the U.S. Virgin Islands and Trinidad and Tobago.
Local coral is at risk because the samples included a strain of fungi known to cause disease and mortality in sea fans, a type of soft coral. In fact, SAL has been linked to a decline in the health of coral reefs across the Caribbean as far back as the 1970s and additional research has revealed that iron from the dust plays an essential role in triggering red tides (harmful algal blooms) along the west coast of Florida.
The obvious question is whether climate change is to blame. Locally, dust production is strongly influenced by surface wind patterns and can be excited by any weather phenomenon that affects wind speeds, such as the North Atlantic Oscillation, the El Nino/Southern Oscillation and the West African Monsoon.
It would make sense that a warming planet could produce more intense dust storms as research has shown that major dust episodes are linked to Northern African drought. But other studies have suggested that changes in wind patterns may decrease the transport of dust, so it's too early to tell if climate change will have an impact on future dust storms. What is certain is that the current episode has not been average.
The good news is that Saharan dust can temporarily suppress hurricane formation or keep storms from getting stronger since hot, dusty air tends to put a stop to thunderstorm development. With the Atlantic Hurricane season already started (it runs from June to November), this is welcome information for those living in the Caribbean and along the Gulf Coast.
Overall, SAL seems to be a global phenomenon that, as a planet, we cannot live without but, as a species, we are vulnerable to.■
SUBSCRIBE AND RECEIVE RELATED CONTENT