How can multilateral development financial institutions break the low-level equilibrium that prevents the full unleashing of Latin America and the Caribbean's potential?
(*) With the collaboration of Ignacio Puente
The development of vibrant capital markets is a key challenge common to most Latin American and Caribbean countries. Shallow capital markets affect the region's productivity, stall innovation, and slow down the adoption of corporate governance best practices.
The gap is particularly pressing in equity markets. As shown in Figure X, the size of stock markets in most Latin American and Caribbean countries (measured as the market capitalization of all listed firms as a proportion of GDP) is below of what it would be expected for their level of development. The region also appears to lag in terms of liquidity, by comparing total value of shares traded in a given year by either GDP or total market value.
IPOs are scant, and there are relatively few listed companies. And even for listed companies, the portion of the company's shares that float in the market is usually small since they have a concentrated controlling shareholder, typically a family.
Figure X: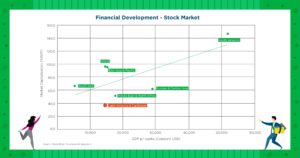 How is all this related to corporate governance? Firm's ownership structure is very closely related to how companies are directed and controlled, corporate governance's defining question. While each ownership model presents its own governance challenges, underdeveloped equity markets and absent institutional investors are certainly related with poor corporate governance practices. Exceptions, of course, abound.
---
You may also like:
---
Breaking the low-level equilibrium
It is true that the relationship between corporate governance reform and capital markets development is most likely circular. Firm compliance with minimum corporate governance standards is certainly a pre-condition for attracting external capital. Investors will only invest in a company, particularly in its equity, if they can understand how its decisions-making process works, can obtain reliable financial and non-financial information, and have a saying on important issues. But these same external investors are also the ones who after they enter a company, will push for the rule-based governance system, professional management and more open and transparent disclosure practices that they require in the first place.
How can multilateral development financial institutions such as IDB Invest break this low-level equilibrium that prevents the full unleashing of the regions' potential? The theory of the low-level equilibrium says this is trap happening whenever at low levels of per capita income "people are too poor to save and invest much, and this low level of investment results in low rate of growth in national income".  Conceptually, we can think of development financial institutions contributing to the advancement of the corporate governance agenda in two fronts: working on both the capital's demand and supply side.
First, in each transaction, their corporate governance team assesses the client's governance practices and advocates for their improvement. development financial institutions can introduce governance conditionalities into the financing terms, as part of risk mitigation strategies, but also suggest recommendations and offer technical support, adding value to the client beyond just providing capital. This helps create well governed and more sustainable companies, better suited to attract further external investors.
Second, development financial institutions play an important role helping develop capital markets. Through the support of new financing instruments and players, for example by anchoring new asset managers of private capital funds (e.g. private equity, mezzanine, debt), they can strengthen the supply of institutional risk capital available to partner with local entrepreneurs.
Going forward, a good governance agenda for the development financial institutions should more thoroughly engage local institutional investors such as pension funds. They, too, should be vectors of good governance as well as suppliers of capital. Doing so successfully will untap vast local capital pools and help create the institutional—governance—channels to more smoothly connect local savings with projects that will lead to the region's development.■
At IDB Invest's Sustainability Week in Panama, on June 24th – 28th we will reflect on the value proposition of good corporate governance to foster the growth of capital markets in Latin America and the Caribbean.
SUBSCRIBE AND RECEIVE RELATED CONTENT